Expanding on my Best microSD Card for Raspberry Pis piece, we have my run-down on the best microSD cards for the Rock 5B Single Board Computers.
The Rock 5 Model B is the latest board from Radxa, a great hardware house with some of the better software and documentation out there so I'm excited to see how my SD card benchmarks look on this unit.
Disclaimer: This post contains Amazon Affiliate links and I may receive a commission if you click on any of those and make a qualifying purchase. This does not influence my opinion of the brands involved!
Rock 5B microSD Benchmarks
The table below shows the results of 5 different benchmarks that were executed 5 times each. The numbers shown are the average of those benchmark runs. The exception here is that ioping was run with the -c 250 option so it ran 250 checks, and the average latency is what you see here.
Rock 5B
Sequential Read (MB/s)
Sequential Write (MB/s)
4K Random Read (MB/s)
4K Random Write (MB/s)
IOPING (ms)
SanDisk Ultra (8GB)
31.69
14.1
4.51
0.66
1.11
https://geni.us/sandiskultra8gb
SanDisk Ultra (16GB)
71.91
13.8
6.14
2.44
2.87
https://geni.us/sandiskultra16gb
SanDisk Ultra (32GB)
73.18
19.4
6.05
2.09
3.17
https://geni.us/sandiskultra32gb
SanDisk Extreme (64GB)
74.01
53.4
5.79
3.21
0.84
https://geni.us/sandiskextreme64gb
SanDisk Extreme PRO (128GB)
73.3
62.2
5.35
3.06
1.01
https://geni.us/sandiskextremepro128gb
Kingston Canvas Select Plus (32GB)
73.37
23.9
4.34
1.93
1.08
https://geni.us/kingstonselectplus32gb
KIOXIA EXCERIA (32GB)
74.99
18
6.75
4.06
0.82
https://geni.us/kioxiaexceria32gb
Samsung EVO Plus (32GB)
74.87
28.5
7.19
2.28
1.03
https://geni.us/samsungevoplus32gb
Amazon Basics (64GB)
74.41
66.5
7.96
3.97
1.37
https://geni.us/amazonbasics64gb
Amazon Basics (128GB)
68.48
61.2
7.38
2.89
1.23
https://geni.us/amazonbasics64gb
Verbatim Premium (16GB)
71.37
12.1
6.05
2.58
1.1
https://geni.us/verbatimpremium16gb
SanDisk MAX ENDURANCE (32GB)
73.14
41.9
5.9
2.91
0.76
https://geni.us/sandiskmaxendurance32
Integral ultima PRO (64GB)
73.24
47.5
6.48
3.61
1.25
https://geni.us/integralultimapro64gb
Patriot EP Series (64GB)
75.01
44.8
5.26
2.66
1.06
https://geni.us/patriotep64gb
Kodak (64GB)
66.62
36.9
2.69
0.84
0.94
https://geni.us/kodak64gb
Intenso (64GB)
75.04
48.1
7.3
3.67
1.18
https://geni.us/intensopremium64gb
Transcend (32GB)
74.17
23.4
8.01
3.36
0.69
https://geni.us/transcend32gb
Samsung EVO Select (32GB)
73.2
14.1
7.37
1.86
0.8
https://geni.us/samsungevoselect32gb
Samsung PRO Plus (128GB)
73.76
57.8
7.21
2.31
0.87
https://geni.us/samsungproplus128gb
SanDisk HIGH ENDURANCE (64GB)
73.09
48.2
4.57
2.42
0.96
https://geni.us/sandiskhighendurance64
Samsung PRO Endurance (32GB)
74.2
22.2
6.96
1.94
0.9
https://geni.us/samsungproendurance16
Silicon Power 3D NAND (32GB)
69.86
23.2
8.59
2.73
0.98
https://geni.us/silicon3dnand32gb
Crucial P3 Plus M.2 NVMe (500GB)
1468.39
594
36.23
91.76
0.68
https://geni.us/crucialp3plus
The Fastest microSD Cards for the Rock 5B
The Radxa Rock 5B has some impressive microSD card speeds, at least when it comes to sequential reads and writes, so let's see which cards come out on top in their respective tests. I've chosen to include the performance classes for each card so you can get an idea of what's to be expected and if you're wondering what these mean, the SD Association have you covered.
Sequential Read
The Intenso (64GB) microSD card just edges out the competition, topping the scales at 75.04 MB/s of average throughput and when you dig into the details of this card, you find that it's another A2, V30, U3 rated card that is also manufactured by Longsys, just like the Amazon Basics cards.
| App Performance Class | Speed Class | Video Speed Class | UHS Speed Class |
| --- | --- | --- | --- |
| A2 | Class 10 | V30 | U3 |
Sequential Write
Amazon's Basics 64GB microSD Cards are never far away from the top and the Rock Pi 5 Model B managed to reach 66.5 MB/s of sustained write throughput which is pretty damn impressive.
| App Performance Class | Speed Class | Video Speed Class | UHS Speed Class |
| --- | --- | --- | --- |
| A2 | Class 10 | V30 | U3 |
Random Read
When we get to these newer, more powerful boards with faster microSD card readers the results get a little less uniform. The Rock 5B does see lower random read/write speeds than other boards I've tested of a similar specification but it's the Transcend (32GB) SD card that we see at the top this time.
It's a cheaper card that's not rated to the level as others in the list and the Amazon Basics 64GB model is hot on its heels but the Transcend earned its shoutout with a 8.01 MB/s average!
| App Performance Class | Speed Class | Video Speed Class | UHS Speed Class |
| --- | --- | --- | --- |
| A1 | Class 10 | V10 | U1 |
Random Write
Not entirely surprisingly, the KIOXIA EXCERIA 32GB microSD card clocks in at 4.06 MB/s and takes yet another top spot on the Random Write test.
| App Performance Class | Speed Class | Video Speed Class | UHS Speed Class |
| --- | --- | --- | --- |
| A1 | Class 10 | V10 | U3 |
Best microSD Card for Rock 5B
There are some very close results in the above table and it's clear that sequential reads really push the microSD reader and we see some great numbers. Sequential writes are still good on the better cards but on the whole, the random read and random write speeds are much lower than similar boards I've tested. The Cool Pi 4B for example offers double the random speeds in a lot of cases and the random numbers are going to be the interesting ones for most app usage.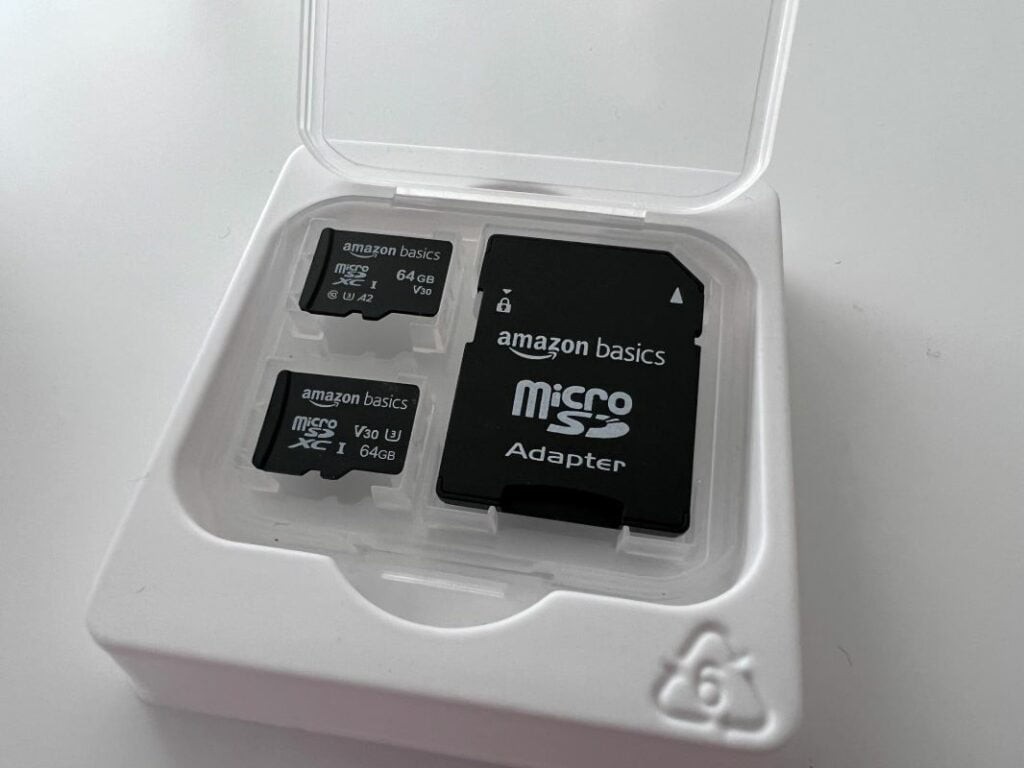 My overall winner for the Rock 5B though will yet again be the Amazon Basics (64GB) as it missed out on the 1st place in all but the sequential write test by a matter of Kilobytes. As there was no single SD card beating it out in each of those tests, the Amazon Basics card being so close in each means it's my overall pick for the best microSD card for Rock 5B SBCs.
The Amazon Basics brand may still be something some of you are curious about despite me bleating on about them for over a year now but based on my experience with them, there's no need to worry!
I went back a year after purchasing my first microSD cards from them and posted an updated Amazon Basics microSD Card recap and I'd still recommend them. The TL;DR is that they've been consistent in manufacturing for well over a year now and are made by the parent company of Lexar, a well-respected manufacturer of flash storage.
If you're interested in the Rock 5 Model B SBC then do keep an eye out as I'll be posting my full Rock 5B review in the near future and I'm quite excited about it!
| | |
| --- | --- |
| Pros | Cons |
| Great overall performance | Slight price increases |
| Great value | No long-term endurance data |
| Made by a quality manufacturer | |
| Buy Now on Amazon | |
Related Post: Best microSD Cards for the Raspberry Pi 4