866
Introduction
Inspired by Jeff Geerling's microSD benchmarks, I pulled out all of the microSD cards that I had to do some testing of my own, to once and for all find out what the best micro SD cards were for this use-case. In addition to the Raspberry Pi boards, I'll also be testing Orange Pi, Nano Pi, and Beaglebone models. Hopefully, the data will prove useful to you when buying the best micro SD cards for your own SBC. If you want to see a more general comparison/benchmark of the latest RP3A0-AU-based board from Raspberry Pi, check out my last post comparing the Raspberry Pi Zero W 2 and Raspberry Pi Zero W.
This post is largely focused on memory card performance in SBCs, however, this data could also be relevant to any Nintendo Switch or Steam Deck users that may be lurking in my readership. After all, they can use the same microSDXC cards as expandable storage for the built-in flash, and whilst the Switch is limited to around 10MB/s by its reader, it could help find the best SD card for the Steam Deck so you can access your steam library locally.
Note: I am a member of the Amazon Affiliate program and clicking on the SD card model names will take you to your local Amazon storefront. I hope you don't mind! It helps me to purchase the little bits I use for testing in my guides/benchmarks.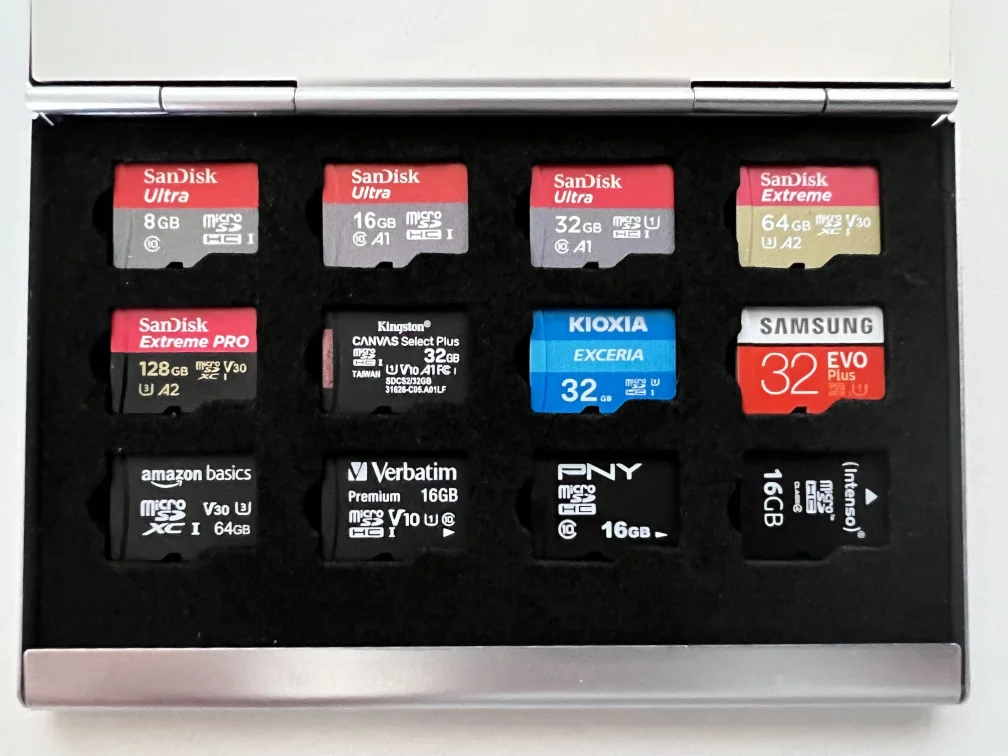 What SD card should I use for Raspberry Pi?
To find out, all testing was done with the microSD card used as the main operating system disk, with Raspberry Pi OS (formerly Raspbian) on the Raspberry Pi boards, and the latest versions of Armbian or manufacturer-provided operating systems where possible on others. The transfer speeds in 4 different areas were tested and again, whilst this is focused on Single Board Computer performance, the information can be used to help when considering an SD card for your action cameras, or digital cameras or even to boost capacity on your mobile phone (if it's lucky enough to have a microSD slot) for 4K video recording. Now, let's find the best MicroSD card for Raspberry Pi.
Testing Process / Software Used
All sequential read/write throughput tests were performed over 5 runs with hdparm and iozone3 and disk access latency was tested with ioping (with -c 50 for 50 checks, on each run). All tests were performed with the devices running at stock clock speeds (both CPU and microSD card slots) and a 120mm fan pointed at them to rule out any thermal throttling issues. The Kingston card refused to run above 25MHz on most boards, so it operated at half the speed of all others tested, though on the Orange Pi R1+ LTS, it ran faster and the results showed that!
microSD Card Information
To help you compare to any of your own results and choose the best MicroSD card for your Raspberry Pi, I've compiled the details of each of the micro SD cards used in my testing. This includes the class rating (speed class), the manufacture dates (so you can see if it's perhaps from the same batch or period), and information on the models and vendors.
Some manufacturers are selling microSD cards produced by other companies and others will sneakily change the models yet retain the same designs so the below data may prove useful in removing that uncertainty in future testing. All data is exactly as the card reports itself and interestingly, it shows the Amazon, Integral, and Intenso all as the same Vendor and Model!
Best microSD card for Raspberry Pi
Based on the 2000+ benchmarks, the Amazon Basics (64GB) microSD card is currently the best SD card for Raspberry Pi boards in my opinion.
When I compare the price I paid for those to all of the others, it's incredible value for what you get I do notice now though that the price has jumped by over 50% (since December 2021) but as it's a 2-pack, the individual price still works out better than the SanDisk Extreme PRO for example (which I picked up on sale!)
Overall, the Amazon Basics card is the fastest for sequential reads and writes, the fastest for random reads, and is very close to the KIOXIA EXCERIA when it comes to random writes. Sure, the latency is a little higher but you'd be hard pushed to notice in day-to-day operations.
The KIOXIA EXCERIA would be my 2nd highest-rated Raspberry Pi micro SD as in the vast majority of cases it was very close behind and was (is!) one of the cheapest options on the list. If you're not familiar with the KIOXIA name, it's the rebrand of Toshiba, which has been around for donkey's years and is a big player in the game.
Sadly, the testing didn't come without casualties. The PNY Performance Plus SD card died with 2 boards to go, completely locking up and refusing to be recognised by any device I put it in. Even more woeful was an Intenso microSD card that I didn't even include in the results as it died and also refuses to be recognised after just 2 boards and about 5GB worth of writes. Definitely not the best microSD card for your Raspberry Pi..
Related post: Is the Amazon Basics microSD Card Still Worth It?