Introduction
Hot on the heels of the MangoPi MQ Pro's wider AliExpress release comes the Chinese board designer's upgraded, faster option, the MangoPi MQ Quad (by the way, if you want to see how it performs, do check out my full MangoPi MQ Quad Review which is available now)
From the information shared on Twitter from the official account the board will feature an upgrade over the MQ Pro in the form of a quad (4) core, 1.5GHz ARM Cortex A53 processing unit. With that, it makes it a potential competitor to the Raspberry Pi Zero W 2 with an additional 512MB of RAM. Said RAM will also be DDR3L rather than the Raspberry Pi's LPDDR2 offering. Debian, Ubuntu and Android 10 (TV) images will also be available at launch.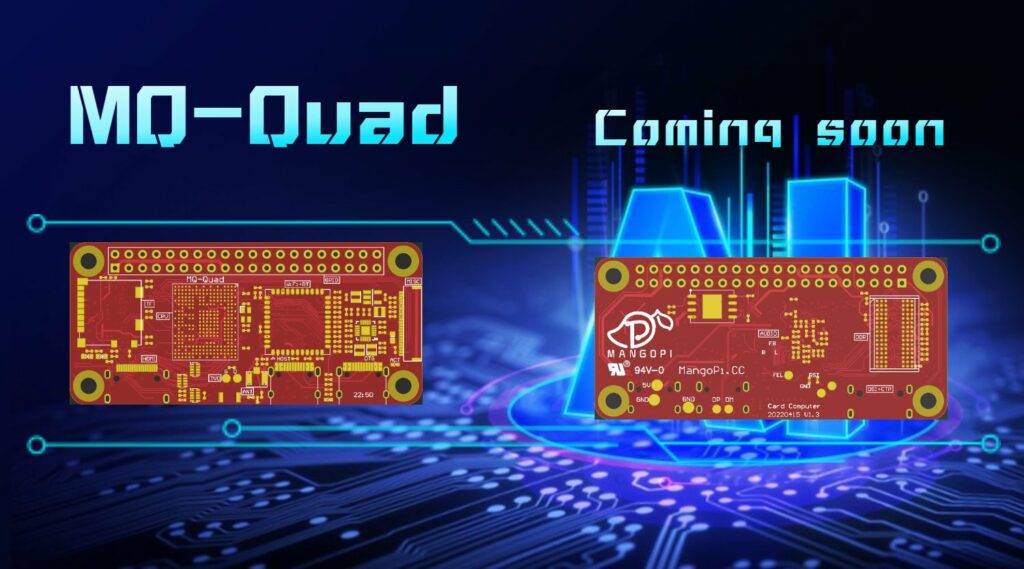 What we know so far
We know it comes with a Cortex A53 quad-core CPU clocked at 1.5GHz, with 1GB of DDR3L memory but based on the board layout image above and the information provided on social media, this is what we know so far!
| | MangoPi MQ Quad |
| --- | --- |
| CPU | Quad-Core 1.5GHz Cortex A53 |
| | |
| RAM | 1024MB DDR3L RAM |
| | |
| GPU | HDMI Output |
| | |
| Connectivity | WLAN |
| | Bluetooth |
| | u.FL Antenna Connector |
| | USB-C OTG (1) |
| | Mini HDMI (1) |
| | 24 pin DVP/RMII Camera Connector** |
| | microSD Card Slot |
| | 40 Pin Raspberry Pi compatible GPIO header |
| | Audio via audio out pads |
| | |
| Power | USB-C (5v) |
| | via GPIO Header |
| | |
| Dimensions | 65x30mm (Length x Height)** |
** Denotes an expected feature based on the board layout & previous model
My thoughts
With a 1.5GHz Cortex A53 Quad-Core CPU (compared to the 1GHz Single-Core RISC-V CPU in the MQ Pro) and 1GB of DDR3L memory, the MangoPi MQ Quad is lining up to be a compelling alternative to the Raspberry Pi Zero W 2 in terms of raw computing power/interfaces. Based on the MQ Pro clocking in at around $42 including shipping, it's unlikely to be the best value but they should be available at least (though big shout out to https://rpilocator.com for being a great tool for finding near enough RRP Pis!)
Operating system-wise, having Debian, Ubuntu and Android 10 (TV) images available from the get-go is great, though I'm also hopeful that the manufacturers would be willing to provide samples to users over at Armbian to facilitate having images available there.
I'm very interested in adding this board to my XXXXX Pi Zero comparisons so once available I'll be grabbing one to do a full review and comparison. Stay tuned to that if you're interested in seeing how it lines up, just like my Pi Zero W vs Pi Zero W 2 piece. Naturally, it will also have a full run-down of all of the microSD cards too.
Finally, once the full information is available I will update the specifications here so that you know exactly what you're getting, along with any store page if available.