Creators of the wonderfully named Le Potato and La Frite, Libre Computer have announced that there are (at least) 3 new SBCs (Single Board Computers) on the way later this year and whilst we've been drip fed some of the details of upcoming boards so far via Twit.. I mean, X, we've been given our biggest drop of information yet, the Libre Computer Big Cottonwood.
Libre Computer Big Cottonwood: Specifications
We've had few drops of information over the last couple of months so let's try and compare as best we can to the Le Potato, arguably Libre Computer's most popular SBC of their "current" generation.
Any row on the Big Cottonwood side that has a question mark next to it is something that may not have been confirmed, but based on data sheets and what's visible on the board, it's what I'm assuming is the case. I've also left some options vague for the same reason. As and when additional information is available to verify these, I will update as necessary.
| | Big Cottonwood AML-A311D-CC | Le Potato AML-S905X-CC |
| --- | --- | --- |
| CPU | Amlogic A311D Hex-Core (4x 2.2GHz Cortex-A73, 2x 1.8GHz Cortex-A53) | Amlogic S905X Quad-Core 1.51GHz Cortex-A53 |
| RAM | 4GB LPDDR4X | 2GB DDR3 SDRAM |
| GPU | Mali-G52 (up to 950MHz) | Mali-450 750MHz |
| Storage | microSD Card Slot | microSD Card Slot (UHS-I/SDXC) |
| | eMMC Interface | eMMC Interface |
| | QSPI Flash | SPI Flash |
| Connectivity | 1x 10/100/1000Mbit RJ-45 Ethernet | 1x 10/100 Mbit Fast Ethernet |
| I/O | 1x HDMI | 1x HDMI 2.0 |
| | 4x USB-A 3.1 (Genesys GL3510) | 4x USB-A 2.0 |
| | 40-pin GPIO Headers | 40-pin Headers (PWM, I2C, SPI, GPIO) |
| | 3.5mm AV Connection | 3.5mm TRRS AV Connection |
| | UART Headers | UART Headers |
| | 1x Camera Connections | Audio Headers (I2S, ADC, SPDIF) |
| | IR Receiver | IR Receiver |
| Power | USB-C | Micro USB (5v) |
| | via GPIO Header | via GPIO Header |
| | Power over Ethernet hat (PoE+ up to 30W) | |
There are some really neat features on this that I think people are going to enjoy. We have a switch to change between booting from eMMC to the SPI flash (and vice versa), a move to USB-C for power, Gbit ethernet and 4x USB-A 3 ports.
All of these are a big jump over the Le Potato it will be replacing and that's before we touch on the computing power of the Amlogic A311D SoC that sits at its core.
Before we move on though, there is an obvious thing missing and that's WiFi connectivity. This is something that was also omitted on all other Libre Computer boards. I don't recall if this was due to regulatory issues or if it was a conscious decision but given there are 4 USB 3 ports, if WiFi is needed, a slimline dongle can be added for a very reasonable cost (and to be honest, likely better performance).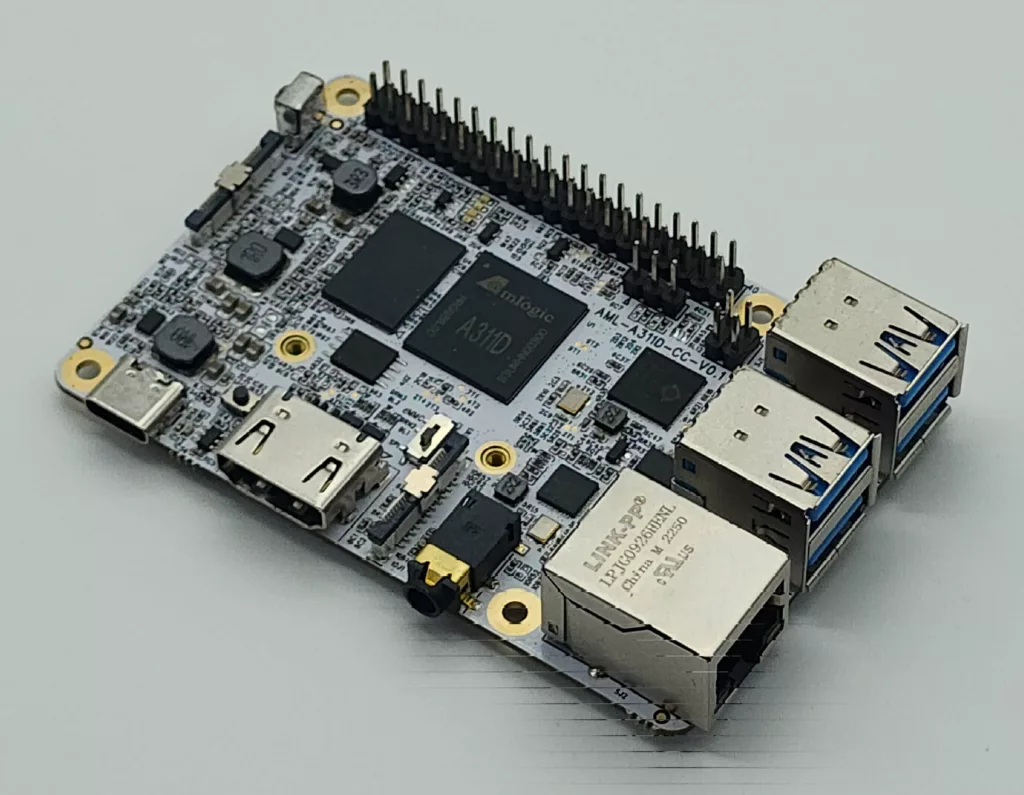 More on the Amlogic A311D SoC being used
The Amlogic A311D is a 6-core System on Chip (SoC) that offers 4 2.2GHz Cortex-A73 CPU cores and 2 1.8GHz Cortex-A53 CPU cores. It's the same "CPU" in the Banana Pi CM4 so we have a fairly good idea of how that fares against things like the Raspberry Pi 4 (around 20-50% faster depending on the particular workload). Given that the Le Potato sits just below a Raspberry Pi 4 in a lot of tests, we're looking at a considerable single-core performance bump, as well as a much larger bump in the all-core performance thanks to all cores being faster, with an additional 2 to boot.
Libre Computer themselves have stated that they expect Big Cottonwood to offer around twice the performance of the Raspberry Pi 4, and they've offered up some initial testing numbers to go with that from their libretech-perf-tool. Additional numbers should hopefully come closer to the release, or shortly after when reviewers get their hands on them!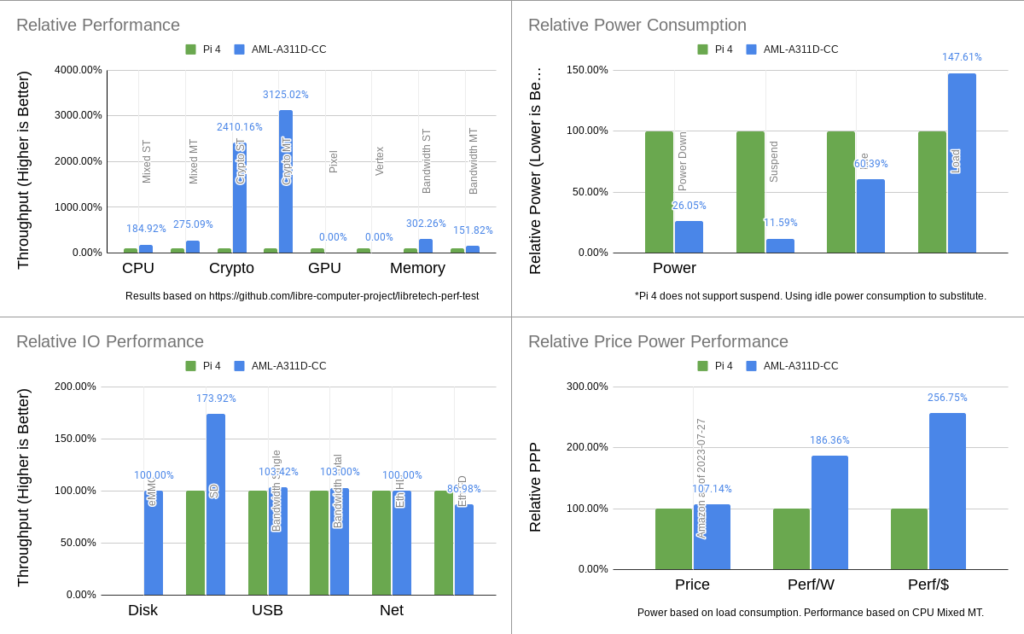 Big Cottonwood: Availability and Pricing
At the moment we know that the Big Cottonwood Single Board Computer is expected to clock in at $75 USD thanks to posts on X by the company's official account. This prices it at $20 USD more than the Raspberry Pi 4, though that's a small price to pay for the substantial boost in performance, providing WiFi isn't a deal-breaker for you.
As for availability, they state that they're expecting to have limited quantities available for users in October, with a full roll-out in November. Those of you looking to get on the hype train as soon as possible though should be able to pre-order in around a month's time, in mid-September.
Conclusion
I'm excited about the new Libre Computer boards and I'll make no secret of that. I've long appreciated the way they go about their software support and their dedication to making sure that all of their boards are supported well into the future with the latest and greatest. Having an Amlogic A311D-based board with great features and the latest operating systems/kernels available from the get-go is going to be a breath of fresh air given the current SBC landscape and I expect their full range to really challenge the Alternative Pi ranks. Hell, they may even make a dent in Raspberry Pi's dominance given the long wait users have had for the Raspberry Pi 5!