Way back in April I spoke about the MangoPi MQ Quad announcement and we now have the first production run available for sale! If you want to see how it performs, do check out my full MangoPi MQ Quad Review.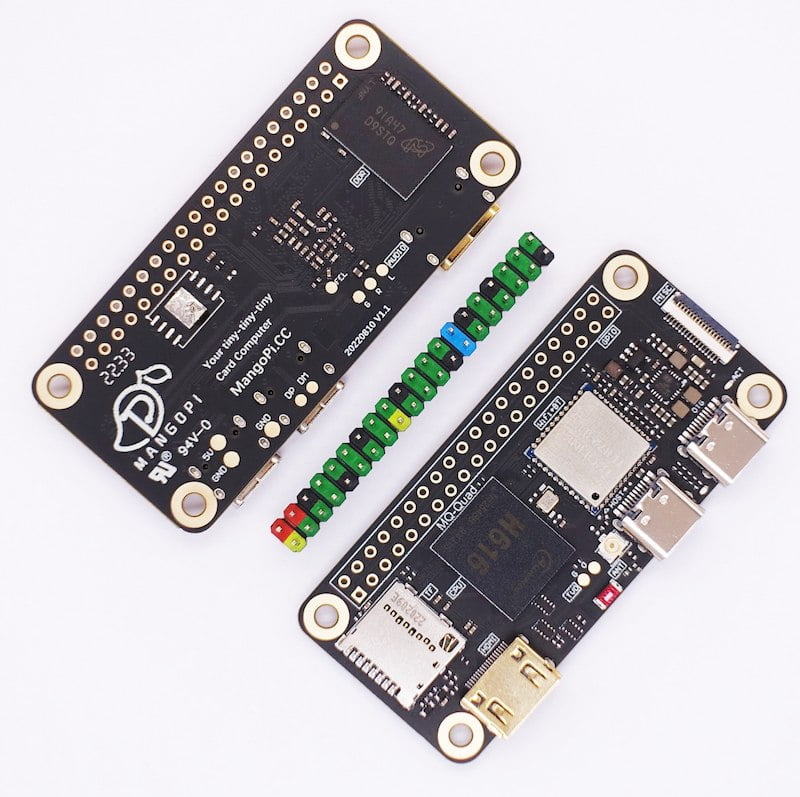 MangoPi Quad Specifications
| | |
| --- | --- |
| CPU | H616 Quad-Core 1.5GHz Cortex A53 |
| | |
| RAM | 1024MB DDR3L RAM |
| | |
| GPU | ARM Mali G31 MP2 |
| | OpenGL 3.2 / Vulkan 1.1 |
| | |
| Connectivity | TL8723DS 802.11 b/g/n (2.4GHz) WLAN |
| | Bluetooth |
| | u.FL Antenna Connector (antenna included!) |
| | USB-C OTG (1) |
| | Mini HDMI (1) |
| | 18-pin MISC FFC connection (USB, Ethernet, GPIO) |
| | microSD Card Slot |
| | 40-pin Raspberry Pi compatible GPIO header |
| | Audio via audio out pads |
| | |
| Power | AXP313 Power Management |
| | USB-C (5v) |
| | via GPIO Header & POGO Pin |
| | |
| Dimensions | 65x30mm (Length x Height) |
Pricing & Order Options
The MangoPi MQ Quad comes with 2 options on AliExpress, with a stand-alone board option coming in at $26.70USD and one with an included, all aluminium heatsink for $29.60USD. The heat output of the H616 in this package may well justify the $2.90 increase here as whilst heat is only drawn from the SoC, it's dissipated into a decently sized piece of metal, so it's likely a good option. Naturally, that's the version I've gone for and I'll make sure to include the usual thermal testing to see how the heatsink performs.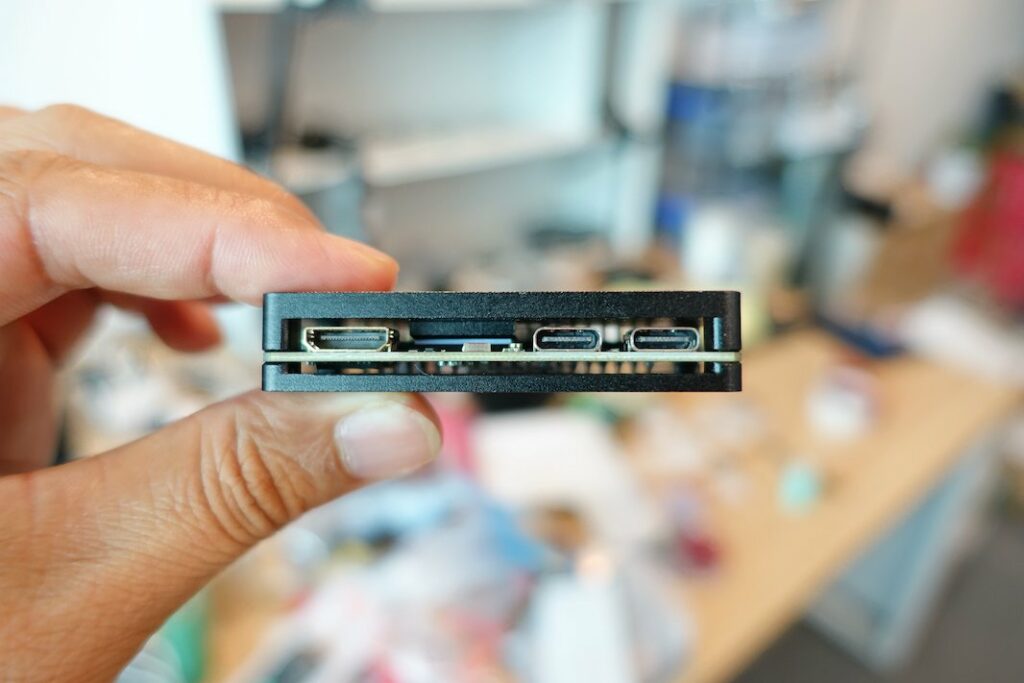 Operating Systems
The biggest issue with the MQ Pro launch was the lack of available operating systems despite them being advertised prior to and during their launch. Luckily, we had community members work on Armbian and Canonical launch an Ubuntu image that almost works but there's hope for the MQ Quad.
@mangopi_sbc on Twitter posted recently that they had Ubuntu and Android TV running on the board, both being based on the OrangePi Zero 2's images (which makes sense as it's another H616-based board). There's also a Tina-Linux build available should that be your jam. At present, the product page for the MQ Quad doesn't seem to have been updated but I'll make sure to poke them to show relevant information as soon as possible (with working image downloads!)
My Plans and Thoughts
With this board's launch we see Mango Pi step into the same space as the Raspberry Pi Zero 2 W, BananaPi M2 Zero and the OrangePi Zeroes (amongst others) and it's interesting to see if it will create the same buzz as its RISC-V brother. More boards like this is always a good thing as long as the software support is there and I think they're learning how important that is to the success of their products.
It's also great to see that they're offering an included external antenna (I'd like to think they read/listened to my Banana Pi M2 Zero piece!) with all boards, along with the heatsink option. Being able to get these included with your initial order prevents having to wait for separate deliveries, or guessing whether a 3rd-party option will be compatible. As always, a set of colour-coded GPIO headers is included with this board too!
One quick thing to note is that there is no display/camera connector on the MQ Quad. Instead, there's an 18 pin flexible flat cable (FFC) that can carry USB, Ethernet and other GPIO signals to relevant adapters.
Finally, whilst the specifications are nothing revolutionary, on the whole, having this much power in a Zero form-factor may prove to be a great choice for many wanting a replacement for a hard-to-find Raspberry Pi Zero 2 W. My Pi Zero Comparison proves that the H616 is a powerful alternative, out-performing the Raspberry Pi in most tests in raw compute tests but how will the GPU fare? Will the WiFi/Bluetooth be up to scratch?
Hopefully in 2-3 weeks I'll be able to provide you with those answers. Make sure to follow me on Twitter for the usual hints and teasers during the testing process but other than that, have a great week!