The Banana Pi M5 benchmark has turned out to be one of the most popular pieces on my site and it seems what people reaaaally want to see as a straight-up comparison between that and its Raspberry flavoured cousin, so here it is, the Banana Pi M5 vs Raspberry Pi 4 comparison with my thoughts thrown in for free..
Note: This post contains both Amazon and AliExpress affiliate links where I may earn a small commission if you click and purchase an item. These help to continue funding these comparisons so I hope that's OK!
Specifications
| | Banana Pi M5 | Raspberry Pi 4 |
| --- | --- | --- |
| CPU | 1.91GHz Quad-Core Amlogic S905X3 Cortex-A55 | 1.5GHz Quad-Core Broadcom BCM2711 Cortex-A72 |
| RAM | 4GB LPDDR4 | 1/2/4/8GB LPDDR4 |
| GPU | Mali G31 MP2 (650MHz) | VideoCore VI (500MHz) |
| Storage | MicroSD Card | MicroSD Card |
| | Onboard 16 GB eMMC Flash Storage | |
| I/O | 1x HDMI 2.1 | 2x micro-HDMI 2.0 |
| | 4x USB 3.0 | 2x USB 3.0 / 2x USB 2.0 |
| | 24 pin DVP/RMII Camera Connector | Pi Camera (MIPI CSI) |
| | | Pi Display (MIPI DSI) |
| | 40 Pin GPIO header | 40 Pin GPIO header |
| | 3.5mm Audio Jack | 3.5mm Audio Jack |
| | Infrared Receiver | |
| Networking | 1x 10/100/1000 Ethernet | 1x 10/100/1000 Ethernet |
| | | 802.11 b/g/n/ac WLAN |
| | | Bluetooth 5.0 (with BLE) |
| Power | USB-C (5V 3A) | USB-C (5V 3A) |
| | | GPIO Header (5V 3A) |
| | | PoE (with extra Pi PoE Hat) |
| Dimensions | 92x60mm (Length x Height) | 85.6×56.5mm (Length x Height) |
| | 48 grams | 46 grams |
Hardware Differences
Before jumping into the data, there are some glaring differences between the 2 boards that we should address. First of all, in this particular comparison, I'm using a 2GB RAM version of the Raspberry Pi 4 as I do not have a 4GB model to hand. The SoC and other hardware are the same, the only differences you may see are the RAM benchmarks but this should be minimal.
The biggest difference for most will be that the Banana Pi M5 does not have WiFi or Bluetooth. Depending on your use case, this may be a deal breaker. If it is, they do sell an additional hat but this comes at the cost of losing access to all of your GPIO headers. If it were me, I'd go for a USB dongle instead.
Where it lacks in wireless communications it makes up for in storage. The M5 packs in 16GB of onboard eMMC memory which can be used for booting instead of the microSD card. This offers 50-1000% faster storage depending on the particular test and should also last considerably longer than your SD card.
Besides those, there are smaller differences such as the M5 having full-size HDMI vs the Pi 4's mini-HDMI. Or 4 USB 3.0 on the Banana Pi vs only 2 on the Raspberry Pi 4 (with 2 USB 2.0 alongside them). My favourite smaller detail though is that the Banana Pi M5 has physical reset buttons on the board which was a vey nice feature to have to prevent the yanking of power cables!
Software Support
I got a little angry in my Mango Pi MQ Quad review earlier this week when I started thinking about software support and Banana Pi are one of the culprits here. Their own "Getting Started with BPI-M5" page starts off well enough and details how to write an image to the SD card or eMMC and mentions running Android and Linux. The problem begins when you go to the board's wiki page to find the system images and you end up with a myriad of Baidu Cloud and Google Drive links to download user-contributed images and it all feels a bit wrong.
Luckily, Armbian has stepped in and now officially supports the Banana Pi M5 Armbian Debian Bullseye-based images but as I said in my previous post, it really shouldn't be left to the community to do this.
The Raspberry Pi is fairly self explanatory though. You have heavily supported Raspberry Pi OS along with Ubuntu, Manjaro, Apertis, RISC OS, and many others that have pre-bundled software from official sources.
Pricing
Ah yes, it's time to talk about Raspberry Pi pricing and availability again, that's always fun. I've been called out on Twitter for using the Raspberry Pi's retail price but given sites like rpilocator exist and show stock coming in somewhat regularly, I'm going to stick to it. I'm also going to compare the pricing of the 4GB Pi 4 as a fair comparison to the 4GB included on the M5.
The Raspberry Pi 4B 4GB model is priced at $55USD (plus any relevant taxes/shipping) and if you keep an eye on rpilocator you could get lucky and pick one up. The Banana Pi M5 clocks in at around $63 (again, plus any taxes and shipping) so is a little more expensive but not by much.
Whether or not the price difference is worth it is going to depend on whether you're OK with the differences/missing features listed above and naturally, how well it performs so let's get to it, shall we?
Compute Performance
As always, all tests are performed with a 120mm fan blowing across the board so that the scores shown are the highest possible with no thermal throttling.
I'm also trying a slightly different approach to this piece. Due to the sheer number of tests in things like UnixBench and Geekbench, the graphs become incredibly difficult to read. To try and remedy this I'm showing a graph of the overall benchmark scores and then including a table with all of the results and the percentage differences in a collapsible area below each test. Let me know if you like this or if I should go back to the drawing board!
UnixBench

Geekbench 5.4.0 AArch64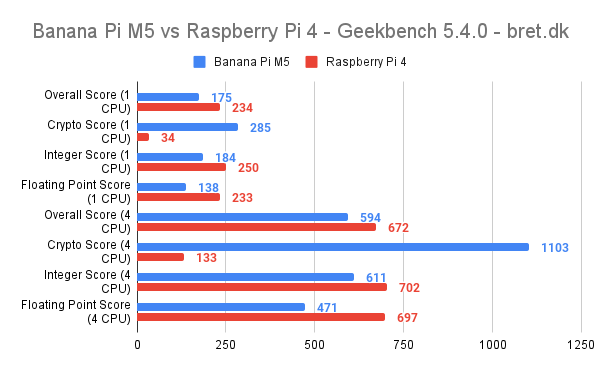 GZIP Compression

PHPBench

PyBench

WavPack Audio Encoding

Crypto++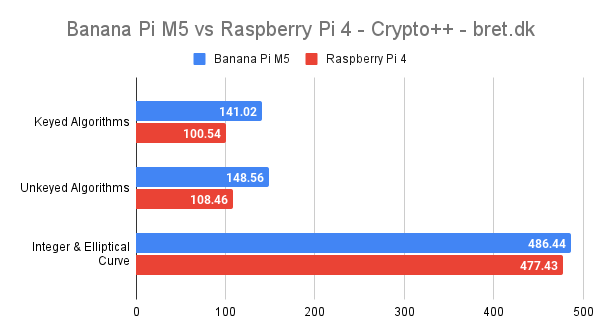 OpenSSL Bench
Memory (RAM) Performance
Using tinymembench through sbc-bench we can do a deeper dive into some of the RAM capabilities as it's testing both the latency and bandwidth of the memory across a wide range of variables.
The Banana Pi M5 edges ahead of the Raspberry Pi 4 in general on the RAM front, though do remember that in this particular test you're seeing a 4GB M5 take on a 2GB Pi 4.
tinymembench
| Test Name | Banana Pi M5 | Raspberry Pi 4 | Difference (%) |
| --- | --- | --- | --- |
| C copy backwards | 2144 | 2489 | -16% |
| C copy backwards (32byte) | 2180 | 2484 | -14% |
| C copy backwards (64byte) | 2259 | 2489 | -10% |
| C copy | 3624 | 2508 | +31% |
| C copy prefetch (32byte) | 2214 | 2503 | -13% |
| C copy prefetch (64byte) | 3431 | 2502 | +27% |
| C 2-pass copy | 2369 | 2196 | +7% |
| C 2-pass copy prefetch (32byte) | 1237 | 2255 | -82% |
| C 2-pass copy prefetch (64byte) | 2226 | 2258 | -1% |
| C fill | 6394 | 3362 | +47% |
| C fill (shuffle 16byte) | 6390 | 3363 | +47% |
| C fill (shuffle 32byte) | 6390 | 3358 | +47% |
| C fill (shuffle 64byte) | 6384 | 3361 | +47% |
| Standard memcpy | 3541 | 2510 | +47% |
| Standard memset | 6393 | 3363 | +47% |
| NEON LDP/STP Copy | 3649 | 2501 | +31% |
| NEON LDP/STP Copy pldl2strm (32byte) | 2757 | 2492 | +10% |
| NEON LDP/STP Copy pldl2strm (64byte) | 3599 | 2493 | +31% |
| NEON LDP/STP Copy pldl1keep (32byte) | 2651 | 2517 | +5% |
| NEON LDP/STP Copy pldl1keep (64byte) | 3826 | 2518 | +34% |
| NEON LD1/ST1 copy | 3696 | 2499 | +32% |
| NEON STP fill | 6389 | 3352 | +48% |
| NEON STNP fill | 5674 | 3172 | +44% |
| ARM LDP/STP copy | 3647 | 2499 | +31% |
| ARM STP fill | 6394 | 3364 | +47% |
| ARM STNP fill | 5692 | 3110 | +45% |
CacheBench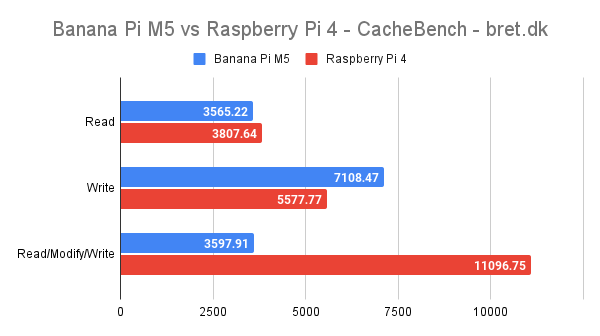 Networking Performance
Both the Banana Pi and Raspberry Pis here have onboard 1Gigabit RJ45 Ethernet ports and there's nothing between these as you'd expect. I tried USB ethernet on both with a Linksys 1Gbit USB3 adapter and this is maxed out both too (using the USB 3.0 port on the Pi 4, naturally) so if you need a 2nd port for whatever reason, there you go!
As the M5 lacks WiFi, only the Pi 4 is listed here. As soon as I get my hands on the add-on "hat" for WiFi/Bluetooth for the M5, I'll update the results here.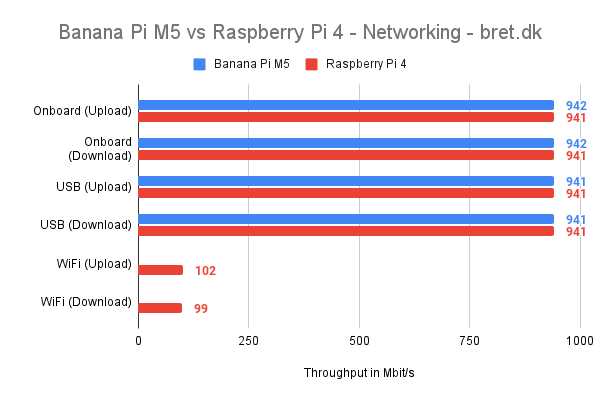 Storage Performance
With 32GB of eMMC memory on board, the Banana Pi M5 has a clear benefit here in terms of out-of-the-box speeds, though both feature a microSD slot so I've included the full set of benchmarks from my Best microSD Cards for the Raspberry Pi for both boards.
It turns out it's not just the eMMC that has a speed benefit here. With a good pick such as the Amazon Basics microSD Card you're going to be seeing some very respectable SD card speeds so the M5 wins out there.
The tide swings when it comes to the USB-attached SSD tests, where using the exact same SATA-USB cable results in 3 to 5 times better performance which is extremely interesting given both sport USB 3.0 ports and in the networking section we see it pushing 1Gbit over USB ethernet. It shows up as the same driver/device on both boards, feel free to shout at me in the comments if I'm missing something!
Banana Pi M5 MicroSD Card Speeds
Raspberry Pi 4 MicroSD Card Speeds
USB SSD, eMMC & microSD Card Comparison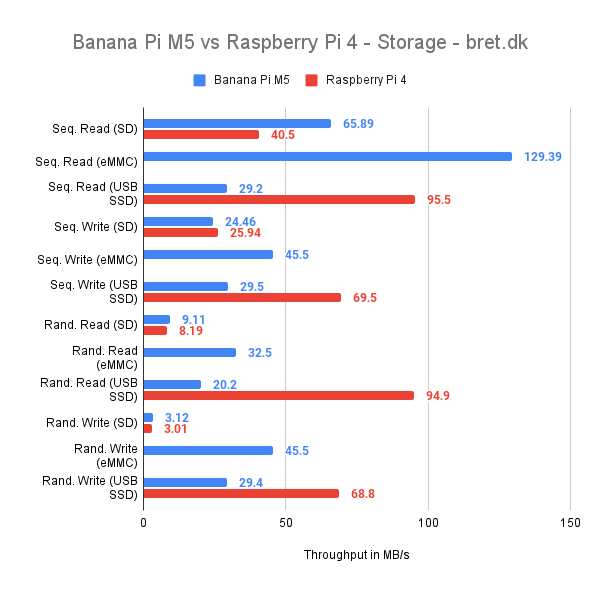 Thermals & Power
On the whole, the Banana Pi M5 runs cooler than the Raspberry Pi 4 in the more "real world" situations tested. This is to be expected though with its lower power consumption in the same situations.
All data is normalised to a 25 degree celsius ambient temperature.
Temperatures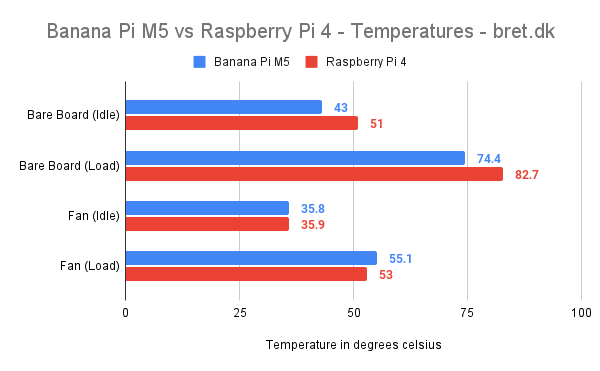 Power Usage
Whilst electricity prices surge across most of the world, luckily your bills aren't going to be a big consideration when it comes to either of these boards. My average price this month has been $0.11/kWh so far (excluding any standing/delivery fees) so running an M5 at 100% load would cost me around $3.60 per year to run, compared to $4.55 for the Raspberry Pi 4.
It's worth noting that both boards were measured with the default operating system with nothing disabled and nothing but an ethernet cable plugged in. This means that the Pi 4 also has WiFi/Bluetooth running at the time, it was also the only board that had a microSD card plugged in.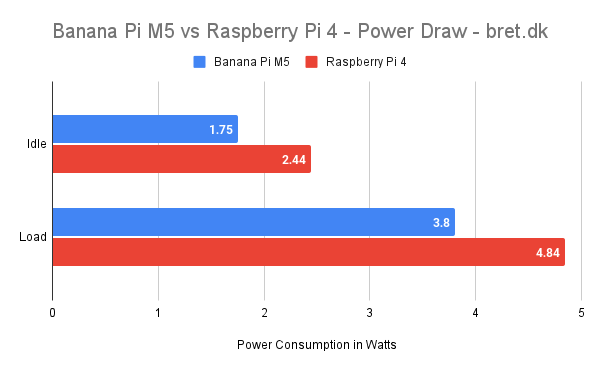 Banana Pi M5 vs Raspberry Pi 4 – Who Wins?
So there we have it, a range of tests, varied benchmarks and most bases covered (on the headless/server side at least, I may come back to update desktop/GPU details at a later date) allowing us to make a judgement call on whether the Banana Pi M5 is a worthwhile competitor to the Raspberry Pi 4 and if you should part with your hard earned cash.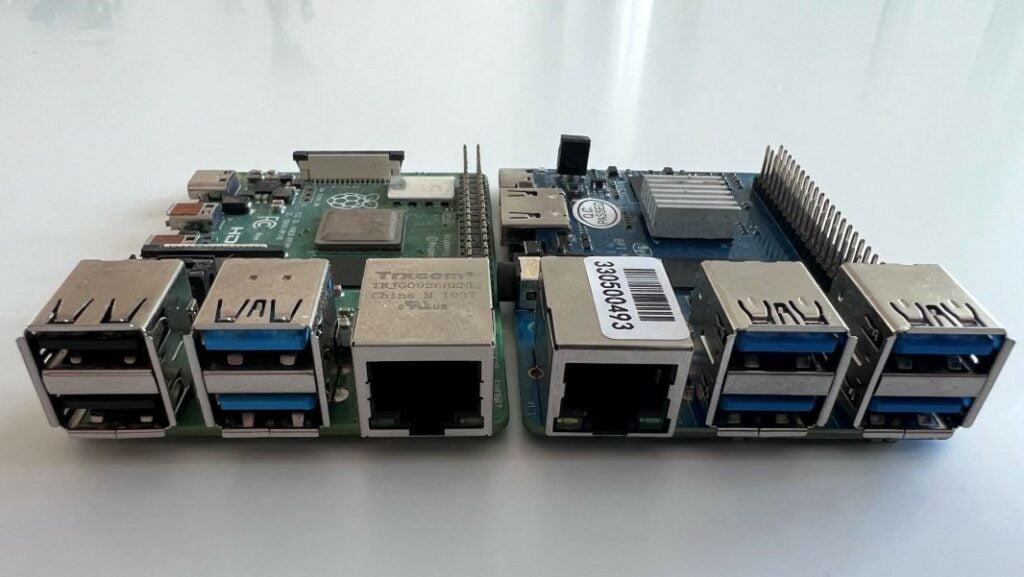 The Banana Pi M5 does well and if you don't need WiFi/Bluetooth then it could make a compelling purchase the price difference could be negated by the inclusion of eMMC, thus no SD card would be required (if you're fine with 16GB that is). If you do need more space, the microSD card performance on the M5 is great and would keep your project's physical footprint in check.
Couple that with their immediate availability on AliExpress it could be a good option for you if you're willing to do a bit more work if things don't "just work" out of the box and you like tinkering.
It's not very useful for me to say, I know, though ultimately the choice is going to come down to what you're planning to do and what features you'll need for the project and what compromises you want to make!
My 2 cents? If I wasn't in a rush and I was willing to do some work to keep an eye on available stock, I think ultimately I'd still go with the Raspberry Pi where possible as it covers more bases for the price. You'll see better operating system support, a larger overall community and a lot more accessories that just work.
Are there any other Pi 4 alternatives you'd like me to take a look at? Perhaps a Banana Pi vs Raspberry Pi vs Orange Pi lineup? Maybe we can throw in a few more and have a full-size comparison similar to the Raspberry Pi Zero Comparison?