The VIM1S is Khadas' refresh/update of the original VIM1 and includes a host of upgrades. It's still their low-end offering, but with performance boosts and a slim profile thanks to its low-profile RJ45 port, it could sneak into a project near you. Read on for my Khadas VIM1S Review!
Khadas VIM1S Specifications
| | |
| --- | --- |
| CPU | Amlogic S905Y4 Quad-Core 2GHz Cortex A35 armv8-A |
| RAM | 2048MB LPDDR4 at 1176MHz (Micron in my unit!) |
| GPU | Mali-G31 MP2 850MHz |
| Storage | 16GB eMMC 5.0 |
| | microSD Card Slot (UHS-I/SDXC) |
| Connectivity | Ampak AP6256 802.11 ac/a/b/g/n (2.4/5GHz) WLAN |
| | 1x 10/100 Fast Ethernet |
| | Bluetooth 5.0 |
| I/O | 1x HDMI 2.1 (4k 60Hz – HDR/CEC/HDCP2.2 & 2.3) |
| | 2x USB 2.0 / 1x USB-C 2.0 (Power & USB Data) |
| | 40-pin Raspberry Pi compatible GPIO Headers |
| | 30-pin FPC Connection (USB, UART, GPIO, I2S) |
| | 2-Channel Infrared |
| Power | USB-C (5v) & 4-pin VIN input (5v) |
| Extras | PWM Fan Header, Power/Reset/Function buttons, RTC header, white/red status LEDs, programmable STM8S003 MCU. |
| Dimensions | 82mm x 58mm x 13mm (Length x Width x Height) |
What's in the box?
The packaging is certainly a step up from other SBCs I've taken delivery of in the last few months, with a good quality cardboard box and opening experience (I guess it's similar to newer smartphones with a nice smooth opening? Do I sound mad?) and nice bags for the contents.
The contents in this case are the board itself, the u.FL WiFi antenna and support/documentation cards. Pretty straightforward!
Is The Khadas Heatsink Worth Getting?
The official Khadas VIM1S heatsink was something I wanted to include in this review as it comes in at $10 USD and is made and sold by Khadas themselves. There is an additional option for a fan to go with the heatsink if you want to take it up another notch but I won't be testing that today.
For the $10 you're getting a hunk of metal with 16 fins on one half and a Khadas logo on the other. Also included is a silicone thermal pad with a claimed 2.0W/mK of conductivity.
Even though it's a low-power board, I'd still personally say that the heatsink is worth getting. If you're in a similar climate to me (Central/Northern Europe), you're going to see idle temperature drops of around 20%, and when under load, this figure bumps up to around 25%! For something you'll set and forget, it's well worth the $10 in my opinion.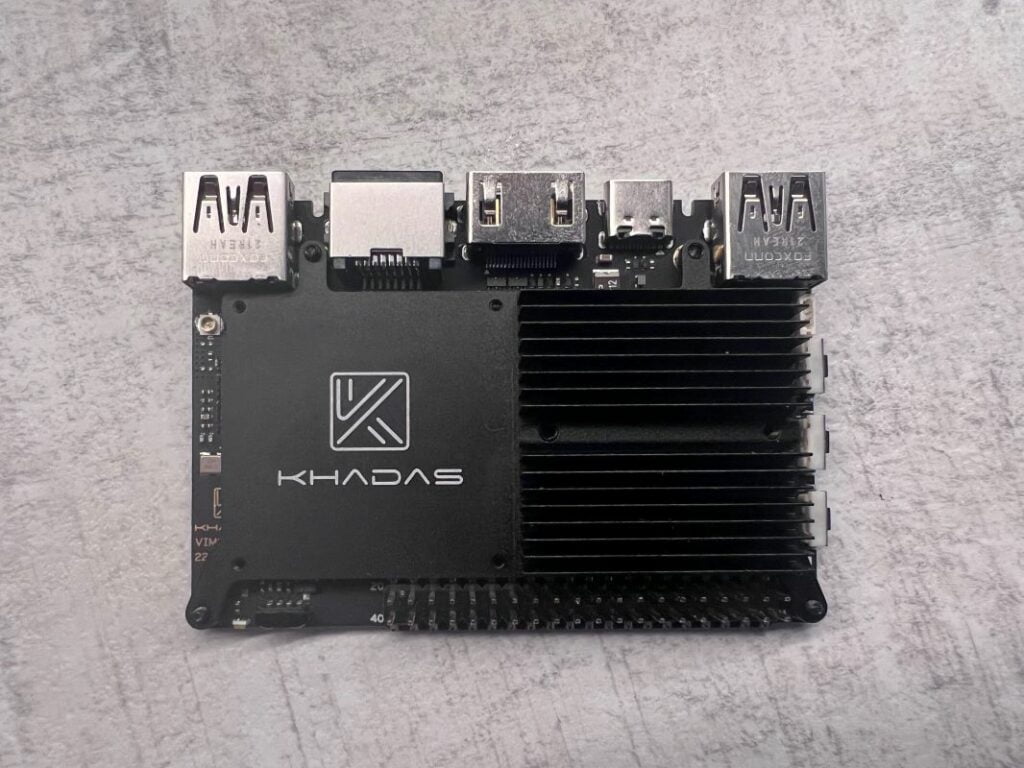 One final plus point for this board is that the antenna connection isn't hidden away underneath the heatsink which seems obvious but there are 1-2 others in my collection (mentioning no names) that do this and it's incredibly frustrating to unscrew everything to connect the antenna so thank you, Khadas!
Software Support
Ah yes.. So when it came to this section in my review of the MangoPi MQ Quad I got a little angry as the only option you had was a butchered image from similarly specced boards but when it comes to the Khadas VIM1S we're positively spoiled.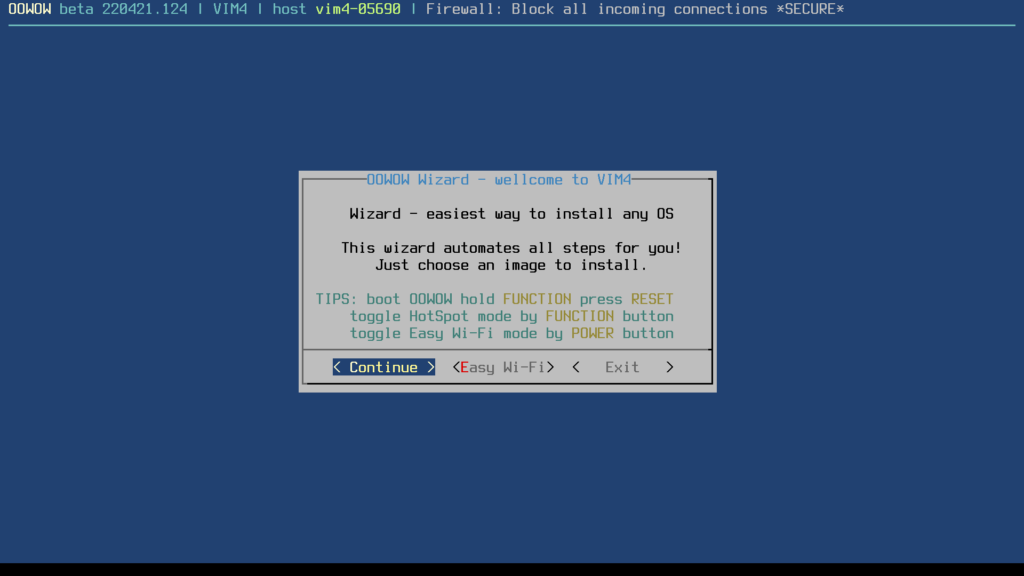 Khadas have their own OOWOW image installer and recovery utility that runs directly from the 32MB of SPI flash storage and enables you to download and write Ubuntu or Android straight to the onboard eMMC storage. With Ubuntu, you get both server and desktop options.
The utility will work over both ethernet and WiFi so if you're going to use the latter, there's a simple GUI to scan and connect to your chosen WiFi network.
The whole process is very straightforward though, simply select your preferred operating system, press OK, and wait whilst it downloads and writes the image. Once you've restarted, the default Ubuntu login details will be root with the password khadas.
There may be alternatives such as Armbian in the future as they have supported Khadas boards in the past but at the time of writing there is nothing available.
Compute Benchmarks
Whilst you'll see the 2GHz Quad-Core CPU in the specifications, it's a Cortex-A35 SoC so when I mention that the 1.5GHz Quad-Core in the Raspberry Pi 4 offers a considerable performance gain, remember that the Pi 4 employs Cortex-A72 cores which can provide up to 4-6x the performance per MHz in certain tasks.
Let's get to the actual results though and overall, it's a good showing from these power-efficient cores!
UnixBench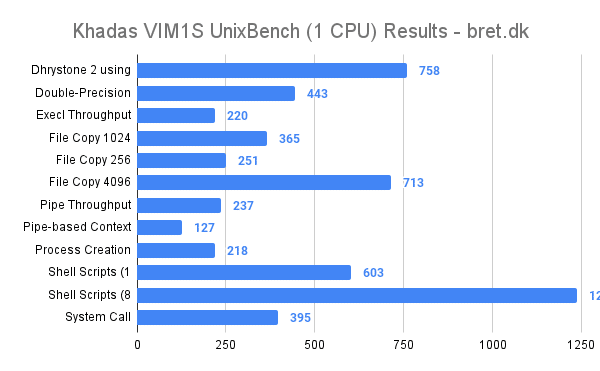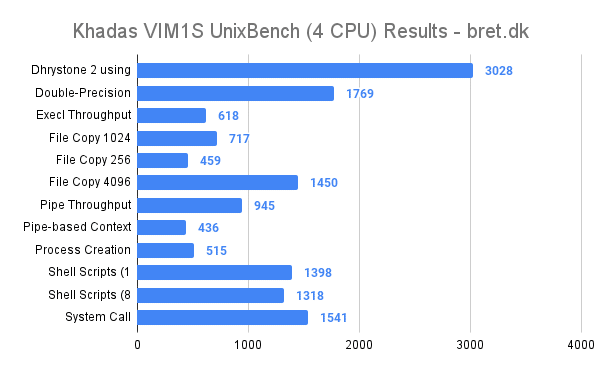 GeekBench 5.4 (AArch64)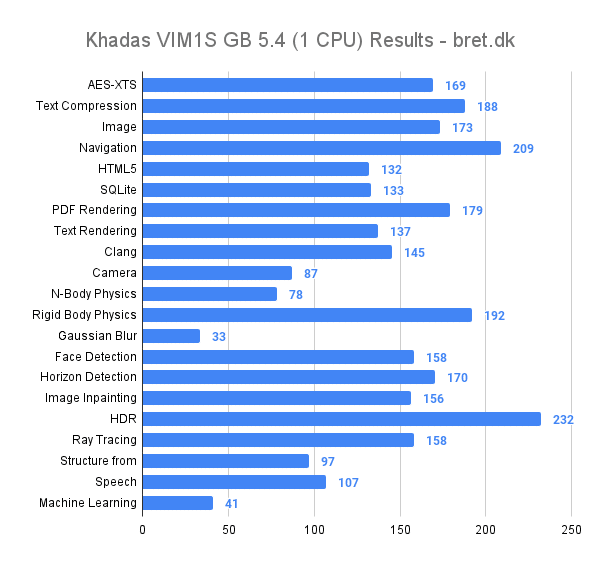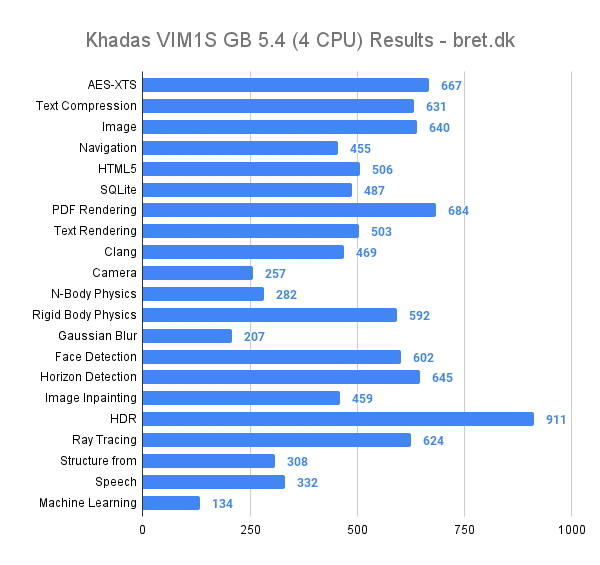 GeekBench 2.4.2 (ARMhf)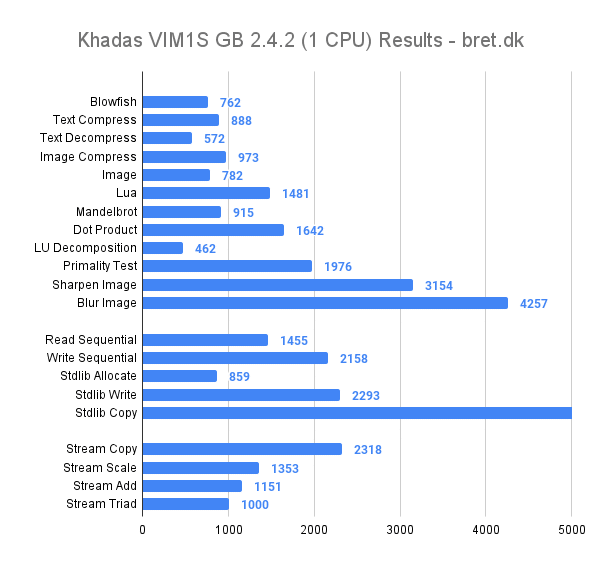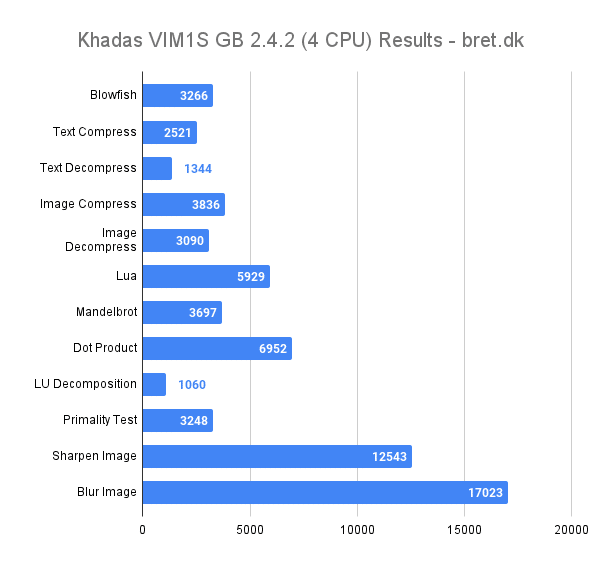 GZIP Compression

PyBench

PHPBench

WavPack Audio Encoding

Crypto++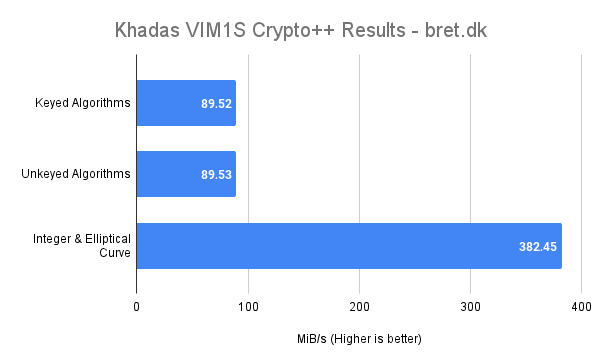 CacheBench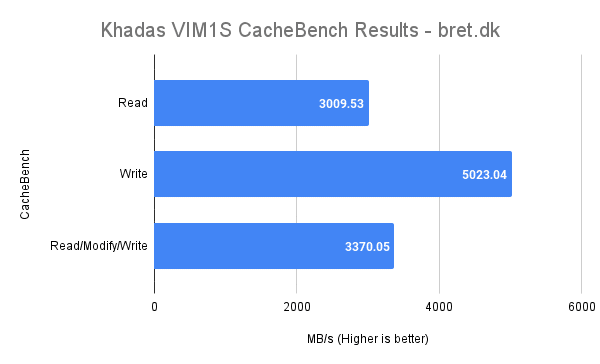 tinymembench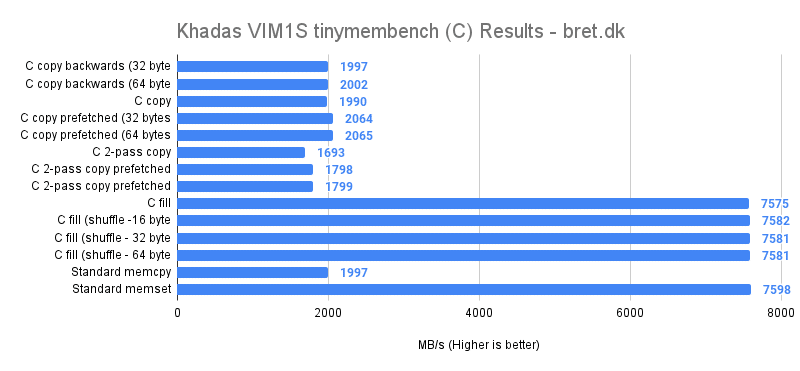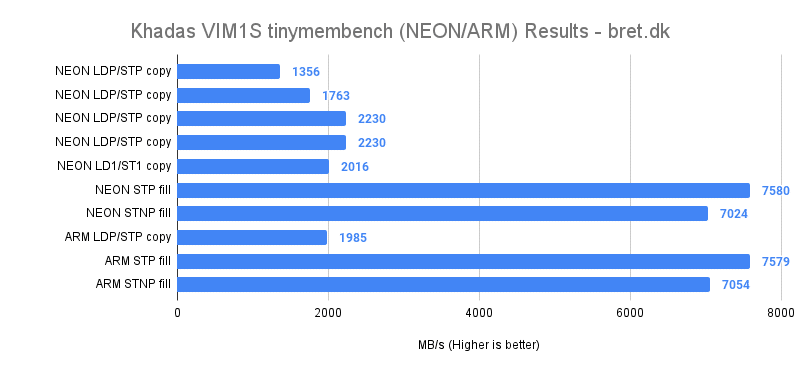 OpenSSL Benchmark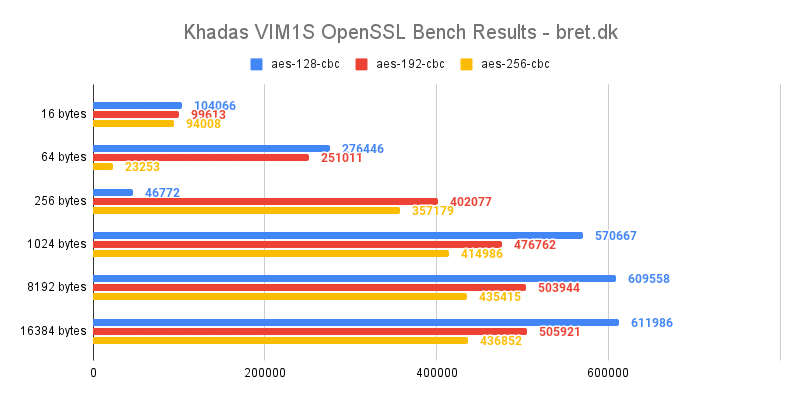 Storage (microSD/SSD) Performance
I had some issues with Samsung microSD cards in the Khadas VIM1S board so if you see N/A in the table, that'll be why! Those 3 failed to initialise each time and no amount of reformatting or thoughts and prayers would get them to work.
On the whole, though, microSD card performance is good in the VIM1S and will serve you well for general use. The included 16GB of eMMC though is what you'll be wanting to use and this outperforms even the USB-attached SSD. Though with the VIM1S' ports only USB2, that makes sense.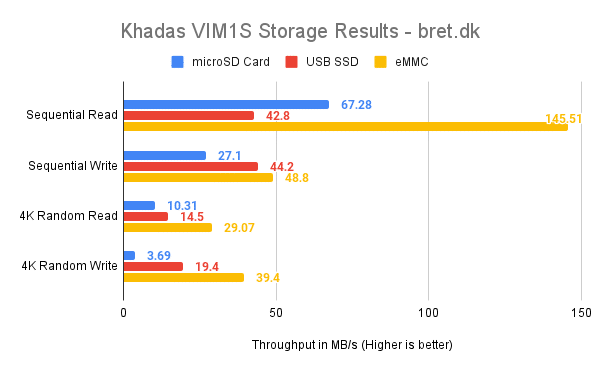 Network Benchmarks
For a new board at this price point, the fact that the Khadas VIM1S only rocks a 10/100Mbit RJ45 ethernet connection is a bit of a bummer as in my testing, the WiFi out-performed it in basically every run. USB ethernet bumps that speed up to around 330-350Mbit but then you're making a space trade-off on top of another expense.
WiFi had a strong showing on the VIM1S, with consistent performance well above 100Mbit with the included antenna. Without the antenna though, we have a Link Quality of 61% and a Signal Level of -69. This bumps up to a Link Quality of 91% and Signal Level of -46 with the included antenna. Speed/throughput did benefit too, with around 8% on the download and 33% on upload. Banana Pi take note, including an antenna is good business!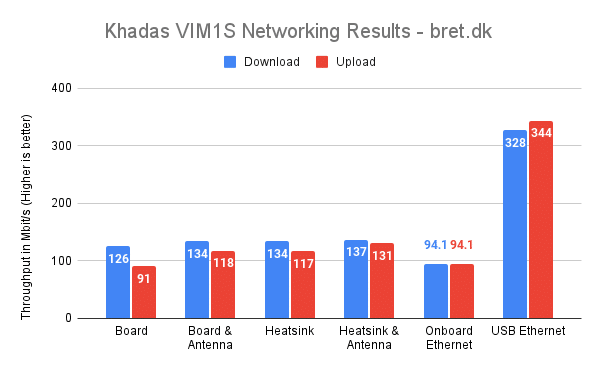 Temperatures
I was a little surprised at how cool the VIM1S was running during these tests. The ambient temperature has been normalized to 24c and as you can see, in the extreme case of the included heatsink and a 120mm fan, we're running at only 3.7 degrees celsius above that. 59.3c under full load is a great result, meaning that most won't need to worry about a heatsink or additional cooling unless you're shoving it in a confined space/case.
The official Khadas heatsink does put in a good shift and will drop your temperatures by a decent amount. I observed an 8c drop at idle, and just under 12c drop under load. I didn't test their own fan/heatsink combination but I'm sure it'll give you the best of both worlds.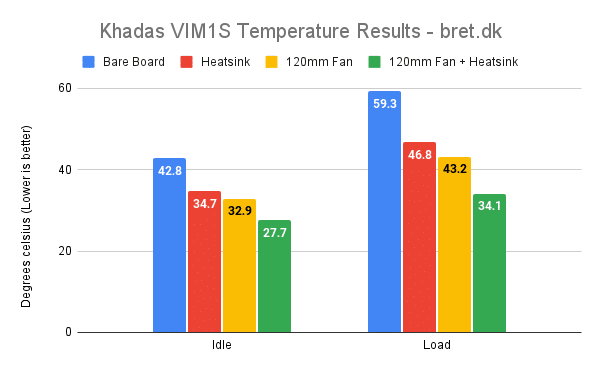 Power Consumption
The Khadas VIM1S power consumption is likely why we saw such low temperatures above! Drawing less than 2 watts means that even the most gentle of breezes will keep everything happy.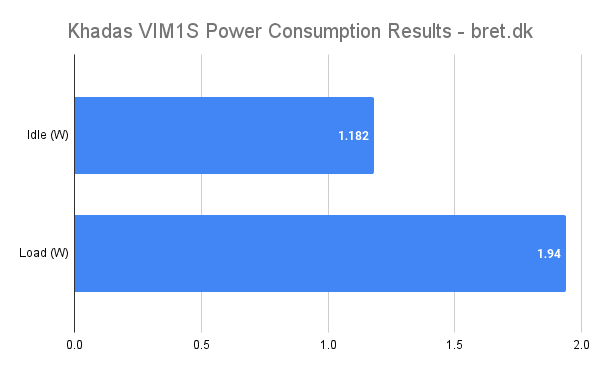 Where Can I Buy One?
As it stands, the best place to purchase the VIM1S is the Khadas official store for $64.90USD. I ordered mine on September 20th, 2022 with the $5 20-45 day shipping option and it arrived in Sweden on the 5th of October 2022. That means it was just over 2 weeks (including weekends) from ordering to arriving at my door. Your mileage may vary based on your country and their postal services though so don't moan at me if yours takes 45 days ;-)
Is the Khadas VIM1S Worth It?
Khadas themselves tout this as a low-end board that focuses on being one of the most low-profile single-board computers on the market, replacing the VIM1. In light of that, it has a Cortex-A35 S905Y4 SoC which is more focused on efficiency than raw power and sadly lacks USB3 and 10/10/1000 Ethernet.
16GB of onboard eMMC storage means you get much better performance than a microSD card and don't need to purchase one to get up and running. Speaking of which, their OOWOW software makes it extremely quick and easy to get your VIM1S started and I do like that, it's a nice piece of software.
For the price of $65USD (plus shipping/taxes), you will definitely find more powerful boards out there with faster I/O (the Raspberry Pi 4 for example offers around double the performance in a lot of tests) but in this case, you're making a trade-off for size and most likely software support at the same time.
If you need something thin and power efficient, the VIM1S is a solid choice and well worth looking into.