Starting the Raspberry Pi PoE hype train, we have a solid option for powering your Raspberry Pi 4 (or 3!) with PoE and this time it's the Raspberry Pi PoE Hat. I've also covered PoE splitters if you're curious to see how they match up!
That was a lot of repetition, sorry. In this case, though, we're not dealing with the official PoE hat from the Raspberry Pi Foundation. Instead, it's a 3rd-party option from the wonder that is AliExpress, though it's also found across Amazon too.
Raspberry Pi PoE Hat Review – Specifications
I've already seen some conflicting information regarding the specifics of this board on different sites so please take these with a pinch of salt. For example, the dimensions shown below are what is listed on the product page but when I measured the unit I have here, it measures 64mm x 53mm x 17mm (Length x Width x Height). I also measure mine at 21g compared to 20 on the product page but that could just be a calibration error. 1g will make much less of a difference than large size differences and the listing does say the allowed errors are +/- 1 to 3cm.
| | |
| --- | --- |
| Boards Supported | Raspberry Pi 3, Raspberry Pi 4 |
| Power Information | IEEE802.3af |
| | Isolated switched-mode power supply |
| | Short Circuit & Overheating Protection |
| | 1500Vrms isolation (Input/Output) |
| | DC 37-57V Input |
| | 5V 2.4A Output |
| Working Environment | -20 to 55 Degrees Celsius |
| Onboard Fan | 25mm x 25mm Brushless Fan |
| | XFS DF20B05M (5V 0.09A) |
| Dimensions | 65mm x 56.5mm x 24mm (Product Page) |
| GPIO Pins Used | 1, 2, 3, 4, 5, and 6 |
| | 3.3V, 5V, GPIO02, 5V, GPIO03, GND |
| Weight | 20 grams |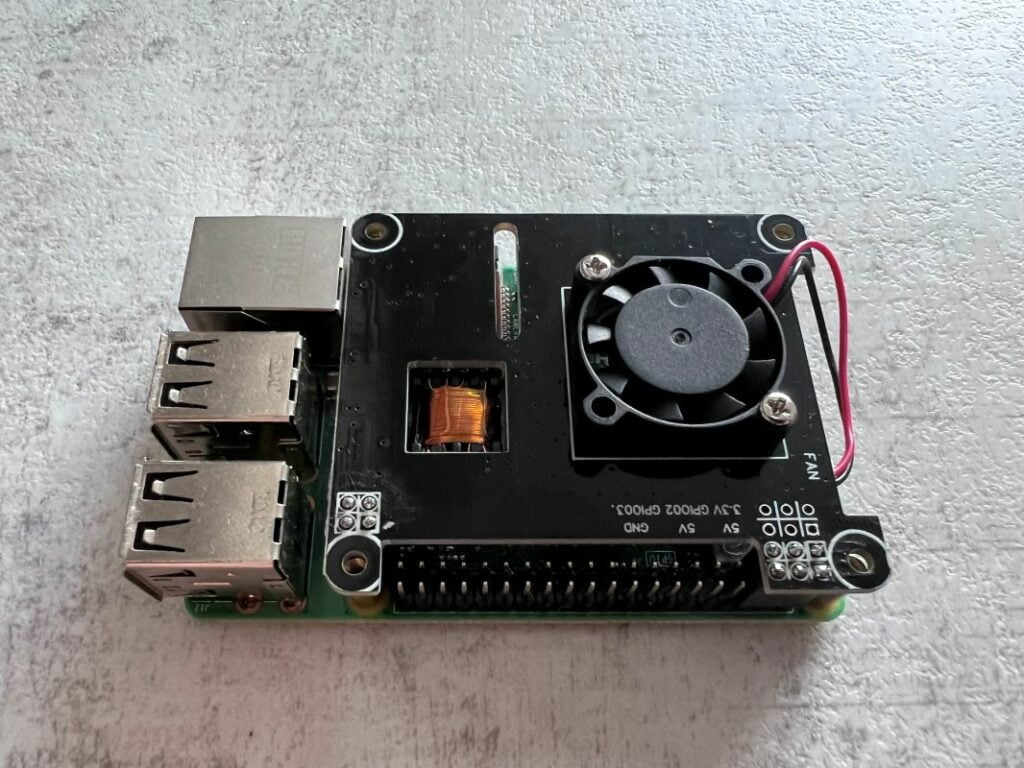 Raspberry Pi PoE Hat Power Usage
I'm powering the Pi through a Ubiquiti UniFi 16 Port PoE+ Lite Switch, which is also where I'm measuring the power output as the device allows you to track the power usage of each port. To get these figures, I took the reading every 10s for 5 minutes and averaged them out from there.
It should also be noted that the results for the Raspberry Pi 4 (2GB) include the Pi itself, the PoE hat's PCB, its fan and finally, an ancient Corsair 120GB SSD attached via USB as its boot drive. The Pi3 was booted from an SD card, with the same drive attached, mounted and a small loop script creating and deleting a folder just to simulate some activity.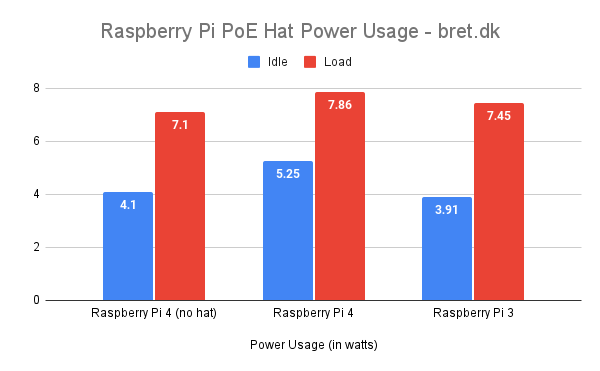 I also included the power draw data for the Pi 4 on its own so we can compare the additional power drawn by the fan and the hat itself.
Given the connected drives/devices, things look largely as expected here. The Pi 4 with no hat pulls 4.1 watts at idle and 7.1 under full load. With the addition of a hat that increases to 5.25 watts idle and 7.86 under load. The older Raspberry Pi 3B+ does draw less power overall, so the 3.91 watts seen running idle and 7.45w under load add up just fine.
Raspberry Pi PoE Hat Temperature Test
The same UniFi Switch is used for the throughput test and iPerf3 is the test software of choice, as always. The iPerf3 server is hosted on my Asus PN50 home server and connected at the full 1Gbit that the switch/devices can offer.
With idle temperatures at 38.5 and 38.6c, there's not a great deal in it (ambient was 25.3c) but under load, the Pi 4 clocks in at 56.6c and the Pi 3 60.1c.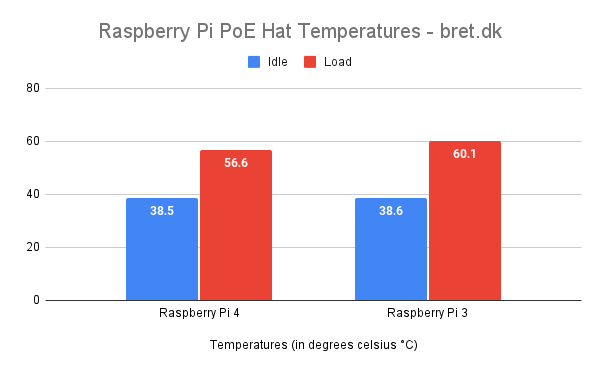 I used the same stress-ng --cpu 4 method to test the load on both boards so even though the Pi 4 was consuming more power, it ran cooler. I did check for thermal throttling and re-test just in case I was missing something and there was no throttling and no change.
Overall Thoughts
It's not the fanciest of looking devices, with its fairly plain, black PCB and only 2 screws provided for the fan (it came assembled like that, I didn't bodge it, honest!) but it does have the benefit of not utilising all of the GPIO pins. Whilst you can get extension headers, this removes the need for that, though you may have trouble connecting another hat in either case. It does leave access for other IO too, with free access around the edge of the board for the microSD card slot.
Interestingly, whilst marketed as PoE 803.2af on the product listing, my switch detects and negotiates at PoE+ 803.2at. I can't really push the Pi enough on its own to try and verify that claim but I wonder which side is wrong?
Unlike the official Raspberry Pi PoE Hat, this unit doesn't show up as a PoE fan in your system parameters and there's no PWM option available. I did try to use some tricks to try and control the fan on this unit but they didn't work. For my use, the fan running 24/7 is no problem, it's out in the office and whilst it's audible, it's not horrible amongst everything else. If you have one of these and you've got the fan turning on and off at certain thresholds, please let me know in the comments! On top of these, by default, the fan and hat will remain on, sipping electricity after a shutdown is issued.
My final observation is one that Jeff Geerling also spotted on the official Pi PoE hat and after plugging/unplugging the hat in a few times (as I need to do for multiple rounds of testing!) the 4-pin PoE connection had bent a little. I've been very careful when lifting the hat off so it's a little worrying but as Jeff mentions, most people will be placing it on top and then leaving it as is for the rest of its life.
Conclusion
If I had to make the choice, would I buy this hat for other boards? Nope, probably not. It works and does the job but for a few dollars more you can get the official hat that's much better supported and offers vastly better control. If you just want to set it and forget it and you don't care about the little snags mentioned above then sure, save your money and take this model. If you want granular control over your fans, you may find the official hat(s) a better buy.