Introduction
The MangoPi MQ Pro has finally gone on sale on AliExpress with 30 512MB RAM models available and only 10 1GB versions. I managed to grab one of the 10 1GB models available on the 1st run so that's in AliExpress' shipping partner's hands now but once arrived, I'll put it through the same tests as I did the Raspberry Pi Zero (and hopefully soon the Radxa Zero!) as it has many of the same features and shares the same form factor, albeit with a few twists.
Will it be a viable competitor to the Raspberry Pi Zero W though? On paper, the specifications look fairly similar, with a 1GHz single-core CPU, 512MB (or 1GB) of RAM and WiFi/BT on both. The Allwinner D1 processing unit is quite different to the Broadcom BCM2708 found in the Pi Zero W and with the D1 chip paired with DDR3 memory, the differences will be quite interesting to see.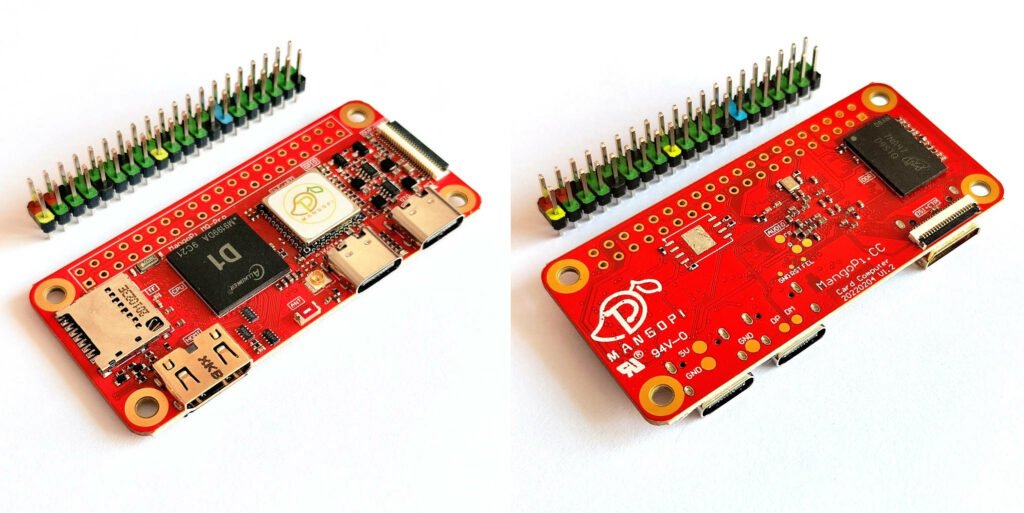 Operating support is going to be a little different and it's not going to have as much support or as much of a community as its Raspberry Pi (or even other alternatives such as the Orange Pi) cousins but from the get-go, you'll have access to Tina-Linux (on the 5.4 kernel) and RVBoard's Debian build. Hopefully, we'll see some interest from a user over at Armbian so that a build for that is available in the future!
Let us move on to the specifications and see what's powering this bright red mango machine.
Specifications
| | MangoPi MQ Pro v1.2 |
| --- | --- |
| CPU | 1GHz Allwinner D1 C906 RISC-V Processing Unit |
| | HiFi4 DSP |
| | |
| RAM | 512/1024MB DDR3L RAM |
| | |
| GPU | G2D 2D Graphics Accelerator |
| | 4K capable H.264/H.265 Processing Unit |
| | 4Kp30/1080p60 HDMI Output* |
| | |
| Connectivity | 802.11 b/g/n WLAN (2.4GHz – RTL8723DS) |
| | Bluetooth 4.2 |
| | u.FL Antenna Connector |
| | USB-C 2.0 OTG (1) |
| | Mini HDMI 1.4 (1) |
| | 24 pin DVP/RMII Camera Connector (1) |
| | microSD Card Slot |
| | 40 Pin Raspberry Pi compatible GPIO header |
| | Audio via audio out pads |
| | |
| Power | USB-C (5v) |
| | via GPIO Header |
| | |
| Dimensions | 65x30mm (Length x Height) |
*4Kp30 HDMI output may have limited support in applications
Thoughts
As I mentioned above, there are some differences between the MangoPi and Raspberry Pi in this form factor. The MangoPi MQ Pro does away with the micro-USB power and data connections and replaces them both with USB-C connections. This is a welcome change on my part and I hope all similar boards going forward make the same choice.
The other difference is that the MangoPi is available in both 512MB and 1024MB RAM models. The additional RAM on the 1GB version is a nice touch and should give it a nice advantage for a relatively small price increase over the 512MB model. The other benefit here is that both the 512/1024MB models on the MangoPi utilise DDR3 memory compared with the Raspberry Pi Zero's DDR2.
Ultimately, it's a nice-looking board with some nice "improvements" over the original Raspberry Pi Zero W however at this price point (I paid $43USD including shipping for the 1GB model) it doesn't strike me as being great value but it's a smaller brand that's not being subsidised by a foundation so it's not the end of the world. More boards like this on the market is a great thing (as it gives me more toys to play with) and I'm curious to see what they come out with in the future!
Oh, one positive it has going for it is that you can actually buy them at this moment in time. So that's something I guess?

I'll stop rambling now and leave it at this but if you're interested in what they're doing over at MangoPi, their Twitter is extremely active so give them a follow. Other than that, stay tuned for our reviews and comparisons when it arrives! (I'll also perform a test of its microSD card reader with my 20+ different cards and add it to the list)
Updates
30th May 2022
Unfortunately, the 1GB board I received had issues so I've been unable to create the content I wanted with this at this point. I'm talking with the manufacturer/seller to get a replacement as soon as possible and as soon as I do, we'll get that content underway! In the meantime, if you have any ideas on what you'd like to see me test, please leave a comment and I'll get to that as part of my testing.
16th July 2022
The replacement board turned up around a month ago and I've now completed my first set of benchmarks for the MQ Pro. Additional comparisons between this and its closest "traditional" SBC competitors will be coming soon!