The Intel N100 (and N200) seem to be Intel's attempt at trying to muscle into the market that high-end ARM SoCs look to have cornered. With the Rockchip RK3588 exploding in popularity, offering 8 CPU cores and up to 32GB of RAM, it seemed to have finally offered a compelling performance competitor to the low-power x86 options.
That is, however, until you factor in the software difficulties currently associated with the RK3558 SoC used on the current board offerings. With the Intel alternative, does it fare better? Are there any quirks we should worry about? Should you be considering an Intel N100 mini PC as a viable alternative? Or how about this message, from our.. Nevermind.
Well, actually.. If I could ask for something, it's that you follow me on Twitter/X, Mastodon, subscribe on YouTube, or sign up for my newsletter (it's in the sidebar, bottom right) as that'll help me out a great deal. Sure, the last 2 haven't got any content yet but I'm working on it..
Today's Challenger: T9 Plus Intel N100 Mini PC
Anyway, after that personal shill-fest, to compare the N100 against the RK3588 we'll need a mini PC equipped with one, naturally. For this, I've chosen the T9 Plus Mini PC with 16GB of RAM, sourced from AliExpress. At the price paid, I think we have a winner on our hands, though let's take a deeper look before jumping to any immediate conclusions.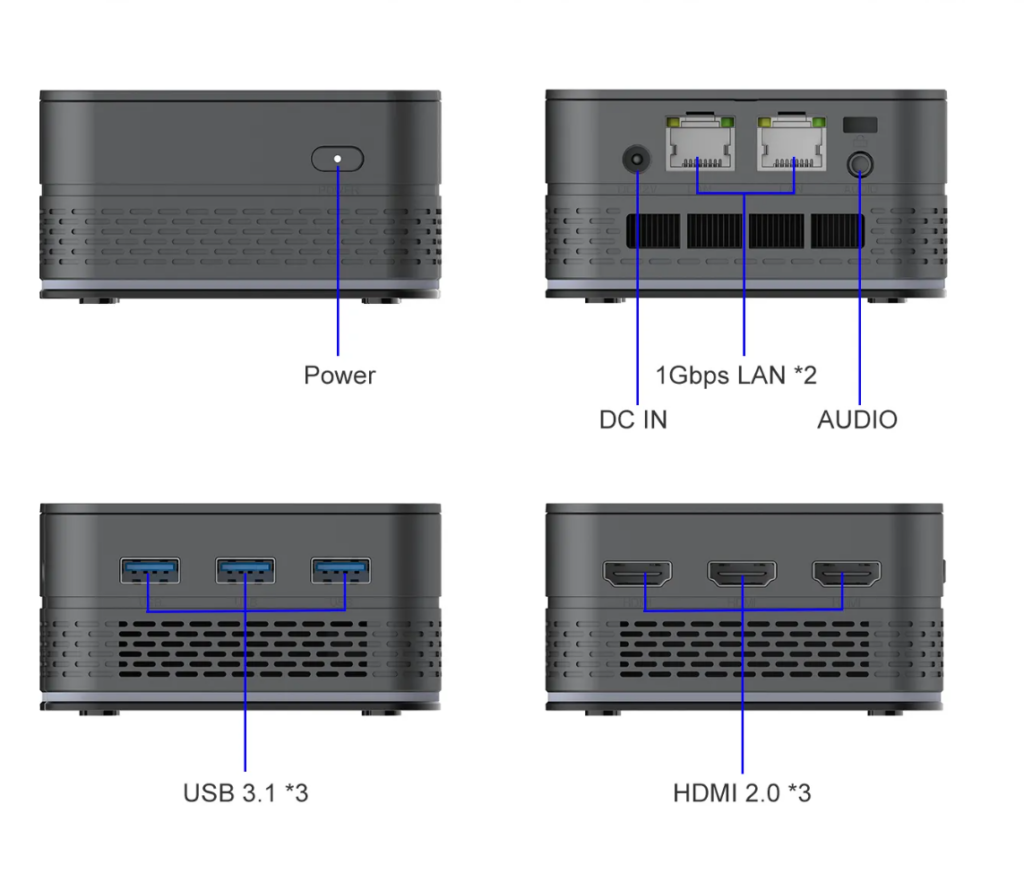 The Intel N100 CPU was released in Q1 of 2023 so is still relatively new. It supports up to 16GB of RAM in a single-channel configuration along with PCIe 3.0. 2 of those lanes in the T9 Plus are given to the M.2 NVMe slot, meaning that the theoretical maximum is around 1.9GB/s. 3 displays are possible via the 3 HDMI ports and the T9 Plus has its own heatsink and fan for cooling as we're not quite at ARM levels of power consumption and we do need it!
| Specification | Radxa ROCK 5B | T9 Plus Mini PC |
| --- | --- | --- |
| Processor | Rockchip RK3588: big.LITTLE Quad-core ARM Cortex-A76 @ 2.4 GHz, Quad-core ARM Cortex-A55 @ 1.8 GHz | Intel Alder Lake N100, 4 Core 4 threads, 0.8GHz up to 3.4GHz, 6MB Cache |
| RAM | 8GB LPDDR 4x (with 4GB and 16GB options) | 8GB or 16GB LPDDR5 4800MHz (Single Channel) |
| Wireless Connectivity | None by default, WiFi 6E and BTE 5.2 M.2 add-on card available to purchase | Realtek RTL8821CE Dual Band WiFi5, Bluetooth 4.2 M.2 card (included) |
| Ethernet | 2.5Gbit Ethernet RJ45 port (with PoE support with optional PoE hat) | 2x 1Gbit Ethernet RJ45 (RTLRTL8111/8168/8411) |
| USB Ports | 2x USB 3.0 Type-A ports, 1x USB 3.0 Type-C port, 2x USB 2.0 ports | 3x USB 3.1 Type-A Ports |
| GPIO Headers | 40-pin GPIO header | None |
| Display Output | 2x HDMI® 2.1 up to 8K60p, 1x USB-C via DisplayPort alt. mode up to 8Kp30 | 3x HDMI® 2.1 up to 4K60p |
| Camera Ports | 2x MIPI CSI connectors | None |
| Video Input | 1x micro HDMI input up to 4Kp60 | None |
| Graphics | Mali G610MC4 GPU, 6TOPS NPU, 8K 10-bit encoder, 8K decoder | Intel® UHD Graphics GPU, Up to 750MHz; 24 Execution Units |
| Storage | M.2 2280 socket for NVMe SSD (PCIe 3.0 x4) up to 2,000 MB/s, MicroSD card socket, eMMC flash socket | M.2 2242 socket with SATA and NVMe support (PCIe 3.0 x2) |
| Power Input | USB Power Delivery via USB-C connector, 5V DC via GPIO header, Power over Ethernet (PoE) enabled (with hat) | 12V A Barrel Jack |
| Dimensions | 100 x 72mm (Pico-ITX form factor) | 85 x 85 x 43mm |
| Extras | | Kensington Lock |
| | | Built-in Heatsink & Fan |
| | | RGB Lighting.. |
Intel N100 vs Rockchip RK3588: Head-to-Head
In this section, I'm going to be pitting the Intel N100 up against the RK3588 in some areas that will end up being important in your decision-making progress if you're considering whether to go ARM or x86 for your next mini PC! I'll add a disclaimer now though to say that I began writing this when the Radxa ROCK 5B was the only RK3588 board I had. There are others now (including the Orange Pi 5 Plus that I recently reviewed) that have different I/O options available but given the ROCK 5B was one of the first and most popular boards out there, that's what I'll be comparing it against.
Available Operating Systems
Naturally, given the mainline status of the hardware in use in the T9 Plus, your options for operating systems are endless and you can use the latest and greatest in terms of Linux kernels. You can also install Windows and use it as a little desktop for lighter tasks if you wish and everything will just work. At most you may run into issues with WiFi drivers depending on the specific card you get and the distribution chosen, however, the one in the T9 Plus I received is an RTL8821CE and works just fine out of the box with Ubuntu and Windows.
Included Hardware, Accessories & Value
Using the Radxa ROCK 5B as an example here (and the 16GB model at that, though everything is valid for the 8GB models too) when you buy the board you're going to get just that, the board. If you're looking to boot it, use WiFi/BT and make sure it keeps cool under load, you'll then need to add on your storage ($50), power ($25), an M.2 WiFi/BT card ($12.50), and a heatsink/fan combination ($4.50). If you want to not have it sit on your desk, you may want to think about a case too ($15).
I've gone with an M.2 NVMe SSD as the storage option for comparison here as that's what's required in the T9, but you'll see that this means that you'll be paying $190 for the board and an additional $107 (for a total of $297) to have an equivalent, bootable system. With the Intel N100-based T9 Mini PC, you get all of that bar storage for $133.50. So $183.50 in total if we use an equivalent NVMe drive.
If you wanted to go with 8GB models the difference would be $265 for the ROCK 5B and $166.50 for the T9 Mini PC. Has it piqued your interest yet?
Testing Details
After recent reviews, I've been getting used to complaining about vendor kernels but let us rejoice! All I had to do was head over to the Ubuntu website, download the latest image available, and away I went.
That means that for this testing we'll be using Ubuntu 23.04 (Lunar Lobster) on Linux kernel 6.2.0-26-generic and setting everything up was smooth sailing, it was honestly an extremely refreshing experience (for once!)
My Intel N100 T9 Plus Mini PC is equipped with 16GB of LPDDR5 RAM, whereas the ROCK 5B we're comparing it to only has 8GB but this shouldn't have a major bearing on the results. It being LPDDR5 over LPDDR4 may be a bit more interesting, albeit in single-channel mode.
I didn't bother with my usual fan setup for this testing either as the T9 Plus has its own heatsink and fan combination so I'm testing it exactly as it comes!
Compute Benchmarks
A quick note before we get into these comparisons is that the Intel N100 will boost to 3.4GHz on a single core, whereas on all-core workloads it will top out at 2.9GHz so whilst scaling doesn't quite work in an "Oh, single core is 1000, all core should be 4000!" way, it's something to bear in mind. The cooling managed to keep everything under control at that speed with no throttling whatsoever which is nice.
UnixBench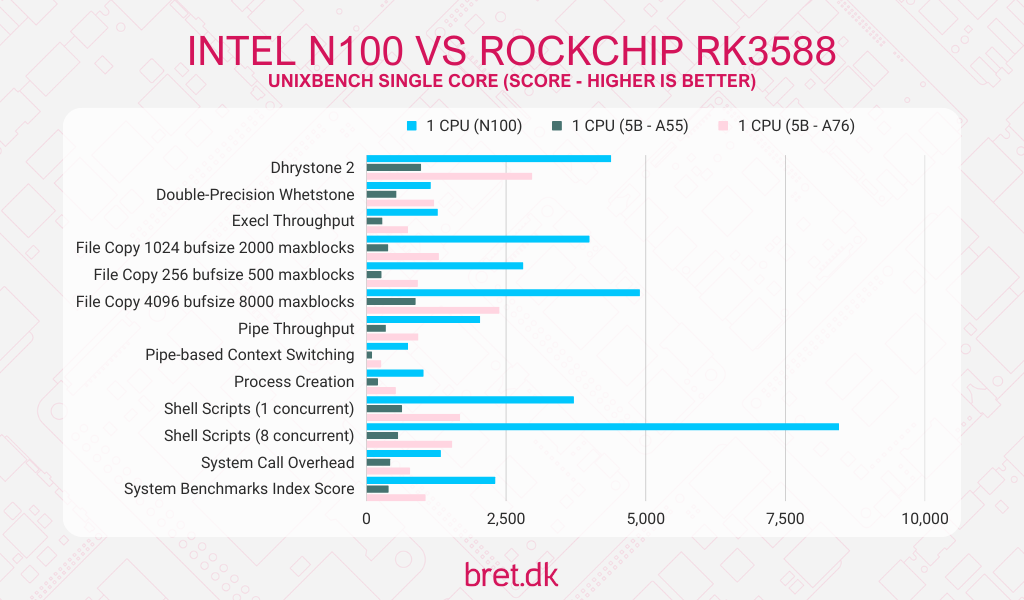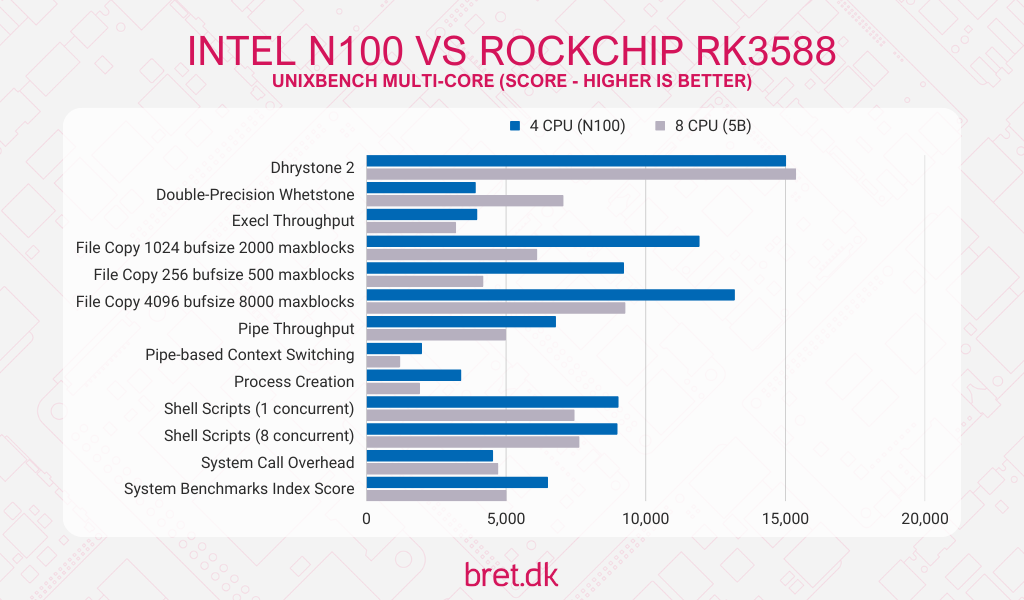 7-Zip Benchmark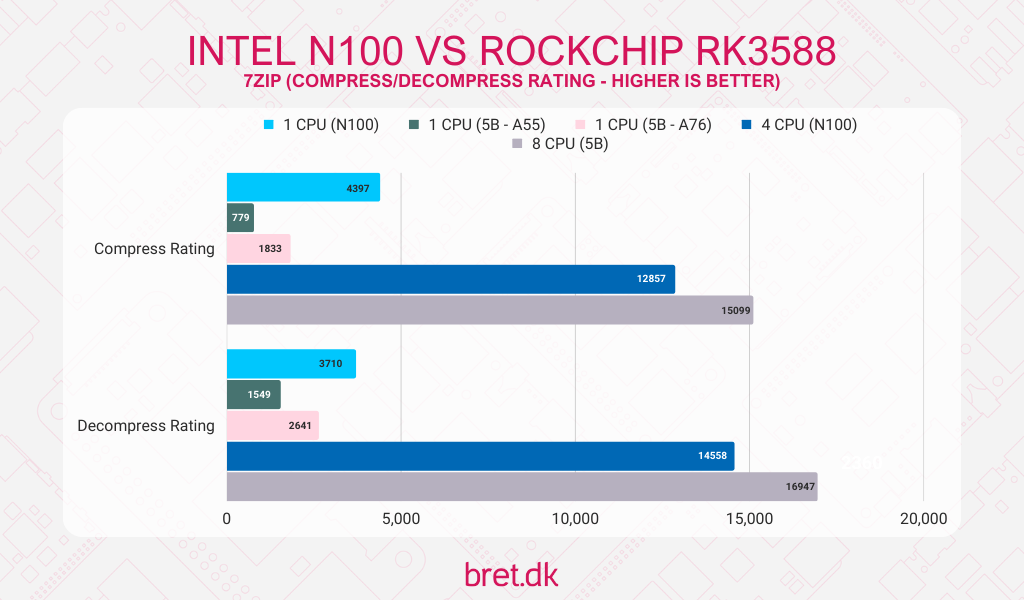 Crypto Benchmarks
It's nearly a clean sweep for the Intel N100 on the cryptographic side of things, with the Rockchip RK3588 only edging out its blue competitor in the larger OpenSSL tests. In a WireGuard throughput test (where it encrypts and decrypts traffic at the same time) it's more than twice as fast and in cpuminer the Intel is over 40% faster.
OpenSSL Benchmark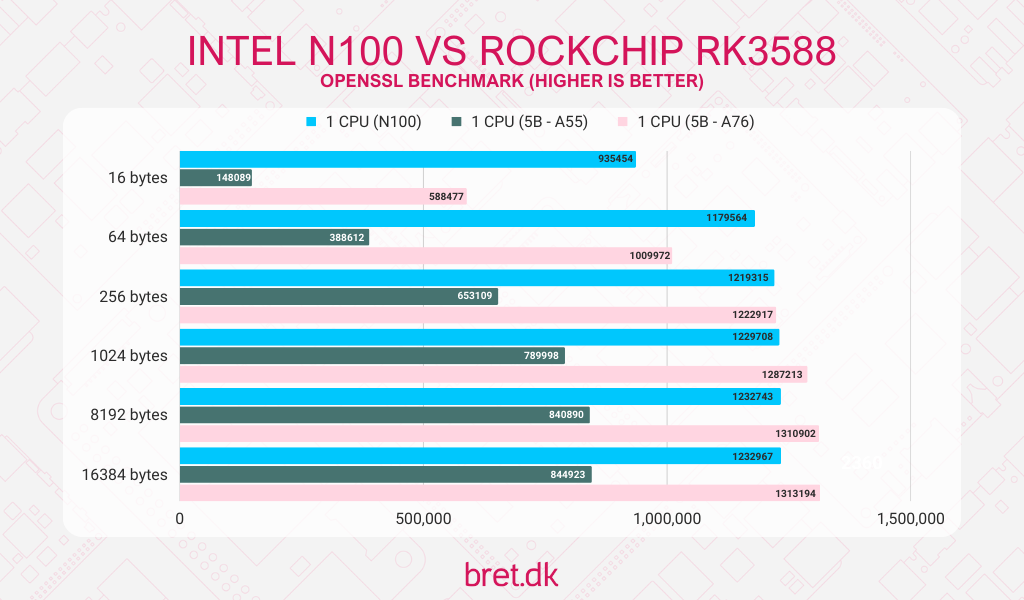 WireGuard Benchmark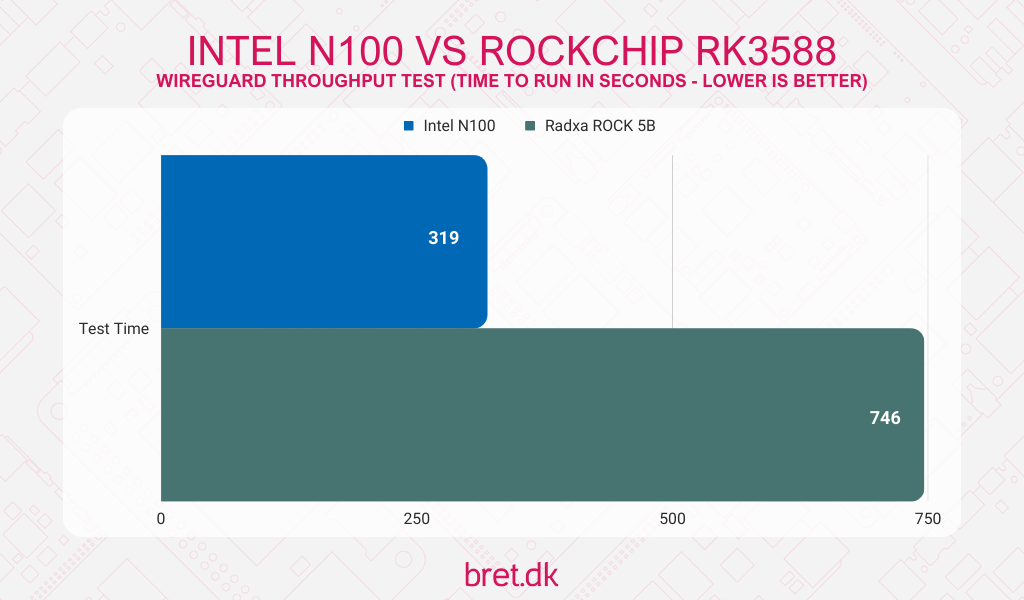 cpuminer-multi Benchmark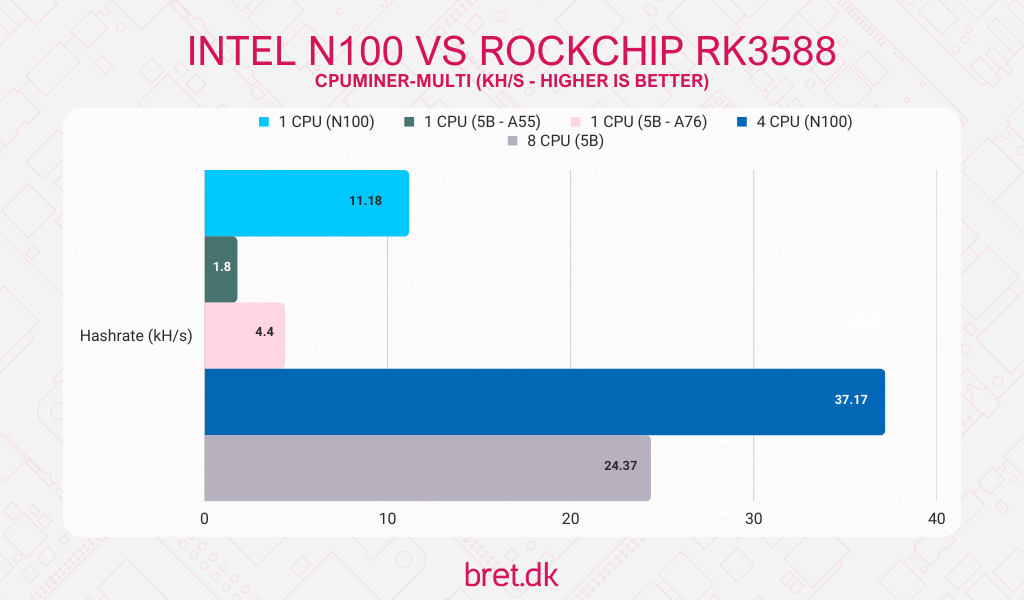 Software Benchmarks
All of the tests in this section are single-core benchmarks, meaning Intel's 3.4GHz single-core boost clock allows it to walk all over the ROCK 5B's RK3588 SoC and walk all over it it does.
PHPBench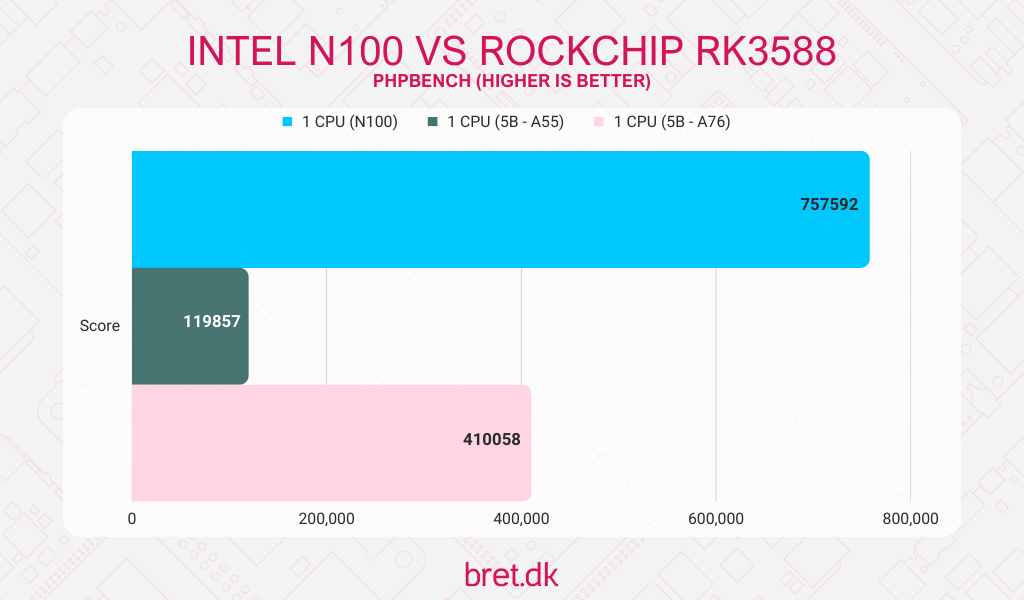 PyBench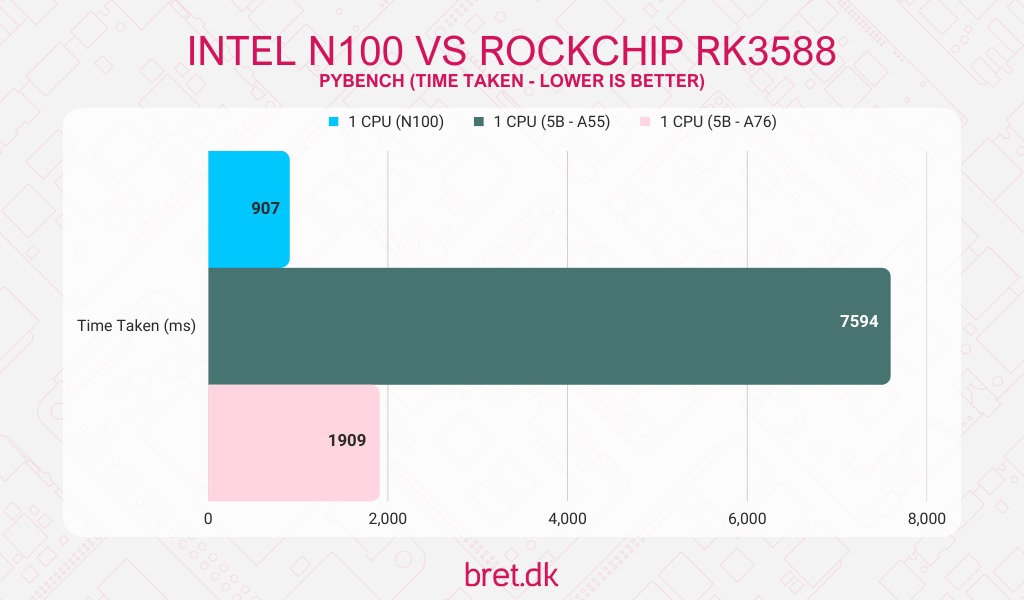 WavPack Audio Encoding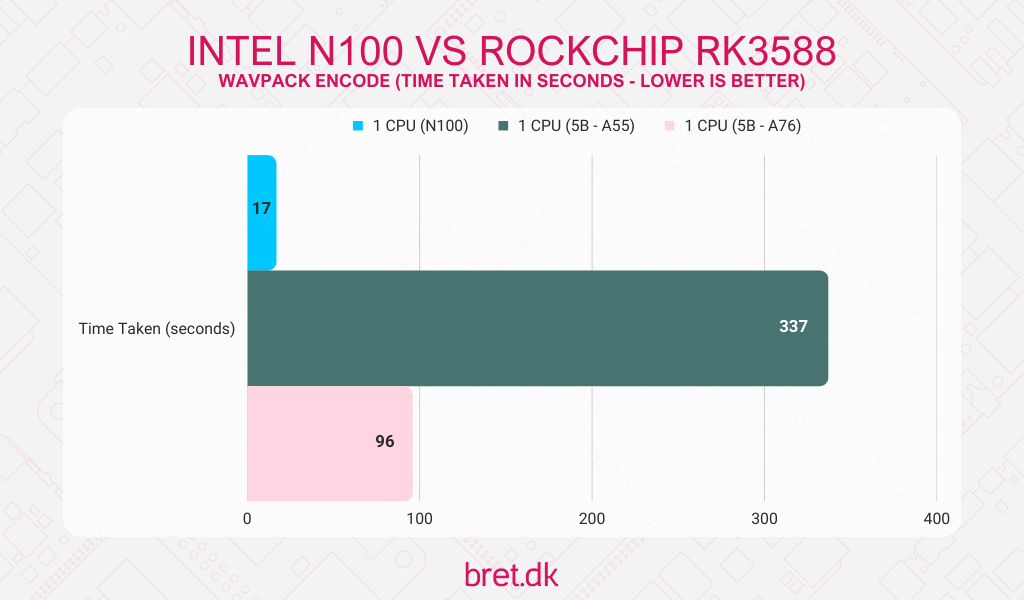 Network Benchmarks
Ethernet
The T9 Plus comes with 2x1GbE RJ45 Ethernet ports, so it's behind the ROCK 5B if you want a single, high-speed port (it has a 2.5GbE Ethernet port) but it does open itself up to the option of running as a router if you fancy it!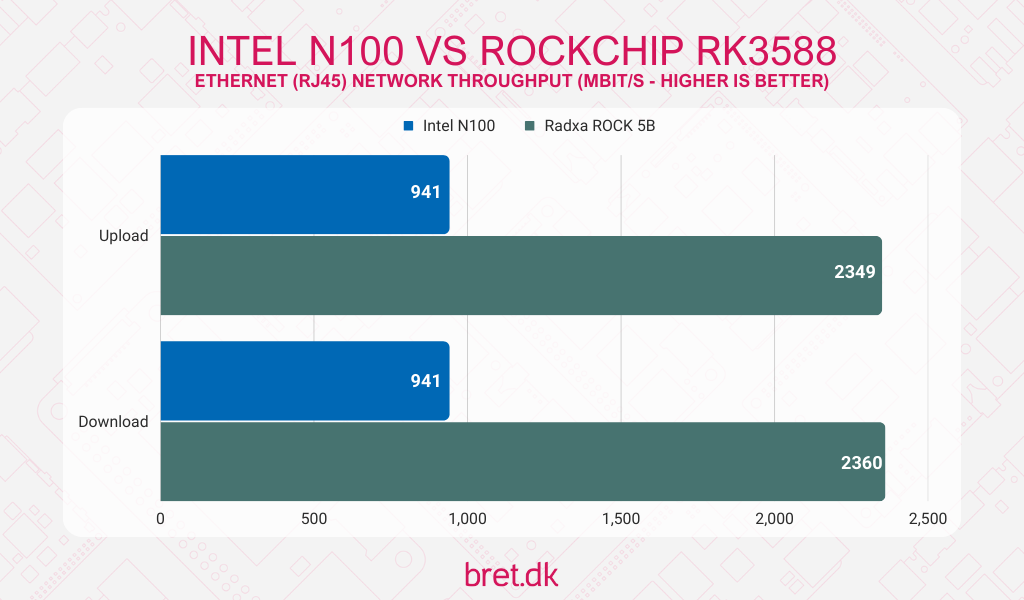 WiFi
With no external antennas, the T9 Plus was always going to be at a bit of a disadvantage in terms of speed. However, do note that the ROCK 5B was tested with no case so the 2 antennae on the 5B were unhampered by any blocks of plastic or metal. Just to throw it out there, when tested, the T9 Plus registered a signal strength of -44.9, with the 5B rocking -34.6. These were tested in the same place and 2m away with a direct line of sight.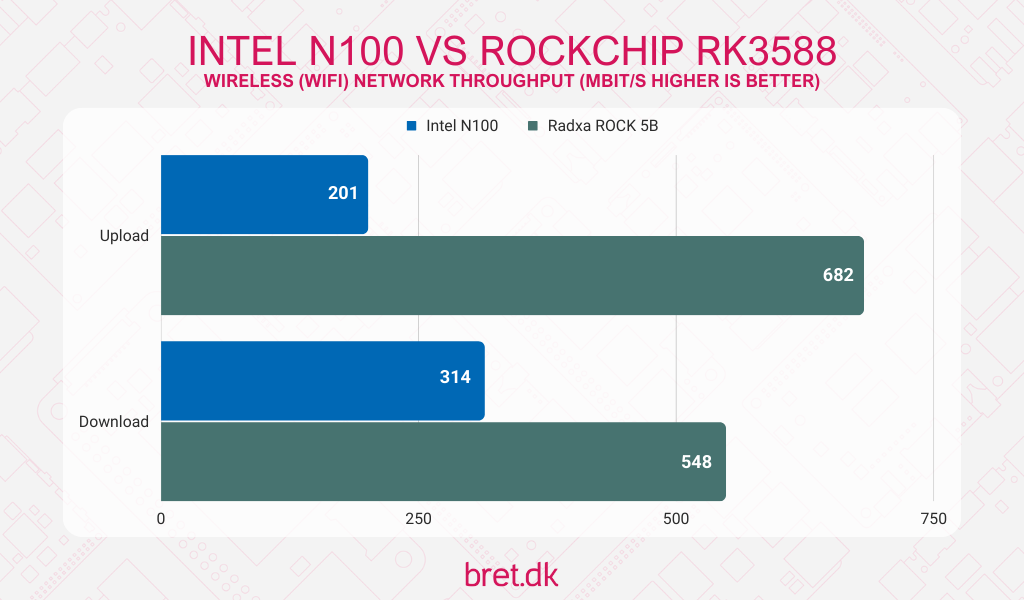 Storage Benchmarks
Our Intel N100 mini PC here only has a 2242 M.2 NVMe slot so we're a little limited on options here as I had to purchase a drive for the purpose of this test and I couldn't find anything other than a "decent" middle-ground of price to performance.
The drive I went with in the end was the 512GB Transcend MTE400S and this lacks DRAM-cache so do bear that in mind. With the top cover off though, larger drives can be used so I tested with a Crucial's 500GB P3 Plus and a 1TB Crucial P5 Plus drive.
The P3 Plus is PCIe Gen 3 and doesn't have a DRAM cache, though the PCIe Gen 4 P5 Plus does have a 1GB LPDDR4 DRAM cache. This should cover a good range of NVMe drives and let you make a better decision should you want to take one on either board.
The tables below show the speeds as tested by iozone across multiple block sizes in the T9 Plus Mini PC. Remember that this only has 2 PCIe Gen 3 lanes available to its M.2 slot, whereas the ROCK 5B gets 4. This won't mean that the 5B offers double the performance, though if the NVMe drive has the headroom, it will likely push a little further. I've included some quick numbers from the 5B below each graph to help you compare as storage may be a big part of your decision-making process.
NVMe
Transcend MTE400S (512GB – Gen 3)
| Blocksize (KB) | Write (MB/s) | Read (MB/s) | Random Read (MB/s) | Random Write (MB/s) |
| --- | --- | --- | --- | --- |
| 4 | 65.48 | 67.12 | 34.58 | 66.63 |
| 16 | 250.87 | 257.4 | 110.75 | 244.83 |
| 512 | 937.24 | 1235.57 | 957.79 | 929.94 |
| 1024 | 950.78 | 1372.04 | 1185.85 | 924.51 |
| 16384 | 928.94 | 1560.25 | 1534.87 | 919.71 |
On the ROCK 5B, this drive maxed out at 1580MB/s on the random read test with a 16MB block size and as far as the other tests go, we're neck and neck between the 2 systems so it looks like the drive itself is hitting its ceiling. Not the most exciting performance numbers but for a disk that's branded a value option, it's to be expected.
Crucial P3 Plus (500GB – Gen 3)
| Blocksize (KB) | Write (MB/s) | Read (MB/s) | Random Read (MB/s) | Random Write (MB/s) |
| --- | --- | --- | --- | --- |
| 4 | 232.19 | 148.75 | 45.22 | 225 |
| 16 | 332.86 | 163.92 | 133.47 | 329.51 |
| 512 | 791.42 | 1069.22 | 1072.31 | 706.02 |
| 1024 | 797.33 | 122.83 | 1216.46 | 809.29 |
| 16384 | 879.03 | 1426.36 | 1427.1 | 873.49 |
There wasn't a great deal of improvement on the ROCK 5B with this drive as it reached a peak speed of 1468MB/s at 16MB block sizes and sequential reads. Everything else was somewhat similar so nothing to write home about.
Crucial P5 Plus (1TB – Gen 4)
| Blocksize (KB) | Write (MB/s) | Read (MB/s) | Random Read (MB/s) | Random Write (MB/s) |
| --- | --- | --- | --- | --- |
| 4 | 175.46 | 156.89 | 56.06 | 193.47 |
| 16 | 389.84 | 355.66 | 146.55 | 374.93 |
| 512 | 1357.1 | 1278.68 | 1164.24 | 1362.45 |
| 1024 | 1474.48 | 1413.97 | 1334.97 | 1472.91 |
| 16384 | 1661.37 | 1686.94 | 1681.61 | 1650.91 |
The P5 Plus unsurprisingly reaches the highest speeds (with a couple of anomalies on the 4KB block size test) but the device itself is the limiting factor due to its 2 PCIe Gen 3 lanes. When tested in the ROCK 5B however, things are mixed. In terms of 4KB tests, we see speeds that are either within a few MB/s of each other or considerably lower (random write for example topped out at 77.9MB/s on the 5B). Once you're above 512KB block sizes though, the 5B runs away with it, peaking at 2756MB/s on the sequential write test.
Temperatures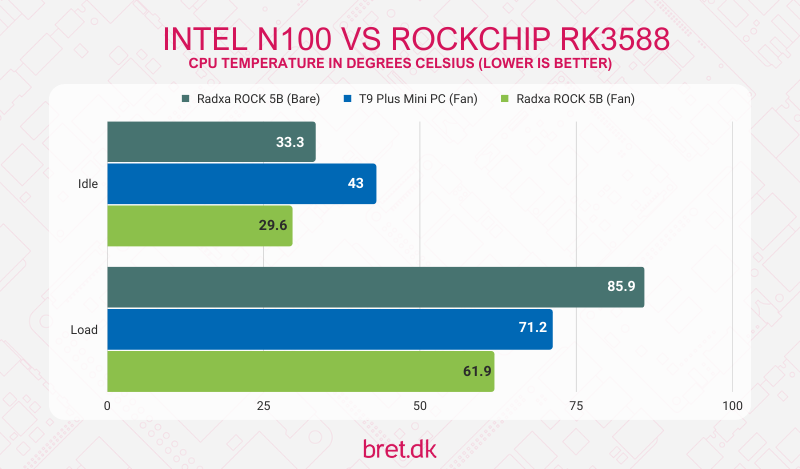 Power Consumption
Power draw is where the Intel falls heavily behind the Rockchip SoC and that's to be expected. Whilst Intel is making good ground with these chips, they're not going to the power-sipping ARM equivalents just yet. In this particular test, we also have to take into account that the T9 Plus has an M.2 WiFi card, NVMe SSD, a cooling fan, and last but not least, some RGB lighting around the bottom.
If we were to remove as much of the above as possible (I'm reliably informed that I can rip off the bottom of the chassis and unplug the lighting, or if you're using Windows the seller can provide a very safe .exe to control the lights) then we'd be able to trim a little more off but I'm not sure it's entirely worth it. Though saying that, if I wasn't scared of just snapping the chassis into pieces I'd definitely be unplugging those lights..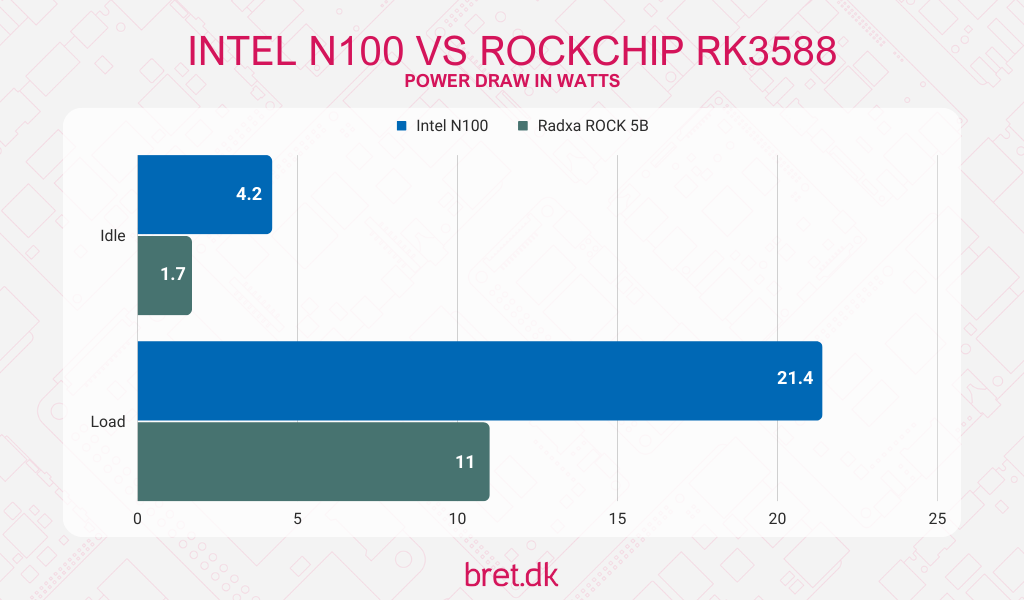 Overall Thoughts & Notes – Great
Intel platform means software support is nothing to worry about
Fairly comprehensive BIOS
M.2 WiFi/NVMe SSD drives are easily accessible under the top cover
The heatsink/fan combo kept the CPU cool enough that it didn't thermal throttle during testing
Pricing is extremely competitive when you consider the full package
DDR5 Memory/RAM (albeit single-channel)
Overall Thoughts & Notes – Not so great
The always-on, rainbow puke RGB lights that cycle around are a little too much for me
Due to its design, connecting HDMI, Ethernet, and USB devices will result in your device looking like a sea creature with legs hanging out in all directions.
Whilst the fan did a good job, under full load the noise is very noticeable within 30-50cm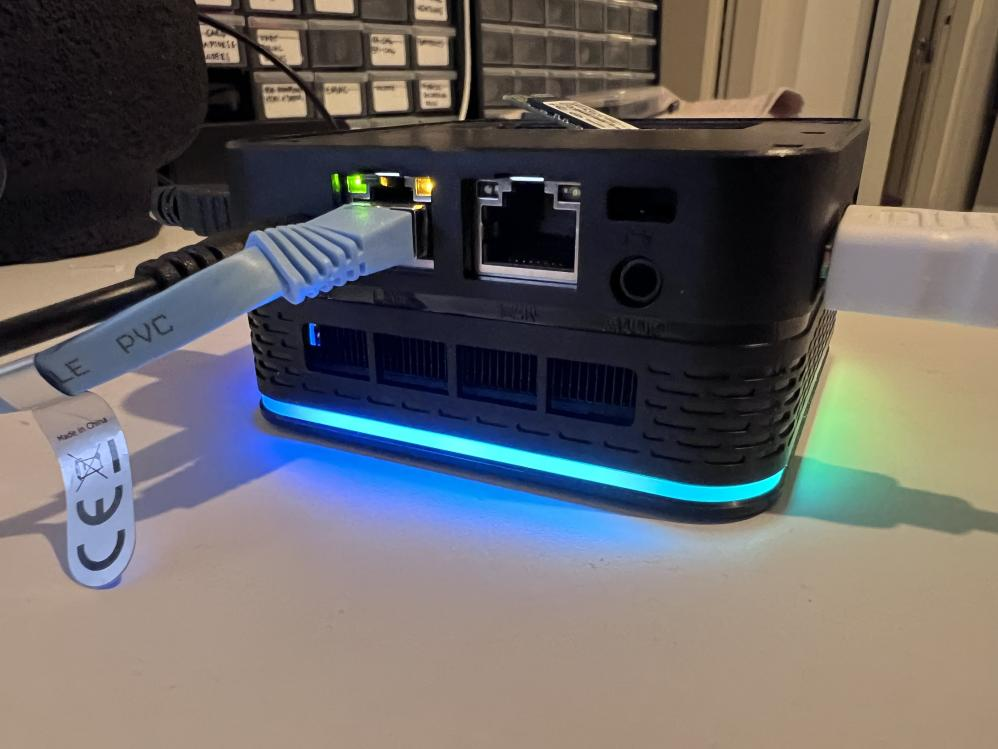 Where can I buy a T9 Plus Mini PC?
The T9 Plus Mini that I bought for this test was purchased on AliExpress and it's consistently been on offer since purchasing back in July (2023). The seller doesn't offer an affiliate option so I've not included one, though I've still chosen to highlight the seller as they were incredibly responsive before and after purchasing and answered all questions put to them.
There does seem to be a slightly different model available at another AliExpress store that includes an SSD at a slightly higher price but it also does away with the RGB lighting so maybe that's a nice trade-off? It also looks like it may include an activated copy of Windows 11 if that's your kind of thing.
Conclusion: Should you buy Intel instead of ARM?
There are hundreds of Intel N100 devices available on the market, so whilst I've focused heavily on the T9 Plus machine that I ordered, there's something with this processor out there for everyone now. Need a router? There are boards with multiple (2.5GbE even!) RJ45 ports for you to do so. Want a silent PC? Passive options exist. I even saw one with 2 3.5″ HDD bays earlier today so if you want a little NAS, there's something for you too.
Saying that, however, there are use cases for an ARM-based Single Board Computer that the Intel N100 devices simply cannot cater to. If we look at the ROCK 5B here specifically, you have GPIO headers to connect additional devices that are more "maker" oriented, you have HDMI input if you want to capture video and based on feedback I got on Twitter previously, some people just want to have an ARM board so that they're helping to not pump more money into the duopoly that is Intel and AMD. Valiant? Sure, why not, I've certainly bought enough stuff over the years "just because" so I'll allow it.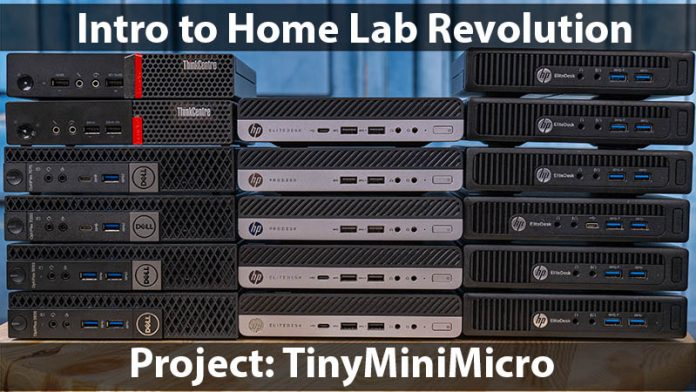 The "Just buy a used SFF PC on eBay!!!!" argument has been thrown around a hell of a lot recently, mainly exacerbated by the Raspberry Pi shortages, but I kind of hate it. Sure, they can be picked up for $75 or so but they're going to draw considerably more power due to being older, less efficient hardware and they may require upgrades to be on feature parity with what we're looking at here. Couple that with still being bigger
If you only care about the best overall performance possible, you want everything to "just work", and you're willing to take a bit of a hit on the power draw, the Intel N100 is a great option. It's what I'd buy if I just needed some compute at home. If you want to tinker with a different type of platform and enjoy the trials and tribulations that go along with it, or you want decent performance with an incredibly low power draw, the Rockchip RK3588 boards aren't to be sniffed at. You have a wide range to choose from and in the next year, I believe we're going to start seeing its true potential as the software matures.