The Radxa ROCK 5B has been available for nearly a year now and thanks to OKdo I've been able to take a look at the 8GB RAM model and see how it fares. After giving it a year to mature, how is the software situation? Has the hype died out given the release of countless RK3588 & RK3588s boards? Let's find out, it's time for my ROCK 5B Review!
[Disclaimer: This post has affiliate links so if you click and make a purchase, I may receive a small commission.]
The ROCK 5B was one of the first Rockchip RK3588 boards to be released, to great fanfare from technology news sites. An 8-core Single Board Computer with a large amount of fast RAM, 2.5Gbit RJ45 Ethernet, and an M.2 NVMe SSD slot (it's PCIe Gen 3 x4, too) for fast storage. On paper, it looks like a great SBC though does the premium price tag (when compared to other RK3588 boards available now) equate to a premium experience?
Software Support
Software Issues
Let's get straight into it by addressing the elephant in the room. I've sat on this ROCK 5B review for a while (I actually received the board in December 2022, OKdo have been very patient with me hitting a lot of set-backs this year!) as I've been trying to decide on how exactly to approach it as with the new benchmark suite I'm running through, I have some more in-depth tests and some of those rely on specific features working on the software side. Unfortunately, that's where the trouble starts.
The main problem is that the 5.10.x kernel floating around is a Rockchip BSP (Board Support Package) kernel that bears no resemblance to the actual 5.10 LTS kernel. It's been pieced together from a 2.6 kernel with cherry-picked patches and security fixes. This causes a fair amount of issues in different areas and unfortunately, this won't be fixed until everything required has been upstreamed into the actual Linux kernel.
How long will that take? Your guess is as good as mine, though there has been considerable work in the last few months from outfits such as Collabora to get things going. There was also marketing material about official images with Linux kernel 6.x being available but it seems they're still not quite there.
To be fair, this isn't strictly Radxa's fault, though their choice to use this RK3588 chip with its lack of mainline support and then push it so heavily in marketing is what's irked me. It's what's irked me for a while, really. Too many vendors pump out boards that don't have (and realistically, will never get) the support they need to actually function to their best ability. Now Radxa isn't necessarily pumping out a mass of boards and I have it on good authority that Radxa and partners such as OKdo are putting in considerable time and money into helping with the mainlining of the hardware so we'll have to wait and see what comes of that. I'm hoping for good things!
I just want to live in a world where SBCs are released with solid software support, even if that means having slightly older SoCs! A man can dream.. Anyway, I promise things will get a little more upbeat from here!
Available Operating Systems
Due to the popularity of the board, however, we do have a good number of operating system images available, covering a range of different use cases. For a list that covers most, you have the list on Radxa's own website but I'll quickly mention a few of the more interesting ones.
From Radxa themselves we've got Debian and Ubuntu, with KDE, XFCE, and headless/CLI images available which is nice. There's also a build of Android 12 if that's your thing.
Armbian makes an appearance as expected, with their Debian and Ubuntu-based images so if you're used to the way they're set up then that'll be familiar to you. If for some perverted reason, you fancy it, there's even a Windows ROCK 5B build available.
For those of you into your retro gaming, you'll be pleased to know Batocera is also available for the Radxa board and should perform rather well given the specifications, though it's not something that I'll be testing today.
One of the most popular options that I've seen on Reddit and other social media platforms is the build of Ubuntu 22.04 from Joshua Riek. I've not tested it myself yet, but given the popularity and praise I've seen, it may be worth a shout if you're not too worried about any of the others on offer. It looks to be currently offering the linux-5.10-gen-rkr5.1 kernel if you're interested and it has 3D video hardware acceleration pre-installed.
Finally, there are the rest of the community-provided images. Again, I've not tested any of these, though there are some others that offer GPU support out of the box so if you're not comfortable with installing that kind of thing yourself, monkaBlyat's modified version of Armbian may be worth looking into as an alternative to Joshua's above. There are also other images from multiple Linux distributions, though at this point, I've waffled too long and it's probably best you take a look at the initial link in this section and have a browse for yourself!
Getting Started
Now you've chosen your operating system, you'll need to get it installed. By default, you'll be able to boot from either a microSD card or eMMC modules so if you have either of those, simply use your imager of choice (I prefer balenaEtcher), and install to your microSD/eMMC, plug it in and away you go.
If you want to boot from NVMe, things are a little more involved. If you're using one of Radxa's own images, you can follow the Advanced installation options steps to update your bootloader and SPI flash to allow this. The page also has instructions for the microSD card and eMMC options if you're unsure of how to do this yourself, too.
Things get even more involved if you want to use Armbian on your NVMe drive as you'll need a microSD card or eMMC module to boot from initially. The Armbian ROCK 5B download page has some steps on how to do this too so I won't re-hash those but if you get stuck, do feel free to leave a comment, or head to the Armbian forums/Discord!
Specifications
Using the Raspberry Pi 4 as a comparison here feels somewhat harsh given that they're completely different beasts and released around 3 years apart. It does give us an idea of how things are moving along though and what's available compared to the poster-child of the Single Board Computer world.
Raspberry Pi 4
Radxa ROCK 5B
Processor
Broadcom BCM2711, Quad-core Cortex-A72 64-bit SoC @ 1.8GHz
Rockchip RK3588: big.LITTLE Quad-core ARM Cortex-A76 @ 2.4 GHz, Quad-core ARM Cortex-A55 @ 1.8 GHz
RAM
2GB LPDDR4-3200 SDRAM (with 1GB, 4GB, and 8GB options)
8GB LPDDR 4x (with 4GB and 16GB options)
Wireless Connectivity
2.4 GHz and 5.0 GHz IEEE 802.11ac wireless, Bluetooth 5.0, BLE
None by default, WiFi 6E and BTE 5.2 M.2 add-on card available to purchase
Ethernet
1 Gbit Ethernet (with PoE support with optional PoE hat)
2.5Gbit Ethernet RJ45 port (with PoE support with optional PoE hat)
USB Ports
2 USB 3.0 ports; 2 USB 2.0 ports
2x USB 3.0 Type-A ports, 1x USB 3.0 Type-C port, 2x USB 2.0 ports
GPIO Headers
Raspberry Pi standard 40-pin GPIO header
40-pin GPIO header
Display Output
2 × micro-HDMI® ports (up to 4kp60 supported)
2x HDMI® 2.1 up to 8Kp60, 1x USB-C via DisplayPort alt. mode up to 8Kp30
Camera Ports
2-lane MIPI CSI camera port
2x MIPI CSI connectors
Video Input
None
1x micro HDMI input up to 4Kp60
Graphics
Broadcom BCM2711, Quad-core Cortex-A72 (ARM v8) 64-bit SoC @ 1.8GHz
Mali G610MC4 GPU, 6TOPS NPU, 8K 10-bit encoder, 8K decoder
Storage
MicroSD card socket
M.2 2280 socket for NVMe SSD (PCIe 3.0 x4) up to 2,000 MB/s, MicroSD card socket, eMMC flash socket
Power Input
5V DC via USB-C connector
5V DC via GPIO header
Power over Ethernet (PoE) enabled (with hat)
USB Power Delivery via USB-C connector
5V DC via GPIO header
Power over Ethernet (PoE) enabled (with hat)
Dimensions
85.6mm x 56.5mm
100 x 72mm (Pico-ITX form factor)
Testing Details
As always, to let you know precisely what you're looking at, I'll outline the tools and software I used when testing this particular board. To kick it off, I decided to go with the Rock 5B Armbian build (23.05.0) based on Debian "Sid" and utilise the 6.2.0-rc1-rockchip-rk3588 kernel. I have the 8GB RAM model here, with the performance governor selected for testing, and during all benchmarks, I have a setup of 3 120mm fans blasting across the board (excluding the temperature ones that call for no cooling, duh..) so whilst this is a little unrealistic compared to how you may be running your 5B, it prevents any kind of thermal issues clouding the data.
All single-core tests were run 3 times on each type of CPU core, with the values presented being the average of those 3 runs. The same goes for multi-core, though these were just run on all CPU cores, obviously!
Compute Benchmarks
Let's run through a few quick CPU benchmarks to see how things line up. Geekbench 6 has unfortunately been dropped from the testing suite due to awkwardness in their licensing but if people really, really want to see it for future tests, let me know in the comments and I'll see what I can do.
UnixBench
I've split the single and multi-core results up here as the sheer amount of data was overwhelming in a single chart (though speaking of charts, I'm trying out a new format for these, do let me know if you like them or if you have suggestions!) and this way we can see how the individual core types bench across the different tests.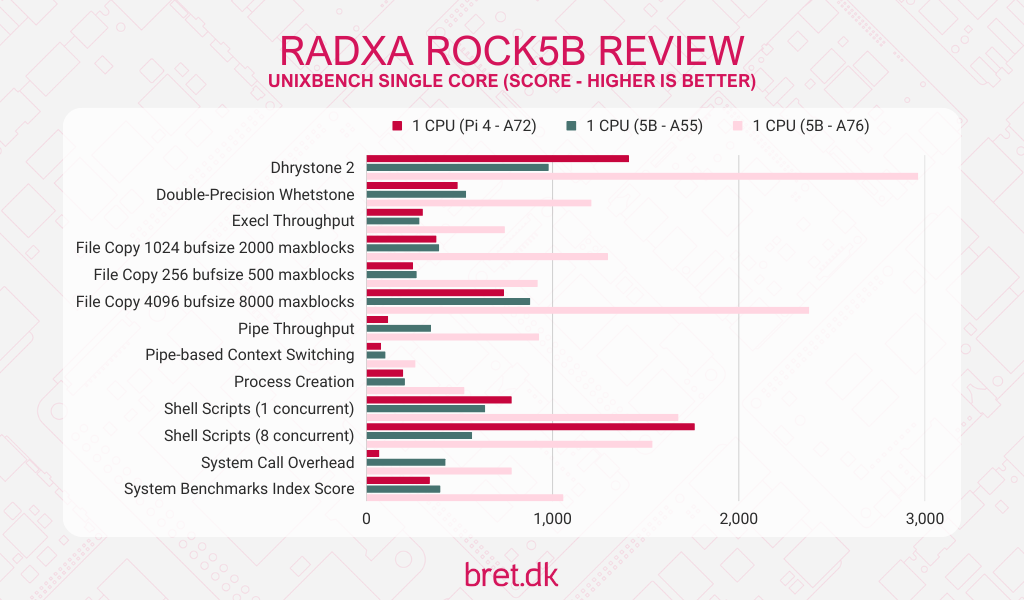 Things are largely as expected here, with the higher-clocked ROCK 5B's 1.8GHz Cortex-A55 cores going head-to-head with the Pi's 1.5GHz A55, and the 2.4(ish) GHz A76 cores in the 5B storming ahead. Combining those 2 quad-core clusters on the RK3588 means it storms ahead of the Raspberry Pi.
7-Zip Benchmark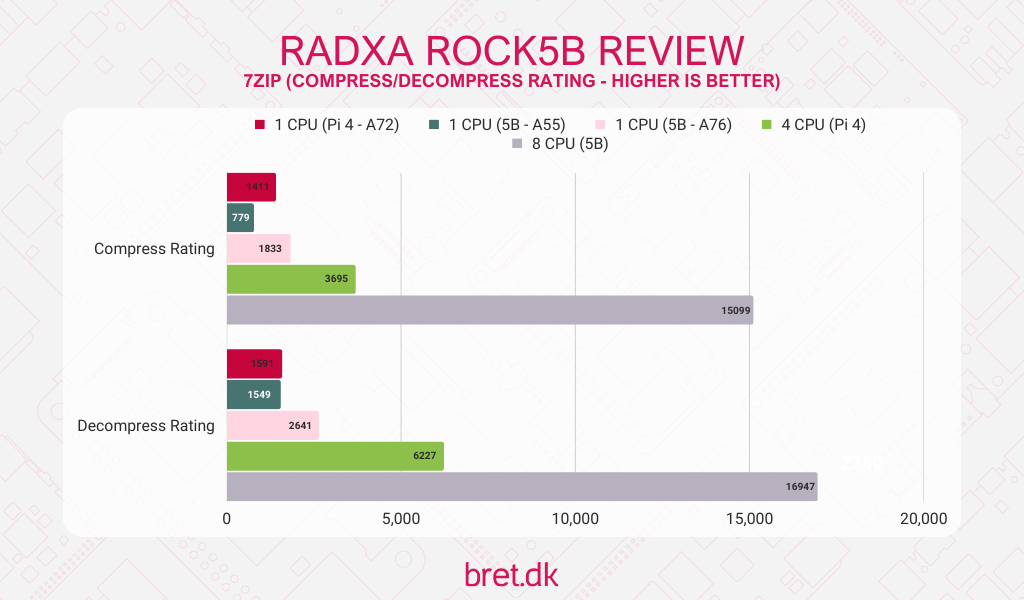 Again, I don't think we're surprising anyone with these results. The Raspberry Pi 4's Broadcom BCM2711 offers 4 1.5GHz Cortex-A72 cores, whereas the ROCK 5B's Rockchip RK3588 has 4 1.8GHz A55 cores with 4 2.4GHz Cortex-A76.
If you're running single-core workloads then sure, the Pi's 1.5GHz A72 cores will outperform the Rock 5B's A55 cores buuuut that's about as good as you're going to get. Move your workload over to the 2.4GHz A76 cores however and there's no competition.
Crypto Benchmarks
Moving onto the cryptographic-related tests, we see a clear winner and whilst WireGuard may seem like a network test, in this case, we're testing the decryption and encryption of data in both directions simultaneously. Naturally, the additional, higher-clocked cores are yet again proving to be useful, allowing the ROCK 5B to lead in every test. This is also helped by the fact that the Raspberry Pi 4's BCM2711 SoC does not have the ARM Crypto extensions available to it.
OpenSSL Benchmark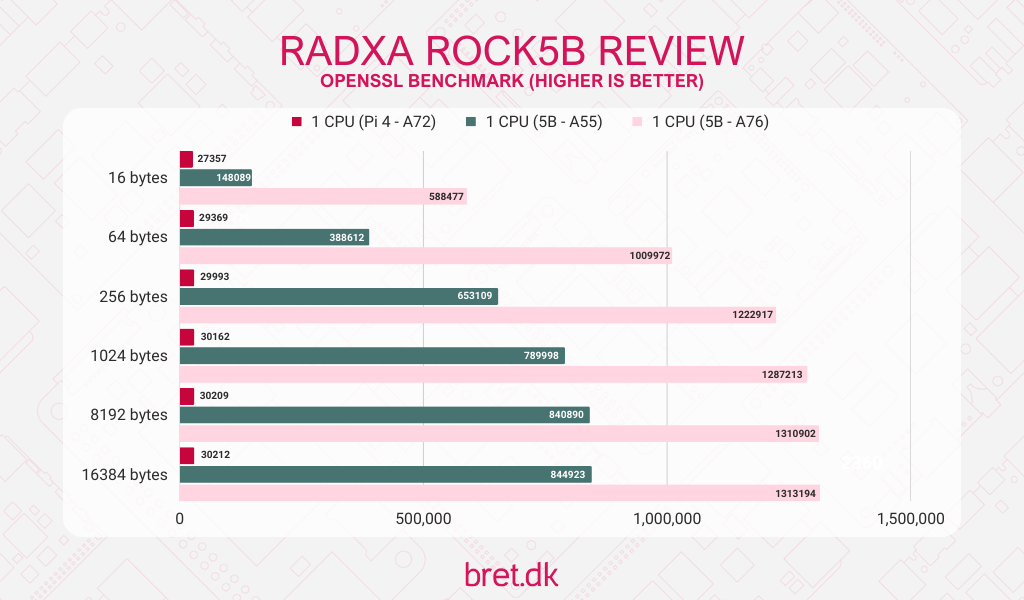 WireGuard Benchmark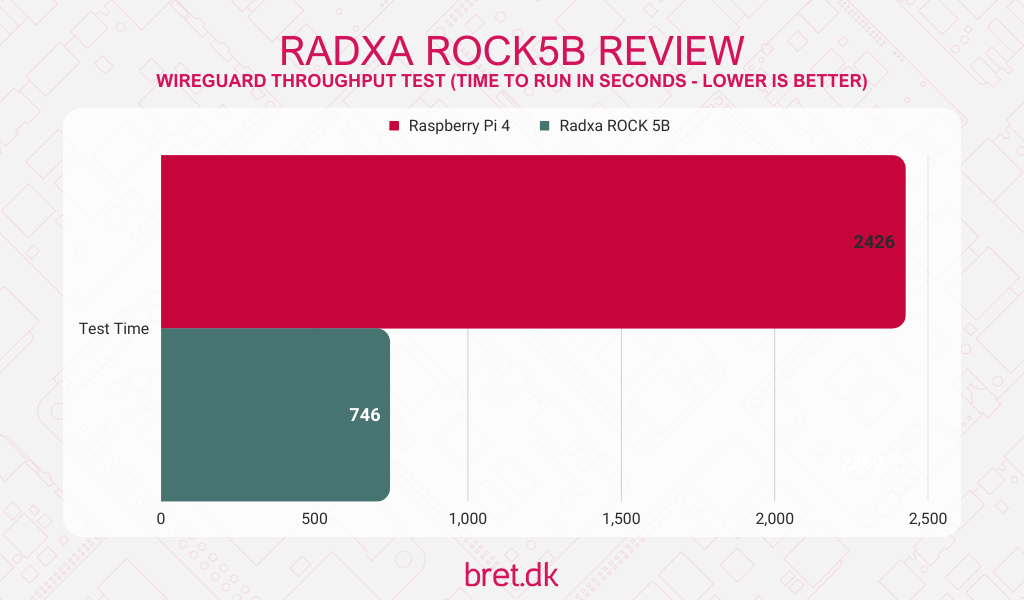 cpuminer-multi Benchmark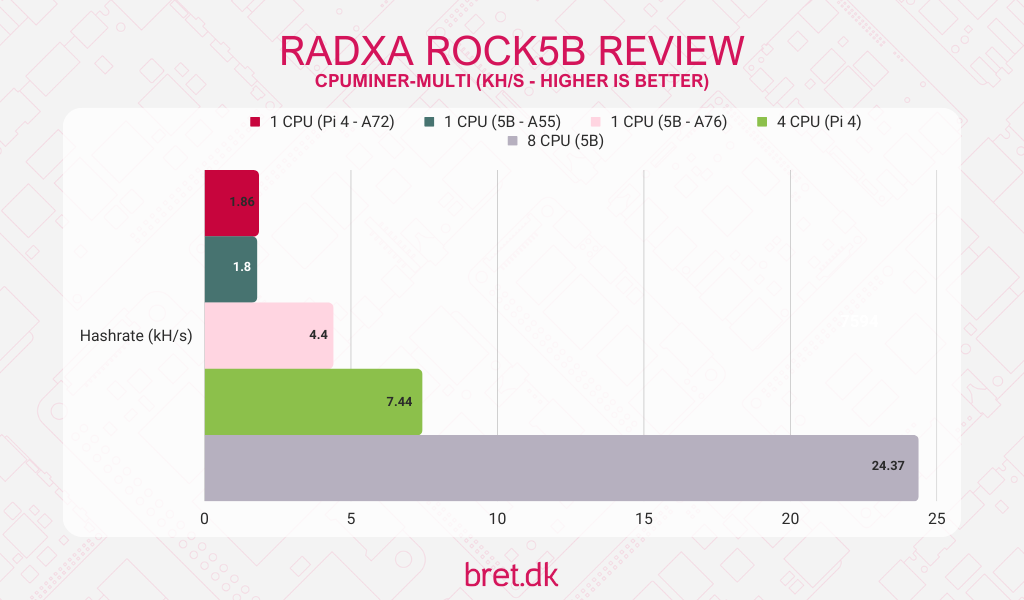 Software Benchmarks
All 3 of these tests are actually single-core tests so we get a good look at how the 2 different core types come into play on the ROCK 5B. As expected, even clocked slightly higher, the 5B's Cortex-A55 cores can't quite keep up with the Raspberry Pi 4's Cortex-A72 core.
PHPBench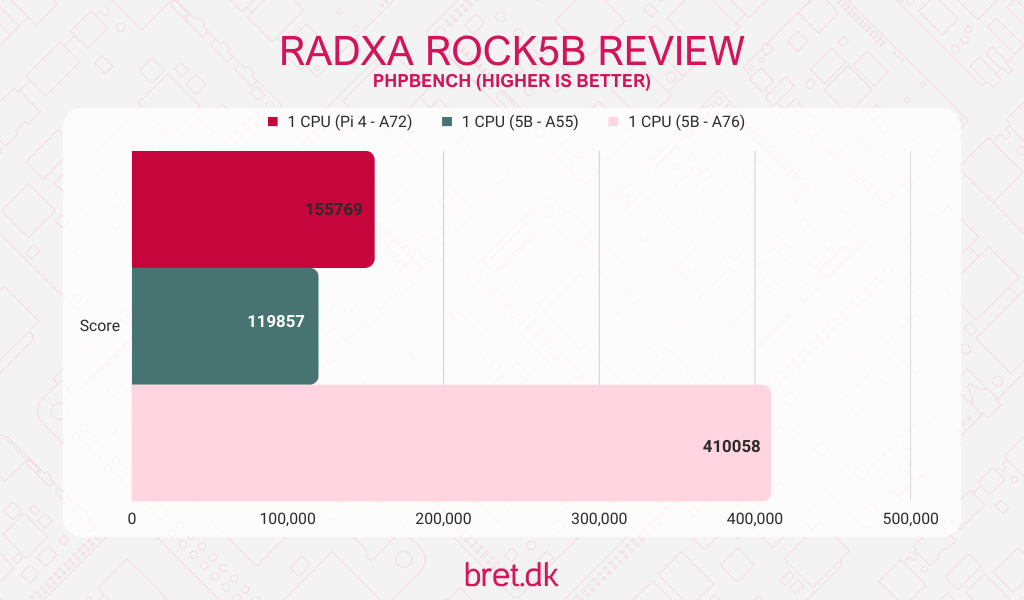 PyBench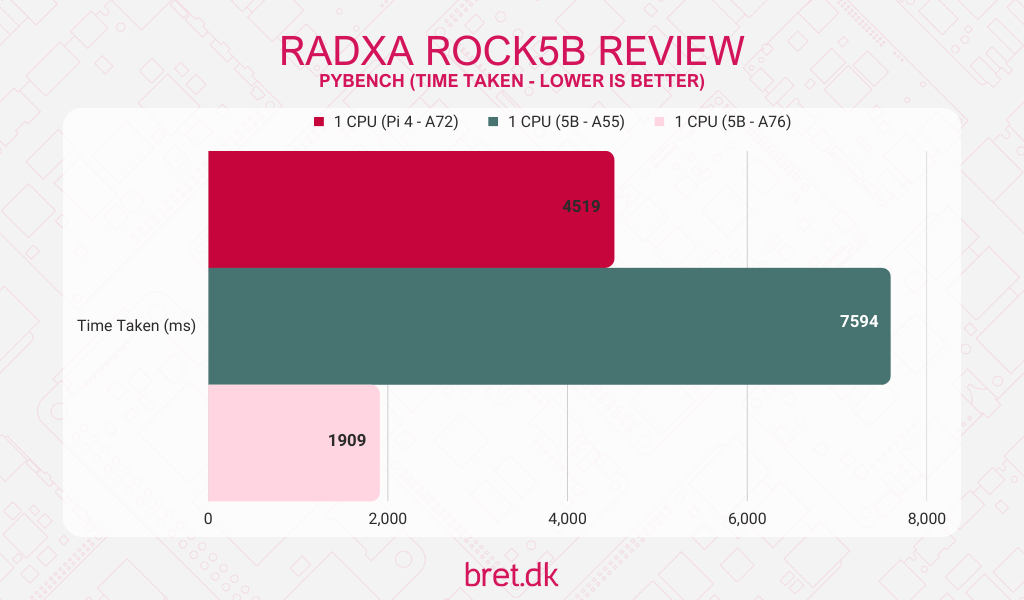 WavPack Audio Encoding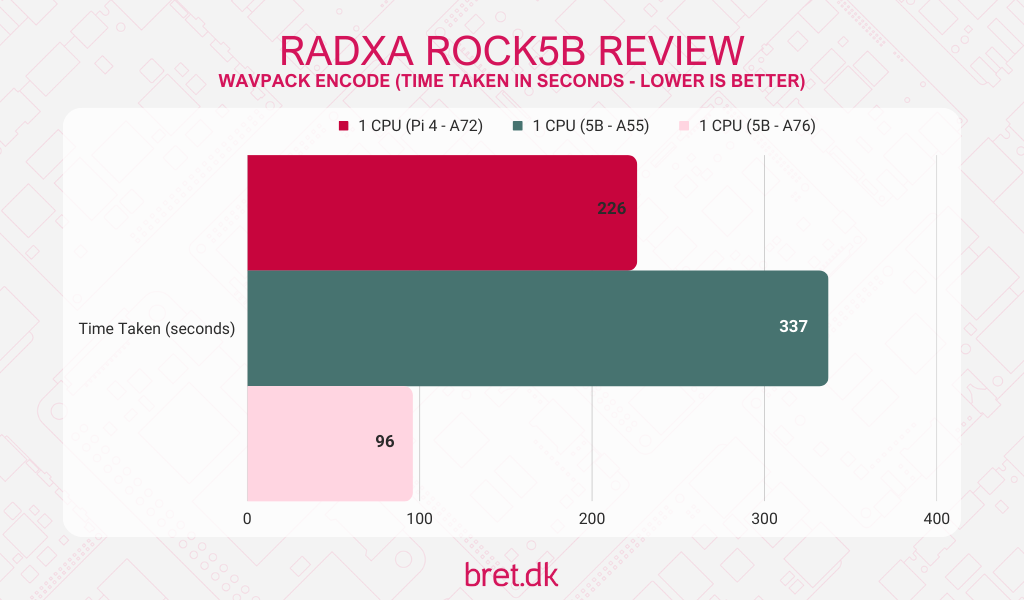 Network Benchmarks
Ethernet
The 2.5Gbit RJ45 Ethernet on the ROCK 5B offers 2.5x the throughput (theoretically) as the Pi 4, though you'll need 2.5Gbit networking to make full use of it. The prices on 2.5Gbit switches are coming down though, and with many modern platforms including 2.5Gbit by default, this may be beneficial to you if you plan on doing something particularly network intensive.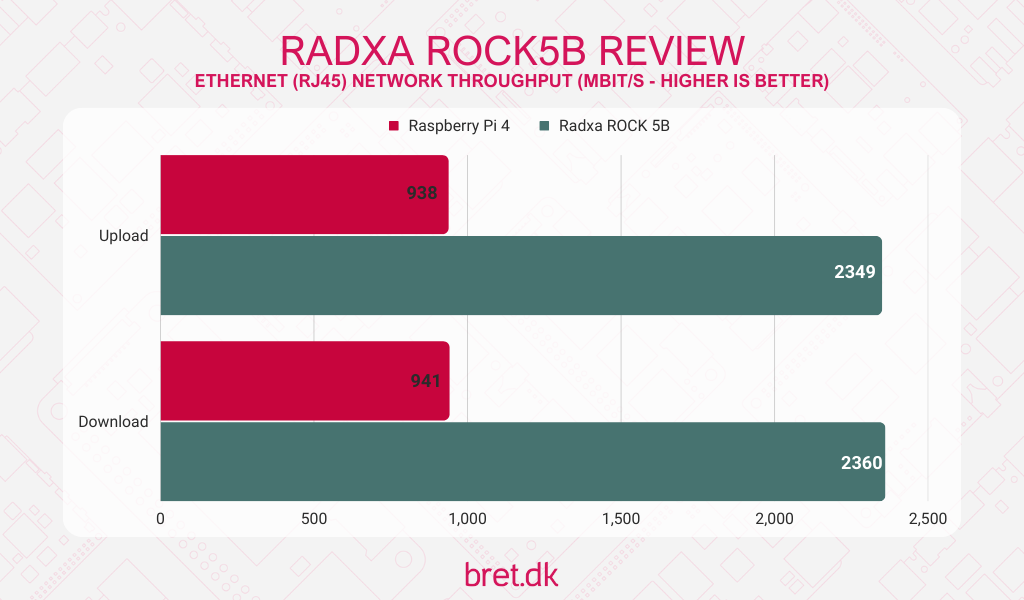 WiFi
For testing, we're using iperf3 again with the same configuration, though specifically through the wireless interface in this case. The Radxa ROCK 5B doesn't come with on-board WiFi so we're using the official Radxa addon card with the included antennas for that which clearly gives it an advantage over the Raspberry Pi 4.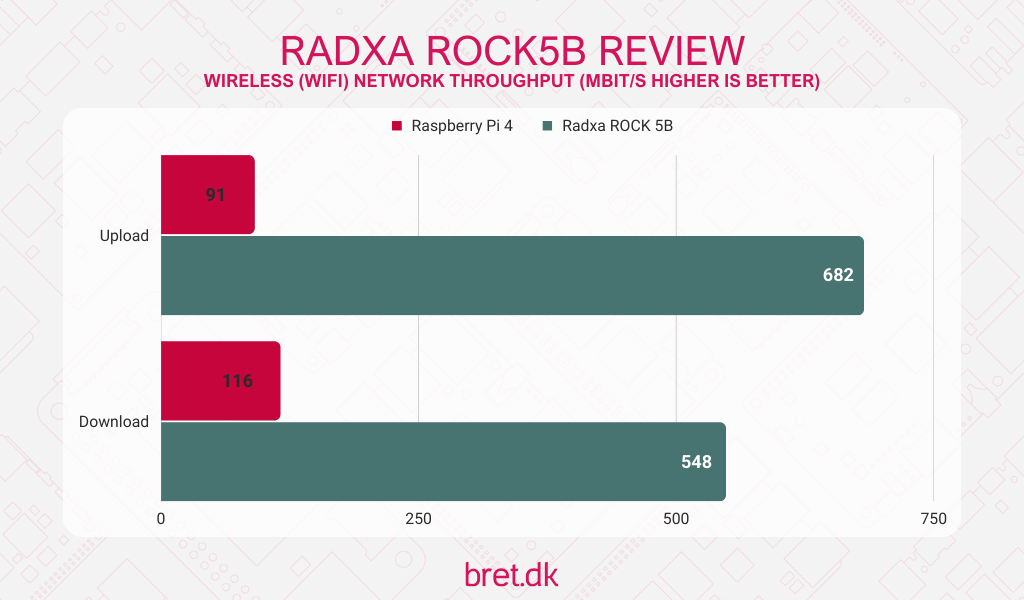 Storage Benchmarks
NVMe
One of the big features of the ROCK 5B is the fact that it comes with a full-size, M.2 2280 connector on the bottom side of the board (it doesn't come with screw holes for anything else so if you have smaller M.2 NVMe drives such as a 2230 or 2248, you'll need an adaptor board).
I currently only have a Crucial P3 Plus NVMe drive for testing and the Raspberry Pi 4 doesn't have an equivalent slot so I'll just have to tell you that it came in at 1468 MB/s sequential reads, 594 MB/s sequential writes, 36 MB/s random reads and 92 MB/s random writes. It's a DRAMless drive so sadly I'm not really pushing it to its limits but I hope to have additional drives in my testing arsenal soon (Sabrent or anyone else, if you're reading this, my contact page is here)
microSD Card
I have a specific post on the microSD Card performance in the Radxa ROCK 5B if you want to check these out in a little more detail, though I've included the results table below for ease!
Rock 5B
Sequential Read (MB/s)
Sequential Write (MB/s)
4K Random Read (MB/s)
4K Random Write (MB/s)
IOPING (ms)
SanDisk Ultra (8GB)
31.69
14.1
4.51
0.66
1.11
https://geni.us/sandiskultra8gb
SanDisk Ultra (16GB)
71.91
13.8
6.14
2.44
2.87
https://geni.us/sandiskultra16gb
SanDisk Ultra (32GB)
73.18
19.4
6.05
2.09
3.17
https://geni.us/sandiskultra32gb
SanDisk Extreme (64GB)
74.01
53.4
5.79
3.21
0.84
https://geni.us/sandiskextreme64gb
SanDisk Extreme PRO (128GB)
73.3
62.2
5.35
3.06
1.01
https://geni.us/sandiskextremepro128gb
Kingston Canvas Select Plus (32GB)
73.37
23.9
4.34
1.93
1.08
https://geni.us/kingstonselectplus32gb
KIOXIA EXCERIA (32GB)
74.99
18
6.75
4.06
0.82
https://geni.us/kioxiaexceria32gb
Samsung EVO Plus (32GB)
74.87
28.5
7.19
2.28
1.03
https://geni.us/samsungevoplus32gb
Amazon Basics (64GB)
74.41
66.5
7.96
3.97
1.37
https://geni.us/amazonbasics64gb
Amazon Basics (128GB)
68.48
61.2
7.38
2.89
1.23
https://geni.us/amazonbasics64gb
Verbatim Premium (16GB)
71.37
12.1
6.05
2.58
1.1
https://geni.us/verbatimpremium16gb
SanDisk MAX ENDURANCE (32GB)
73.14
41.9
5.9
2.91
0.76
https://geni.us/sandiskmaxendurance32
Integral ultima PRO (64GB)
73.24
47.5
6.48
3.61
1.25
https://geni.us/integralultimapro64gb
Patriot EP Series (64GB)
75.01
44.8
5.26
2.66
1.06
https://geni.us/patriotep64gb
Kodak (64GB)
66.62
36.9
2.69
0.84
0.94
https://geni.us/kodak64gb
Intenso (64GB)
75.04
48.1
7.3
3.67
1.18
https://geni.us/intensopremium64gb
Transcend (32GB)
74.17
23.4
8.01
3.36
0.69
https://geni.us/transcend32gb
Samsung EVO Select (32GB)
73.2
14.1
7.37
1.86
0.8
https://geni.us/samsungevoselect32gb
Samsung PRO Plus (128GB)
73.76
57.8
7.21
2.31
0.87
https://geni.us/samsungproplus128gb
SanDisk HIGH ENDURANCE (64GB)
73.09
48.2
4.57
2.42
0.96
https://geni.us/sandiskhighendurance64
Samsung PRO Endurance (32GB)
74.2
22.2
6.96
1.94
0.9
https://geni.us/samsungproendurance16
Silicon Power 3D NAND (32GB)
69.86
23.2
8.59
2.73
0.98
https://geni.us/silicon3dnand32gb
Crucial P3 Plus M.2 NVMe (500GB)
1468.39
594
36.23
91.76
0.68
https://geni.us/crucialp3plus
eMMC
The ROCK 5B doesn't come with soldered-on eMMC so that's good. Instead, you get a socket on the underside of the board in which you can connect an eMMC chip. These come in various sizes and can be found almost anywhere now, OKdo stock them but if they don't ship to you then you'll find them at all good maker/SBC supply stores (and some bad ones, too!)
Below are the results of iozone3 with a 250MB test file (ignoring any filesystem caches) across multiple block sizes to see how the eMMC fares. In this case, I'm using a 16GB module that showed up as a Samsung BJTD4R HS400 eMMC 5.1 card with a manufacture date of 05/2022 (though I purchased this separately from another vendor, I didn't receive it with the OKdo shipment)
| Blocksize (KB) | Write (MB/s) | Read (MB/s) | Random Read (MB/s) | Random Write (MB/s) |
| --- | --- | --- | --- | --- |
| 4 | 51.43 | 30.75 | 30.46 | 48.07 |
| 16 | 98.96 | 75.05 | 78.99 | 107.39 |
| 512 | 109.13 | 196.83 | 182.60 | 107.68 |
| 1024 | 101.18 | 231.70 | 227.01 | 110.41 |
| 16384 | 108.82 | 297.94 | 301.51 | 109.75 |
USB Benchmarks
Using both a USB-attached SATA3 SSD and a 1 Gbit USB Ethernet adapter we can get an idea of how the USB3 (Type A) ports on the ROCK 5B perform in a couple of scenarios.
USB3 SSD
To see how the USB port performs when a USB-attached SATA SSD is installed, we ran through the same iozone benchmarks as the eMMC/microSD card testing above. We're getting pretty close to what USB 3.0 can handle but there may still be a little headroom..
| Blocksize (KB) | Write (MB/s) | Read (MB/s) | Random Read (MB/s) | Random Write (MB/s) |
| --- | --- | --- | --- | --- |
| 4 | 26.26 | 26 | 14.18 | 26.2 |
| 16 | 77.22 | 61.89 | 49 | 74.69 |
| 512 | 203.51 | 200.26 | 200.63 | 200.63 |
| 1024 | 240.71 | 250.29 | 252.07 | 241 |
| 16384 | 300.06 | 367.06 | 361.72 | 374.7 |
USB3 1Gbit Ethernet
It should come as no surprise given the above that it managed to max out a 1GbE USB Ethernet adapter just fine with 940/941Mbit available in both directions. I'll be upgrading this test to a 2.5GbE USB Ethernet adapter shortly as Gbit is a little bit slow on these newer boards!
Temperatures
Wondering whether you need a heatsink or not? Well, you more than likely do unless you're going to leave it running idle, or you don't mind about your performance being hampered by thermal throttling if you as much as dare live in a country with an ambient room temperature above 10 degrees celsius..
That aside, let's see how hot it really gets under load. All test data was based on an ambient temperature of 25 degrees Celsius.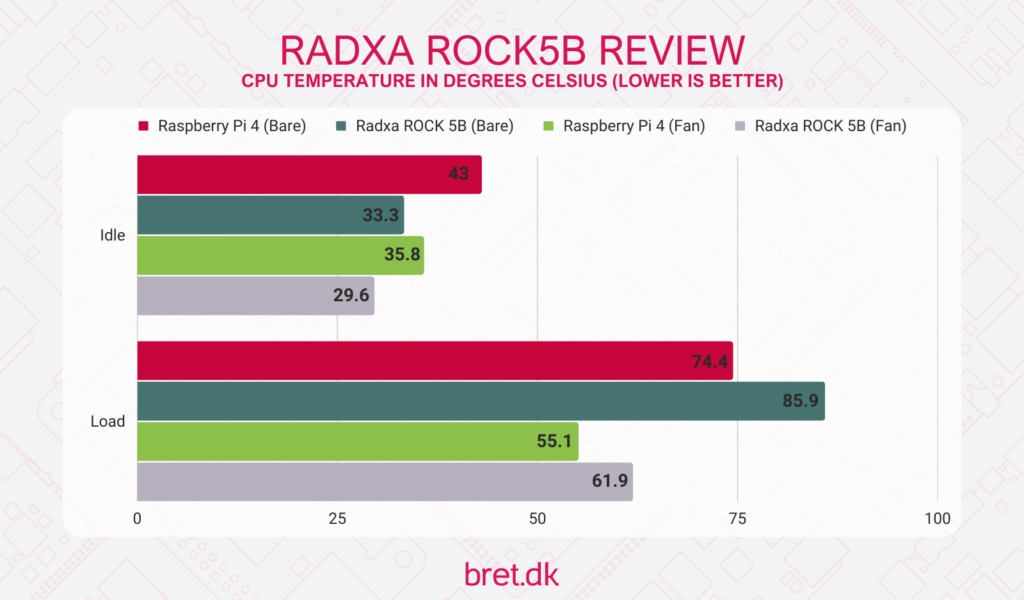 When running without any kind of cooling, the board will quickly spike up to 80+ degrees Celsius and when it reaches 85 it will begin to throttle itself (it took 3m48s in my testing). I left it for a good 45 minutes (hoping it wouldn't fry itself) and it settled on a CPU frequency of 2208/1608MHz. It did drop below that for a few seconds at a time but it would mostly regulate itself and keep at only slightly lower speeds.
Power Consumption
All of the power draw numbers we're seeing here are again, with the performance governor enabled and were measured in the same circumstances as the temperatures above, so the idle measurement was taken after 30 minutes of sitting idle. The load value is what we saw after allowing stress-ng to run for 45 minutes.
It should be noted that both boards were exactly as they are from a fresh install, booting from microSD with only Ethernet connected. No further peripherals were connected, though the Raspberry Pi does have onboard WiFi/Bluetooth that would be running (but not connected to a network) where the ROCK 5B's WiFi card was not installed.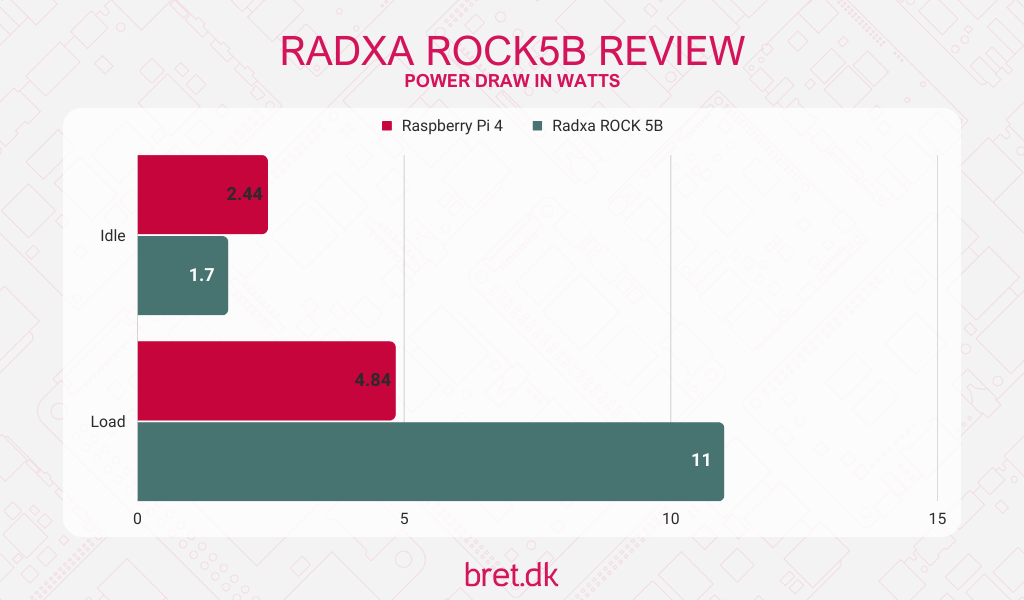 1.7 watts at idle is quite impressive, albeit it's with Ethernet and eMMC only. If you're looking at WiFi and NVMe SSDs on top of that, perhaps even a fan and peripherals, this will jump considerably. Perhaps I should start including that data too!
The more interesting value though is the 11 watts it draws under full load. This is just over double the power draw of the Raspberry Pi 4 but in return for that, you're getting (in most cases) more than double the performance, triple in some tests.
Thoughts & Notes from Testing – Great
Video over USB-C
The fact that the ROCK 5B offers video out over the USB-C port is a nice bonus. Those of you with a monitor that can do power delivery and video over USB-C will enjoy that if you plan to use one of these as a desktop replacement, or even for testing to minimise the cables sprawled over the desk!
HDMI Input
Having HDMI input is something that I hadn't really thought of before on an SBC, though I have to say, I'm a big fan. King of the "Linux release please" Twitter reply, Salvador has shown it being used as an encoder for other devices when recording and I feel like this will be a great use for the board once I'm finished with the testing! My only gripe is that it's mini HDMI but eh, you can't have everything and I understand that full-size HDMI would have added some bulk there.
I/O Placement & Board Layout
Compared to some of the other RK3588 boards that are available, the Radxa ROCK 5B does a good job of keeping most of the I/O (it's just the HDMI input on the back along with the GPIO headers) to the front of the board. I imagine this view is subjective but I like this. Having everything come out on one side simplifies things and makes it easy to find. Whilst others may like not having a mass of cables coming out of one end, I much prefer it over having cables coming out of all sides. How do you hide it neatly away if it looks like a spider's nest?!
Thoughts & Notes from Testing – Not so great
Software Support
I'm not going to get into this too much again but due to the Bodge job kernel that we have going on here, WireGuard was a pain in the ass to get installed and running on most images, including those provided by the vendor (Radxa) themselves. Armbian luckily has it working out of the box on their images which helps.
EDIT: Later on I tested this again on Radxa's own images and got it working by compiling from source, though it does still pose a hurdle that a lot may not be willing to do.
Power Supply Grief
It was widely reported prior to receiving my review unit that there were issues with power delivery on this board and sadly I suffered the same fate. With multiple power supply units (including one that was reviewed as being suitable for the 5B specifically!) causing either boot loops or instabilities under load, I decided to do all of this testing on a "dumb" 5V 4A USB-C power supply.
I did later receive a power supply that worked and I ran some quick sanity checks but the readings were within the margin of error so I saw no reason to update the data or re-test everything.
Radxa does have their own that is supposed to work flawlessly and I don't doubt that but given the number of them that I have lying around of different spec, as well as buying one that I was told would work and didn't, I didn't have the desire to purchase even more accessories for this.
If you're aware it's going to be this picky about power supplies, please consider including one in the box. This isn't a cheap SBC and even if you have to factor in the pricing of an adapter, it's still cheaper than users not knowing better and having to buy multiple of their own accord, adding to the massive e-waste problem as they go.
Where can I buy a Radxa ROCK5 Model B?
The Radxa ROCK 5B / ROCK5 Model B is available for purchase from OKdo in the UK, Italy, Netherlands, France, Germany, and the United States.
If you're outside of these markets then you'll have to reach out to your local distributor, or the Radxa website to see where one can be purchased! The pricing starts at $157 USD in the United States for the 8GB model, and in the UK that's £157, or similar in €EUR for the EU-based storefronts (do remember the US pricing doesn't include sales tax!)
Conclusion: Is the ROCK 5B a "Raspberry Pi killer"?
This is a really tough one.. If you don't intend to run the Radxa ROCK 5B with a desktop environment at the moment and you're not too worried about having to hunt for alternative operating system images from the likes of Armbian then sure, the ROCK 5B is going to be much more powerful than the Raspberry Pi 4 and will serve you well doing a wide variety of tasks.
Ultimately you need to consider what your use case is. The Radxa ROCK 5B comes with a premium price tag, especially for the 16GB RAM model but at the moment it doesn't quite feel like the overall package is premium and that's not necessarily the (direct) fault of Radxa. The RK3588 is a powerful chip but it's still lacking support in a lot of areas so what would is actually a nice piece of hardware is being let down by the software side of things. This, as I say, isn't unique to Radxa and plagues other vendors that took this Rockchip SoC too.
When you look at what is available at this price point now, it may be a little tough to justify. Intel's newer N100 chips for example can be found in mini PCs with 16GB of DDR5 memory for around the same price as the 16GB model of the ROCK 5B. They then pack in WiFi/BT on board and the massive benefit of the hardware being supported in mainline Linux, so you don't have to worry about software issues (well, depending on which WiFi card your mini PC has..) and you can get straight on to setting up your software.
I've digressed a little here though. If you're interested in the ROCK 5B, you're probably not too worried about x86, though the options are there now from Intel, and RISC-V is starting to gain some serious traction in the field (admittedly with a considerable gap to close) so ARM and the SBC vendors need to step things up if they want their Linux-based boards to remain relevant and the number one choice in the market.
To sum it up and clarify, I love the hardware, it's a well-put-together SBC. The problem lies with the current state of the software and once we have that, all of the RK3588 and RK3588s boards released in the last year will be unleashed on the world, it's going to be a fun time when that happens.