Hot on the heels of my Radxa ROCK 5B review, we have another Rockchip RK3588 board to take a look at, the Orange Pi 5 Plus.
It feels like it's been a crazy year for Orange Pi, as we've had the Orange P 5, 5B, 5 Plus, 3B, Zero 3, CM4, and W2 boards all released one after the other (and I'm probably forgetting some), with eMMC sockets and modules also coming in. It really feels like Orange Pi is trying to pump out as many boards as they can this year and that in itself is nice on paper as having more options is nice, but how does it stack up in reality?
As mentioned, the Orange Pi 5 Plus is a Rockchip RK3588-based Single Board Computer, so immediately I think of the ROCK 5B as its closest comparison and in this case, we see some very similar traits (which is unsurprising given they share an SoC). Where they differ slightly, though, is the Orange Pi 5 Plus here has 2 2.5Gbit RJ45 Ethernet ports, meaning that it opens itself up to a few more use cases. We also get a full-size HDMI port for HDMI in, which I think is a nice touch, personally.
Orange Pi 5 Plus Software Support
Issues
Without wanting to feel like a broken record, the Orange Pi 5 Plus obviously suffers from the same issues that the ROCK 5B (and all other RK3588-based boards) does in that it's botched together from old kernels and newer-ish security patches. Orange Pi does have its own "Orange Pi OS", though, and this comes in both Arch Linux and Android flavours. I'm not too sure what to make of them choosing Arch as the base for their own images but hey, to each their own.
Available Operating Systems
The Orange Pi 5 Plus doesn't seem to have quite as many distributions available for it, though there's a good enough mix of your standard distributions.
Armbian has its Debian and Ubuntu-based images so if that's what you prefer, they're available from their archive (make sure to check the notes, as the default downloads on that link are for the Orange Pi 5, not the 5 Plus).
Windows on the Orange Pi 5 Plus is also available, though based on the "Does not work" list, you'd have to be really curious to play around with it. I am not, so I can't comment on it, I'm afraid!
As with the ROCK 5B, though, the popular Ubuntu 22.04 image from Joshua Riek is available for the 5 Plus. I'm still yet to test it myself as I like to use the vendor's own images where possible as this is the image that they want to put out to the world and the one that they advertise.
Getting Started
With the default bootloader, I was able to boot from either a microSD card or an M.2 NVMe SSD so if you have either of those available, pick out your operating system and get to it. To boot from an eMMC module (they were incredibly good value if you picked up the bundle!) I had to flash the updated rkspi_loader.img from Orange Pi's Google Drive to get this to happen and once that's done, you can boot from any of the available microSD, eMMC, or M.2 NVMe options.
Orange Pi 5 Plus Specifications
Now I'm getting back into the swing of reviews, I'll have some more, up to date benchmarks on RK3588 (or similar) boards so I can stop comparing boards to the Raspberry Pi 4, but given that it's still one of the most popular options out there, I'll continue to compare things to it.
Raspberry Pi 4
Orange Pi 5 Plus
Processor
Broadcom BCM2711, Quad-core Cortex-A72 64-bit SoC @ 1.8GHz
Rockchip RK3588: big.LITTLE Quad-core ARM Cortex-A76 @ 2.4 GHz, Quad-core ARM Cortex-A55 @ 1.8 GHz
RAM
2GB LPDDR4-3200 SDRAM (with 1GB, 4GB, and 8GB options)
8GB LPDDR 4x (with 4GB and 16GB options)
Wireless Connectivity
2.4 GHz and 5.0 GHz IEEE 802.11ac wireless, Bluetooth 5.0, BLE
None by default, WiFi 6E and BTE 5.2 M.2 add-on card available to purchase
Ethernet
1 Gbit Ethernet (with PoE support with optional PoE hat)
2×2.5Gbit Ethernet RJ45 port (with PoE support with optional PoE hat)
USB Ports
2 USB 3.0 ports; 2 USB 2.0 ports
2x USB 3.0 Type-A ports, 1x USB 3.0 Type-C port, 2x USB 2.0 ports
GPIO Headers
Raspberry Pi standard 40-pin GPIO header
40-pin GPIO header
Display Output
2 × micro-HDMI® ports (up to 4kp60 supported)
2x HDMI® 2.1 up to 8Kp60, 1x USB-C via DisplayPort alt. mode up to 8Kp30
Camera Ports
2-lane MIPI CSI camera port
1x MIPI CSI connectors
Video Input
None
1x HDMI input up to 4Kp60
Graphics
Broadcom BCM2711, Quad-core Cortex-A72 (ARM v8) 64-bit SoC @ 1.8GHz
Mali G610MC4 GPU, 6TOPS NPU, 8K 10-bit encoder, 8K decoder
Audio
3.5mm combo-jack
3.5mm combo-jack, SPK connector
Storage
MicroSD card socket
M.2 2280 socket for NVMe SSD (PCIe 3.0 x4), MicroSD card socket, eMMC flash socket
Power Input
5V DC via USB-C connector
5V DC via GPIO header
Power over Ethernet (PoE) enabled (with hat)
5V 4A via USB-C connector
5V DC via GPIO header
Power over Ethernet (PoE) enabled (with hat)
Dimensions
85.6mm x 56.5mm
100 x 75mm (86.5g)
Buttons
None
MaskROM, Recovery, and Power on/off
Extras
Infrared Receiver, Onboard Microphone
2-pin 5V fan connector, 2-pin RTC battery connector
3-pin UART/Debug Serial Port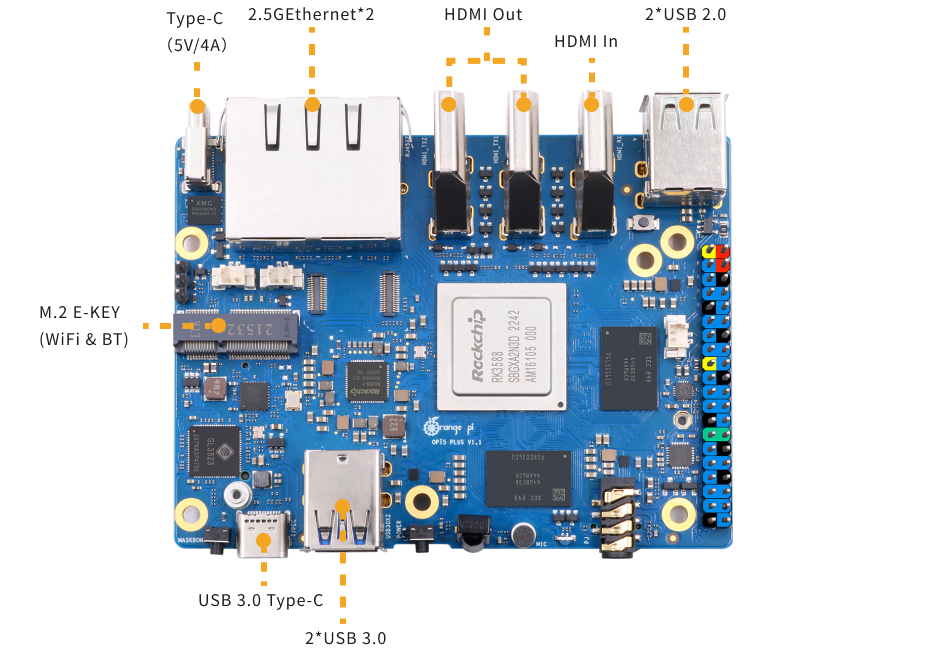 Testing Details
We're working with the 8GB RAM model for these tests, running Orange Pi's own Ubuntu image (22.04 Jammy Jellyfish) which comes with everyone's friend, the 5.10.110-rockchip-rk3588 vendor kernel. All benchmarking was performed whilst booting from the NVMe drive and 3 120mm fans provided the cooling we needed to keep everything chilly to prevent thermal throttling.
All single-core tests were run 3 times on each type of CPU core, with the values presented being the average of those 3 runs. The same goes for multi-core, though these were just run on all CPU cores, obviously!
Orange Pi 5 Plus Compute Benchmarks
The usual couple of CPU/compute benchmarks are up first, with UnixBench and 7zip to see how they compare (if you didn't see my last couple of reviews, Geekbench 6 has been dropped due to them making some strange decisions with licensing so including them would mean going back to a lot of manual work with hours of wasted time on needless tests so no thanks).
UnixBench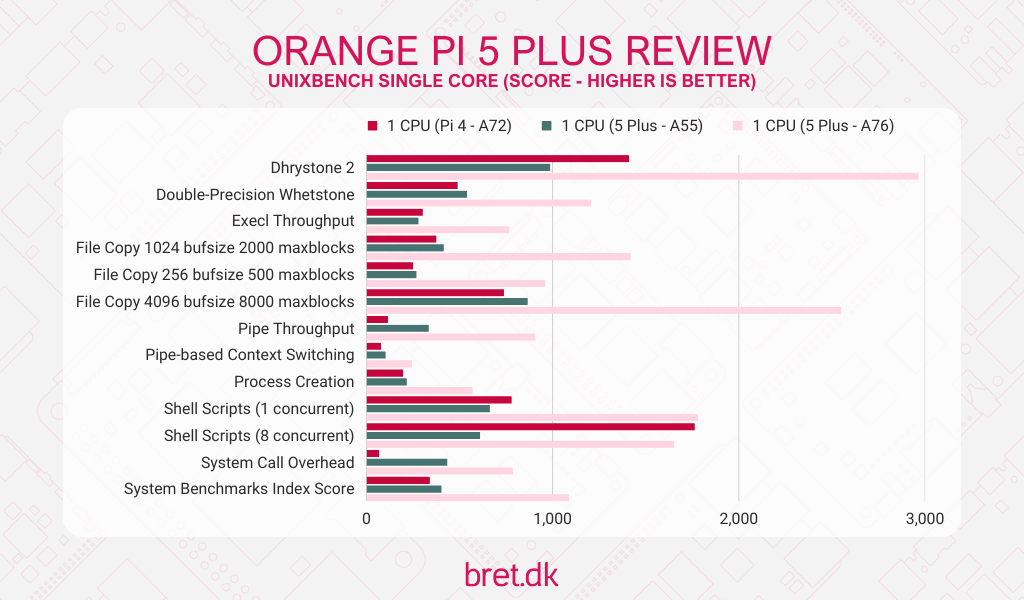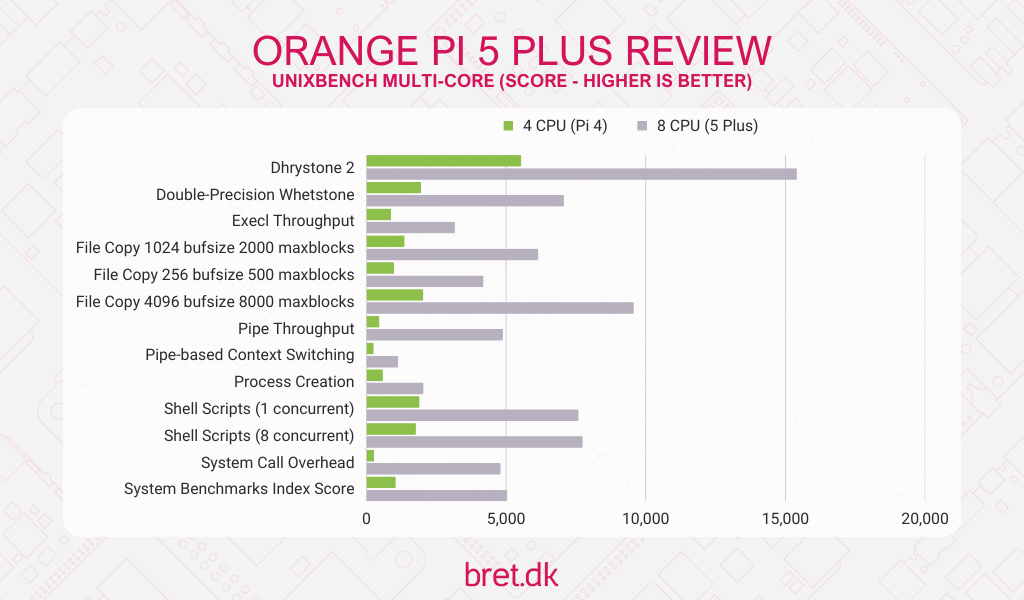 7-Zip Benchmark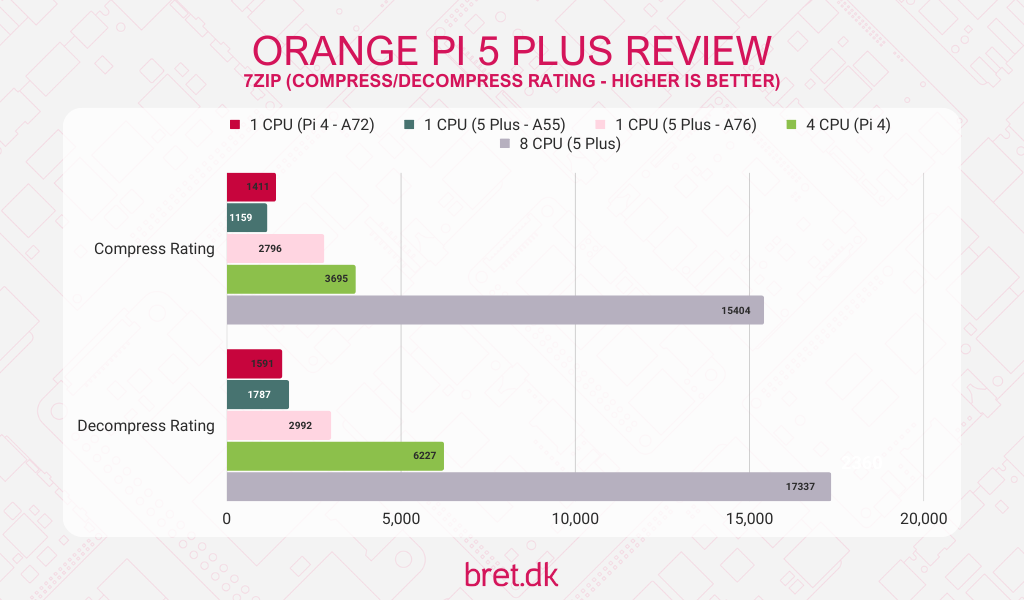 Orange Pi 5 Plus Crypto Benchmarks
The cryptographic tests show a similar story. The WireGuard throughput test is creating interfaces and then simultaneously pushing and receiving data as fast as it can which thoroughly tests the CPU's ability to encrypt and decrypt data at the same time. Having many faster cores certainly helps, as you can see! This pattern runs true throughout the crypto tests, though the Raspberry Pi 4 doesn't actually come with the ARM crypto extensions so it's fighting a losing battle from the start, sadly.
OpenSSL Benchmark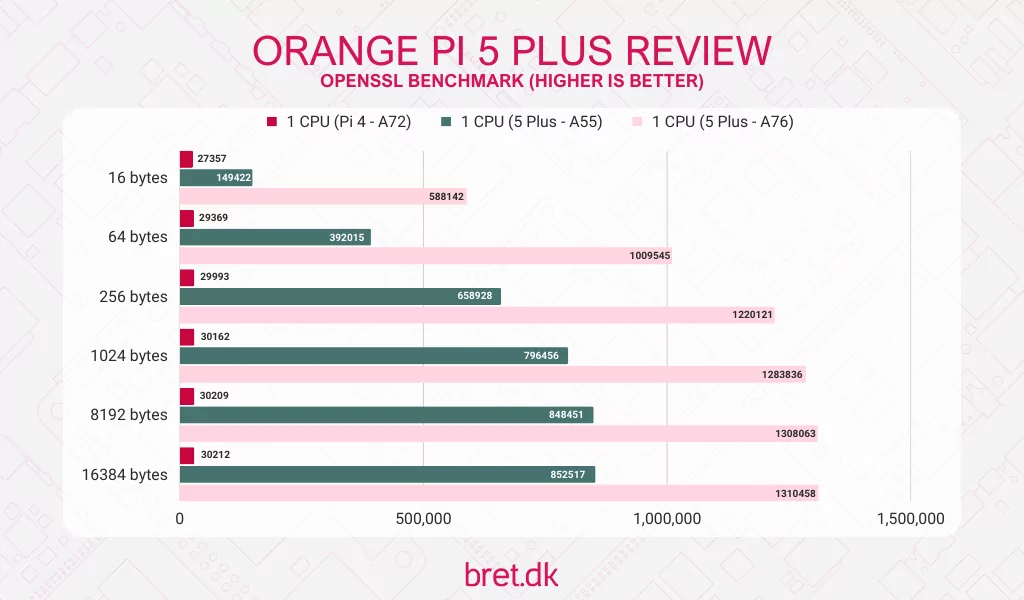 WireGuard Benchmark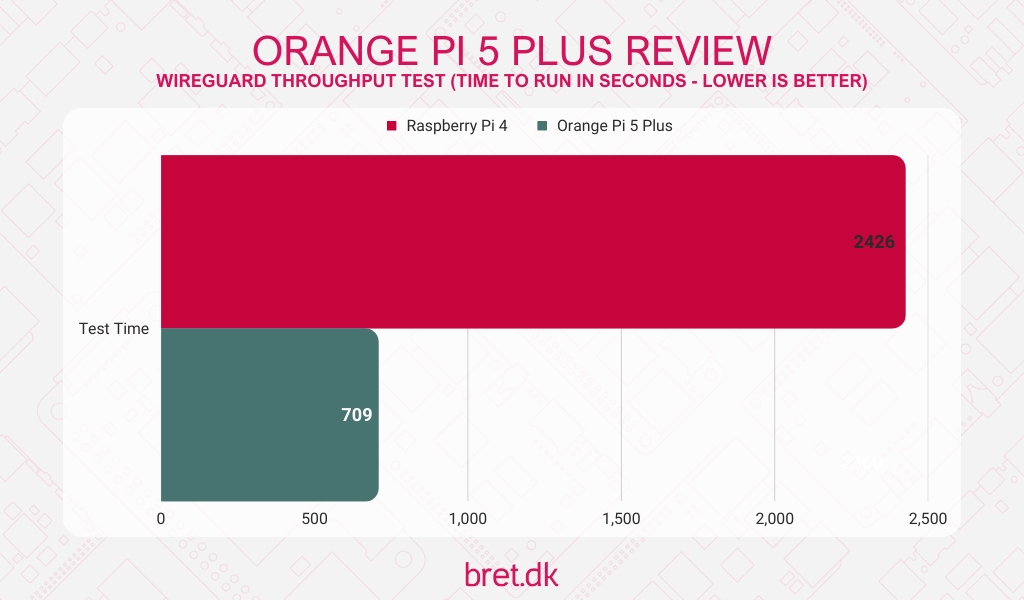 cpuminer-multi Benchmark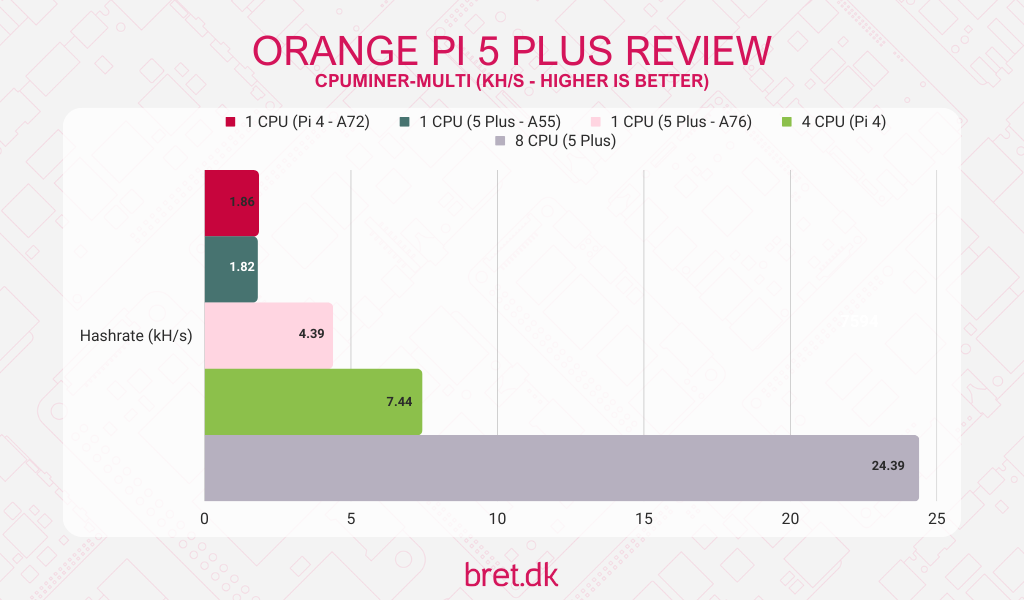 Orange Pi 5 Plus Software Benchmarks
These single-core tests show what you can expect if you have a single-threaded workload in your software. The Raspberry Pi 4's A72 cores do manage to stand their own against the Orange Pi 5 Plus' Cortex-A55 core cluster despite the latter's higher frequencies but when it comes to the Cortex-A76 cores on the 5 Plus, the poor Raspberry didn't stand a chance.
PHPBench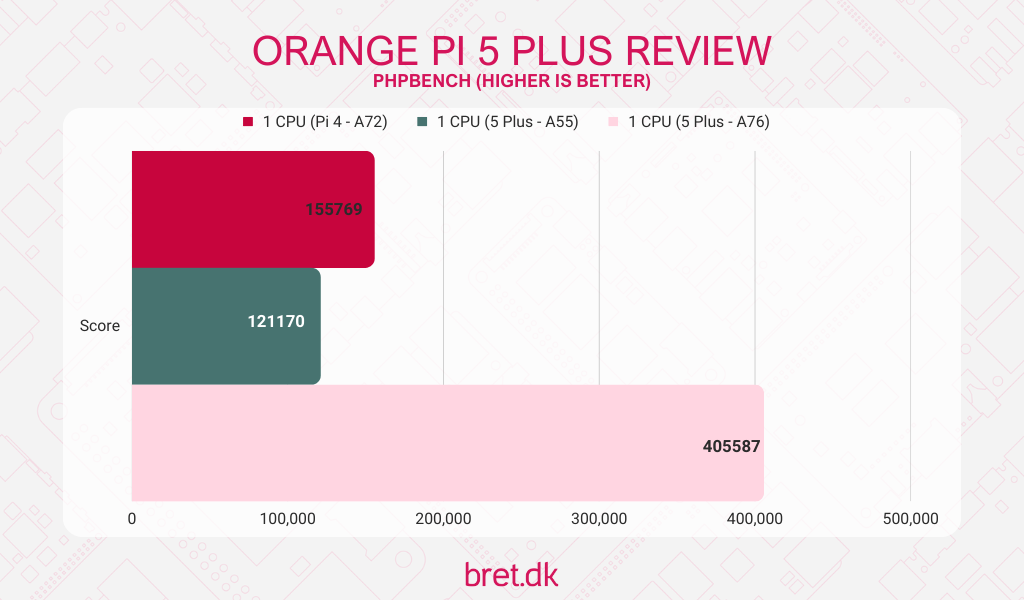 PyBench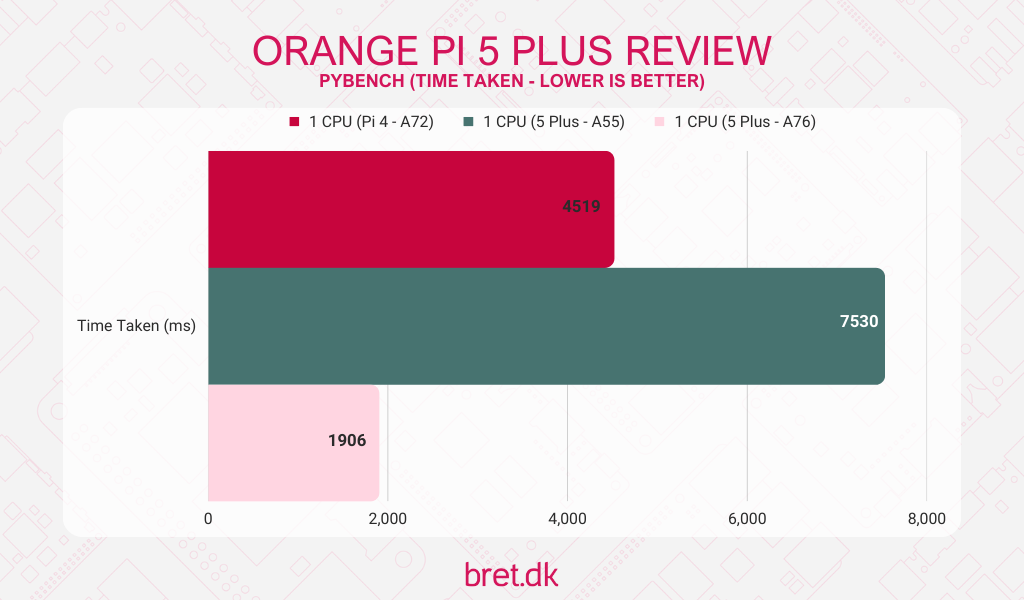 WavPack Audio Encoding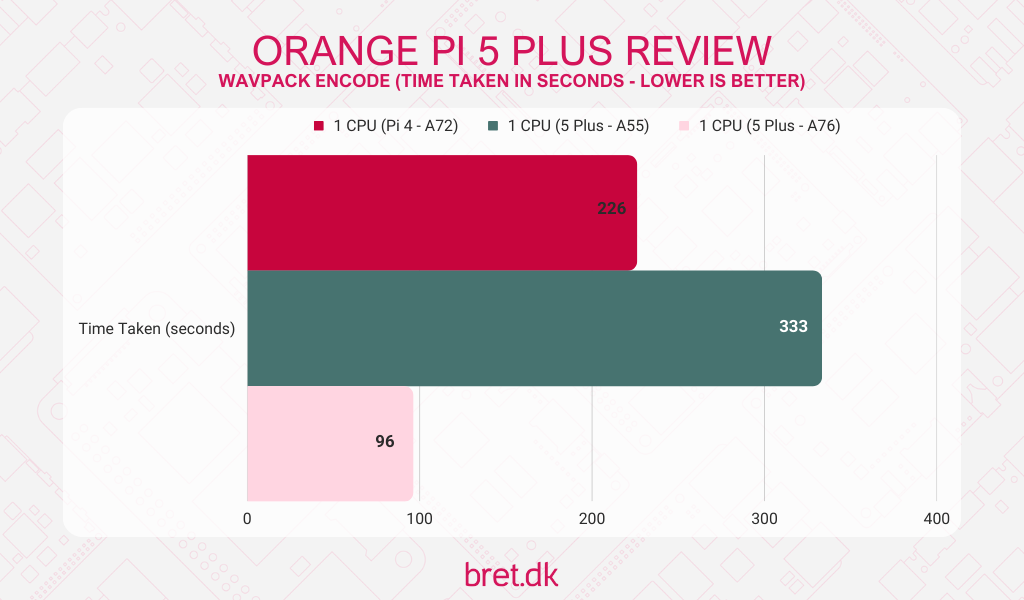 Orange Pi 5 Plus Network Benchmarks
On the network side of things we have the 2 2.5GbE RJ45 Ethernet ports that were mentioned earlier and unlike some boards where 1 is "native" and the other is connected via USB internally, these are actually connected via a PCIe lane which should offer better performance, especially if you're wanting to push both of them to their max.
At the time of writing, I'm still waiting for my nice new 2.5Gbit switch to arrive so that I can blast both ports at the same time to see how it handles this, for now, I've tested both ports independently and they each have no issues, as you'd expect.
Another caveat (sorry, not sorry) is that I don't have the official Orange Pi M.2 PCIe WiFi card, so I'll be re-using the Radxa Realtek RTL8852BE-based card that I do have for the WiFi tests. The Orange Pi card does use a different WiFi chip (AMPAK AP6275P) so it would be nice to try and get my hands on one of those so I can do testing on both in the future.
Ethernet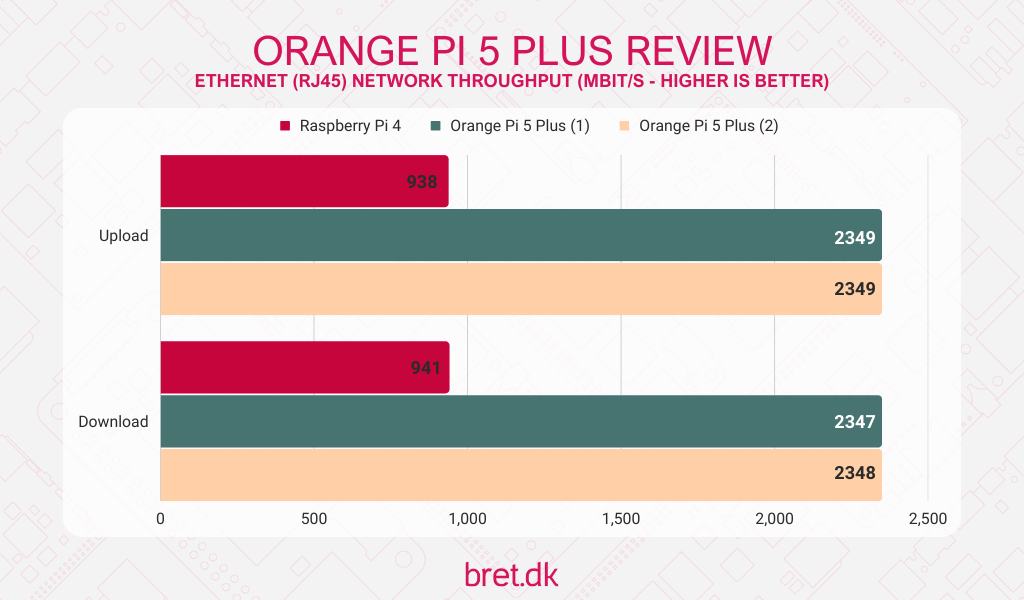 WiFi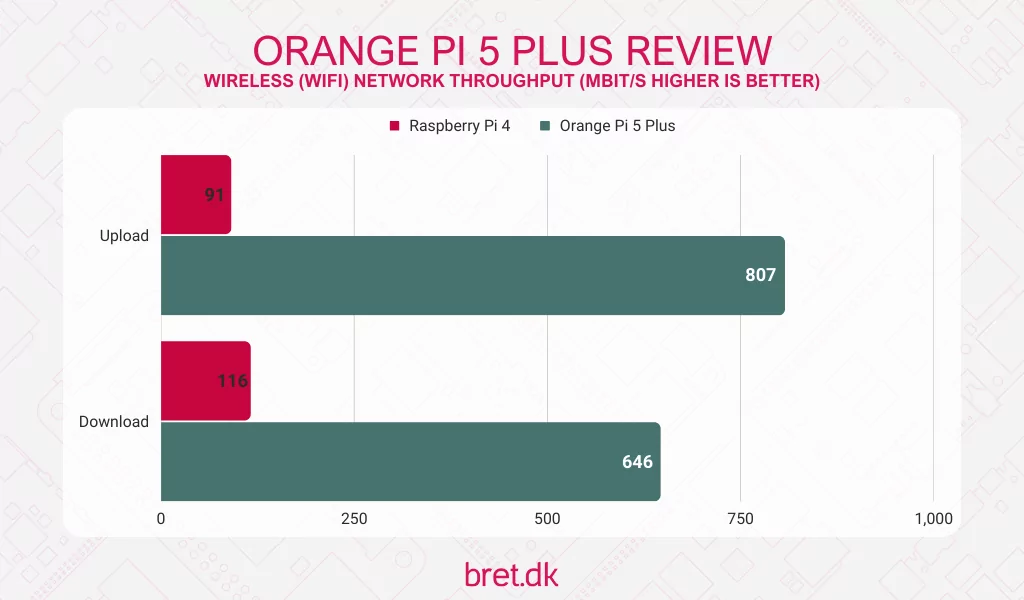 Orange Pi 5 Plus Storage Benchmarks
NVMe
I'm hoping to have additional M.2 NVMe SSDs to test with in the future but for now, I'm afraid we're still stuck with me testing the Crucial P3 Plus (Sabrent, Samsung, anyone that doesn't begin with S, I'm still open to DMs..) and it scored 569MB/s, 394MB/s, 525MB/s, and 339MB/s for sequential reads, sequential writes, random reads and random writes respectively.
eMMC
For the first time on an Orange Pi board (for me, until I test the 3B that I have sat here!) we're going to be testing an eMMC module that's also Orange Pi branded. For this, I'm using a 32GB module which shows up as a "Foresee A3A551 HS400 Enhanced strobe eMMC 5.1" module, manufactured in 01/2022. I've not heard of Foresee as a brand before, though it looks to be owned by Longsys now (who purchased the Lexar brand and manufactured the Amazon Basics microSD cards that always test very well in SBCs!) so there are likely to be no issues. It's also popped up in NanoPi boards as their onboard eMMC, so some of you may already be aware of them.
Getting to the results though, we don't see any surprises. It offers a solid middle ground between microSD cards and an NVMe SSD, with the benefit of it being a replaceable part, unlike boards that may solder it directly to the board.
| Blocksize (KB) | Write (MB/s) | Read (MB/s) | Random Read (MB/s) | Random Write (MB/s) |
| --- | --- | --- | --- | --- |
| 4 | 54.22 | 36.7 | 28.23 | 37.3 |
| 16 | 99.35 | 71.27 | 56.92 | 94.44 |
| 512 | 204.17 | 242.7 | 231.46 | 201.63 |
| 1024 | 204.45 | 265.17 | 261.61 | 201.94 |
| 16384 | 199.51 | 286.12 | 292.21 | 195.43 |
microSD Card
microSD card performance is really getting quite predictable with the lineup of cards that I have here, though it's always nice to include the data anyway as someone may find it useful! It's always nice to be able to quickly write an image to an SD card and be up and running quickly when testing. A small note, too, is that the microSD card is a lovely spring-loaded connector and not a cheaper one where you're not quite sure if it's in properly and half of it's hanging out. Kudos, Orange Pi!
USB Benchmarks
The trusty USB-attached SATA3 SSD and a 1 Gbit USB Ethernet adapters are out again to see how the USB3 (Type A) ports on the Orange Pi 5 Plus perform in some fairly intensive real-world usage.
USB3 SSD
| Blocksize (KB) | Write (MB/s) | Read (MB/s) | Random Read (MB/s) | Random Write (MB/s) |
| --- | --- | --- | --- | --- |
| 4 | 30.86 | 23.13 | 17.14 | 31.23 |
| 16 | 83.13 | 76.57 | 59.11 | 85.97 |
| 512 | 279.33 | 231.18 | 228.8 | 279.06 |
| 1024 | 317.87 | 274.22 | 270.89 | 317.39 |
| 16384 | 369.07 | 333.17 | 343.69 | 369.84 |
USB3 1Gbit Ethernet
Nothing too interesting to note here, we're maxing out the adapter at 1Gbit speeds with 941 / 941Mbit so if that's your jam, it's going to be good. When my 2.5Gbit adapters rock up in the next week, I'll update this to see how that performs, though I don't expect the RK3588 to struggle.
Orange Pi 5 Plus Temperatures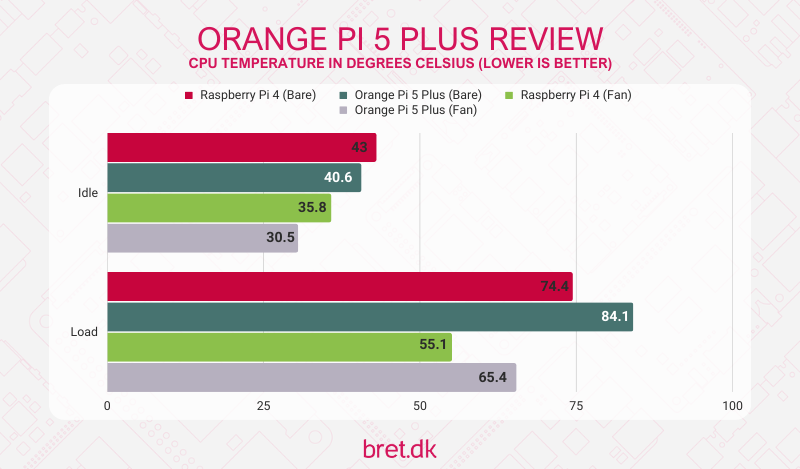 Orange Pi 5 Plus Power Consumption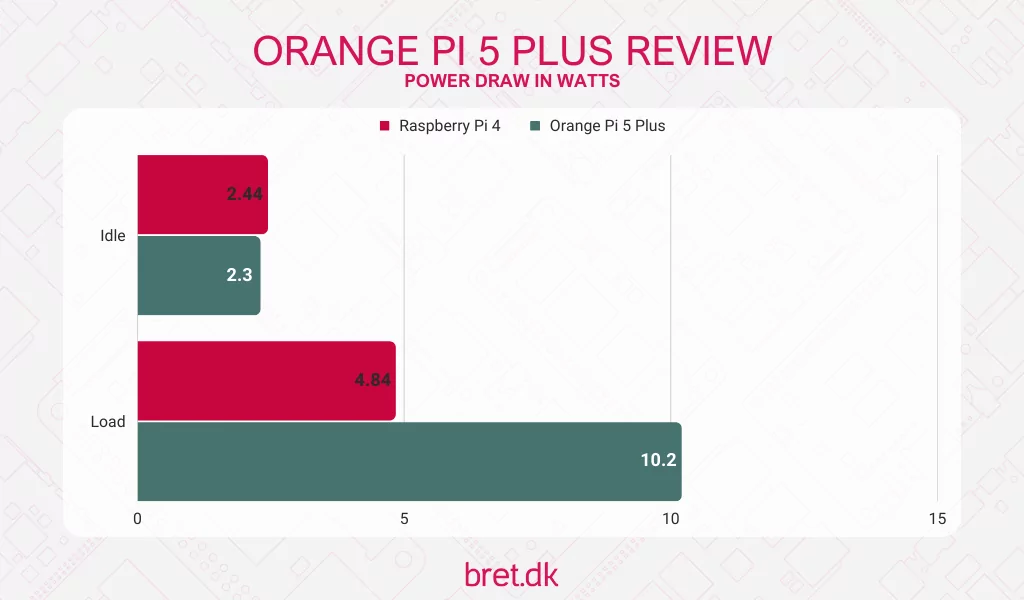 Thoughts & Notes from Testing – The Good
Storage Device Availability
Now this may seem like an odd one and was likely a quick fix on the ROCK 5B, however, on the Orange Pi Ubuntu image, if I had eMMC and a microSD card connected whilst booting from an NVMe SSD, both of them showed up just fine and were accessible within the operating system. On the ROCK 5B I was unable to access eMMC if I booted from NVMe (it just didn't show up in the system) on their Ubuntu image so +1 to the Orange Pi.
Overall I/O
The Orange Pi 5 Plus gives us a 2nd 2.5GbE RJ45 ethernet adapter as I alluded to earlier. This gives us plenty of use cases and means you could use your OPi 5 Plus as a router/firewall device if you wanted.
The HDMI input that's present on many boards of this class also gets what I consider to be an upgrade as it's a full-size HDMI connection as opposed to micro-HDMI. One less cable/adapter to worry about!
Given we have additional, bigger connectors, how can Orange Pi fit them all in? At first, I was a bit annoyed by the I/O placement but after I thought about it, I realised I actually quite liked it. The HDMI, Ethernet, power, and USB2.0 ports are all on the "back" of the board, so if you had this in a case on a TV stand or a desk, the bulk of the connectors that you're not going to be playing around with too much are hidden. On the front, we have 3 USB ports (1x USB-C, 2x USB-A), Power and MaskROM buttons, an Infrared receiver, a built-in microphone, and a 3.5mm TRRS audio jack. This is also where your LED lives if you're interested.
Default APT Repository & Included Packages
I wouldn't go as far as to say that this is "good" but rather "better". In the past, booting an Orange Pi image on your new SBC and running an apt update would result in you connecting to the hardcoded Chinese university file mirror at incredibly speedy 10-15KB/s speeds. I'm happy to say though that it seems that this has changed and whilst it's still not the default Ubuntu mirror, it's better. The Huawei Cloud mirror that's baked into the image resulted in a more than respectable 40-50MB/s so they've obviously got their own CDN with local PoPs which is nice.
Running an apt update/upgrade via their orangepi-config menu though did result in a mass of packages (including Docker?) being installed so I'm sure something can be tweaked further there to prevent people's microSD cards and smaller eMMC modules from being filled up if they're tight on space.
Thoughts & Notes from Testing – The Bad & Ugly
Software Support
It would be harsh of me to go on about the state of the software on other Rockchip RK3588-based SBC reviews and not mention it here, so here I go again (buckle up, it feels like I have many RK3588/s reviews in the pipeline so you'll be hearing this a lot).
The BSP kernel that Rockchip offers is a mash-up of much, much older kernels and cherry-picked software/security packages thrown in for good measure. Couple that with a lack of mainline support for much of the hardware and we have yet another board that promises big things on the hardware side but falls short due to the software situation. Maybe by 2025, we'll all be able to use our RK3588 boards.
Where can I buy an Orange Pi 5 Plus?
The best places to pick up the Orange Pi 5 Plus are going to be Amazon if you're in a location that offers it, or AliExpress everywhere else. As they offer multiple versions and bundles, I've included a selection below for you! I've only included the boards themselves and the board/eMMC bundles to save a bit of space but they do offer options with a USB-C power adapter included too for a few extra dollars if you don't already have one.
The * denotes that the Amazon links are affiliate links, meaning that if you click on the link and make a purchase, I may receive a small commission. This goes directly into purchasing more equipment to test!
Conclusion: Is Orange Pi better than Raspberry Pi?
Other RK3588 boards have been called the Raspberry Pi Killer but is the Orange Pi 5 Plus? Well.. In terms of hardware, it's obviously light years ahead but that's not surprising when you look at their specifications. Like every other RK3588 board though, it's let down by the software situation and nothing's going to change on that front until full mainline support is available and we're a good way off of that as yet.
If you're after a headless server with more grunt than the Pi 4 then absolutely, go for the Orange Pi 5 Plus, just know that you're likely going to have some teething issues if this is your first foray away from the Raspberry Pi ecosystem and you're going to be waiting a little longer for help or dig a bit deeper in some forums to get the answer you want. For the most part, you're going to be fine.
If you want to have a small desktop replacement then you're going to need to temper your expectations. The mainline support that we'd need to guarantee good support for the GPU just isn't there and you're going to be relying on 3rd party software repositories and putting up with some quirks. From what I can tell, the Ubuntu image from Joshua linked earlier in the article is probably your best option. It comes with everything you need GPU-wise pre-installed and I've heard good things about it.
Yet again, we have some nice hardware being held back by software and once we get to a point where that software is ready, these Rockchip boards are going to be a lot more compelling to a wider audience and I look forward to it.
Are they the best value option out there in terms of raw performance and user experience? Probably not. Intel's newer low-power chips definitely give them a run for the money on both of those counts. For a pure ARM experience, though, the Orange Pi 5 Plus is a great value option for those wanting to get their hands on a fully-fledged RK3588 and let their imagination run wild, so I'd recommend it to those looking to tinker with ARM's latest and greatest at a nice price-point!