[NOTE: This post's title, specifications, and conclusion sections have been updated to reflect the officially announced name (Milk-V Mars) and the confirmed specifications. This means that other sections may read a little strange, apologies!]
Milk-V is still a relatively new name in the Single Board Computer / RISC-V computing scene but the Chinese brand have been busy, launching their 64-core Milk-V Pioneer and Raspberry Pi Pico-esque Milk-V Duo offerings. They're now teasing a quad-core, StarFive JH7110 based Single Board computer that looks to follow the Raspberry Pi 4 form-factor with a few tweaks and additions.
Not a great deal is known about the latest product in their lineup, we've only been teased with a Twitter post that contains an illustration of what the board will look like. There are some obvious features shown, though whether they make it to boards that head out to customers is yet to be seen.
Milk-V Specifications
From the render we can see most of what's going to be on offer, at least from the top side of the board, so let's run through what we're likely to be getting from this new Milk-V single board computer based on that, and what we have from the StarFive JH7110's data sheet. As and when official specifications are made available, these will be updated.
Update 29/05/23: Confirmed Specifications
To kick off the week we have the official specifications, along with its name, the Milk-V Mars!
I'm happy to say I was pretty close (though things were quite obvious so I won't pat myself on the back too hard) when it comes to the specifications, though there were a few differences from the underside and subtle differences I didn't pick up on previously. I've modified the specifications below, with new additions to the list being marked in bold.
StarFive JH7110 SoC (1.5GHz Quad Core CPU & 600MHz GPU)
1/2/4/8GB LPDDR4 RAM
1Gbit RJ45 Ethernet
3x USB-A 3.0 & 1x USB-A 2.0
1x USB-C (Power in)
1x HDMI
3.5mm Audio Jack
40-pin GPIO Header (with PoE Hat support)
2-pin Fan Header
CSI & 2x DSI Connectors (1x 2-lane, 1x 4-lane)
M.2 E-Key
MicroSD Card Slot
SPI Flash (for Bootloader)
eMMC Connector
Recovery Button
We don't have a microSD card or slot poking its head out from underneath here, though I'd be very surprised if we didn't see one on the other side. What will be interesting to see is what else will be there. It's extremely unlikely that we'll see a full-length M.2 connection for an NVMe drive given the expected dimensions but will there be an eMMC connector so there's at least something faster and more enticing than microSD based storage?
There are a handful of other components shown that could be one of many things, though I can't quite identify them fully. If you've more experience with that and want to let me know in the comments, please do!
A couple of the obvious differences to the IO on offer from this view is that the HDMI is a single port affair, along with the RJ45 Ethernet being on the opposite side of the PCB. So whilst this may be in the same footprint and rough layout as the Raspberry Pi 4, any cases that are expected 2 mini-HDMI ports along the bottom and RJ45 at the top (when looking from the below angle) will not fit. A 3D printed case design should be easy enough to modify though!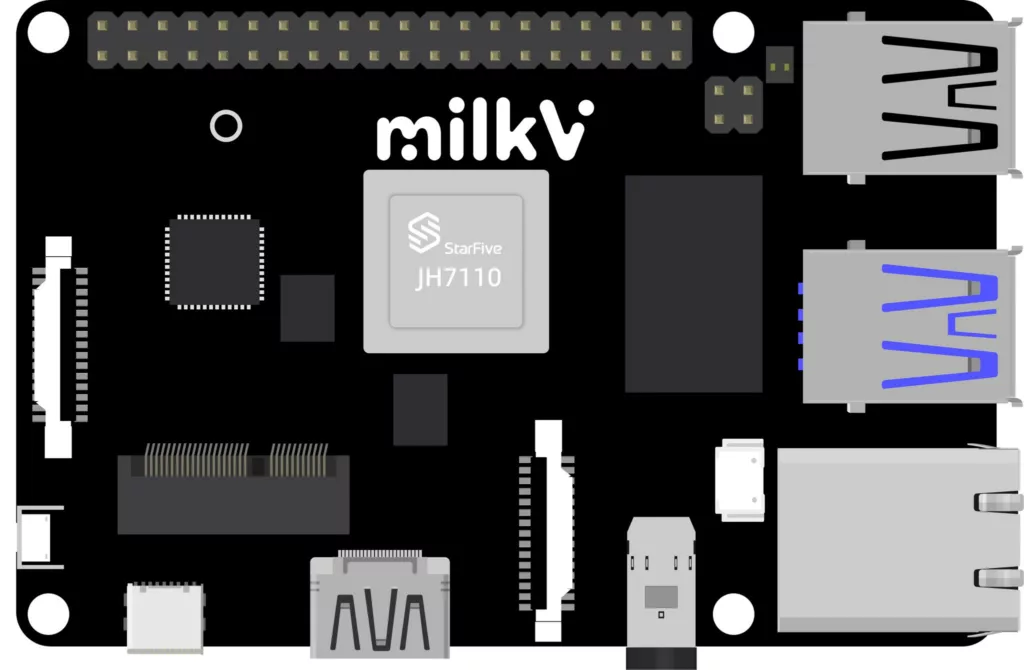 Why is it interesting?
So far we've seen RISC-V Single Board Computers come in a variety of sizes, though most tend to be either a Raspberry Pi Zero (like the Mango Pi MQ Pro) or larger than a Raspberry Pi 4, like the StarFive VisionFive 2 that shares its SoC with the Milk-V here. This seems to be one of the first that takes the Pi 4's form factor directly, albeit with a few changes as mentioned above.

I've come back to add that if I was being smart, I'd be saying it's using the Raspberry Pi 3 form-factor, rather than the 4, though we then have USB-C for power rather than micro-USB which may also make cases incompatible but hey, that's nothing a little file won't fix.
Maybe I'm alone in finding this interesting? It's nice to have a middle ground in terms of size and more RISC-V options like this are always welcome.
Availability and Pricing
At present there are no details available surrounding the pricing and launch/shipping dates for this new Milk-V SBC, though in their Twitter teaser they did ask the community to make predictions, or provide thoughts on the price they'd like. This does make me think that they haven't quite figured it out and they're asking their potential customers to help them find a price point but even that's quite difficult with the limited data available/ Does it have eMMC? 4GB of RAM? 8? As the great Perry Cox once said: "Help me to help you"
Saying that, their Duo is priced at $5-9 USD depending on where you are in the world, so if I had to guess, we're likely to be looking at $60-80 (plus shipping & tax) depending on the RAM configurations available. We'll likely see it towards the upper end of that range I feel.
When it comes to buying it, they say that their Pioneer is coming to AliExpress soon for non-mainland China customers, so expect to see the new boards there too once available.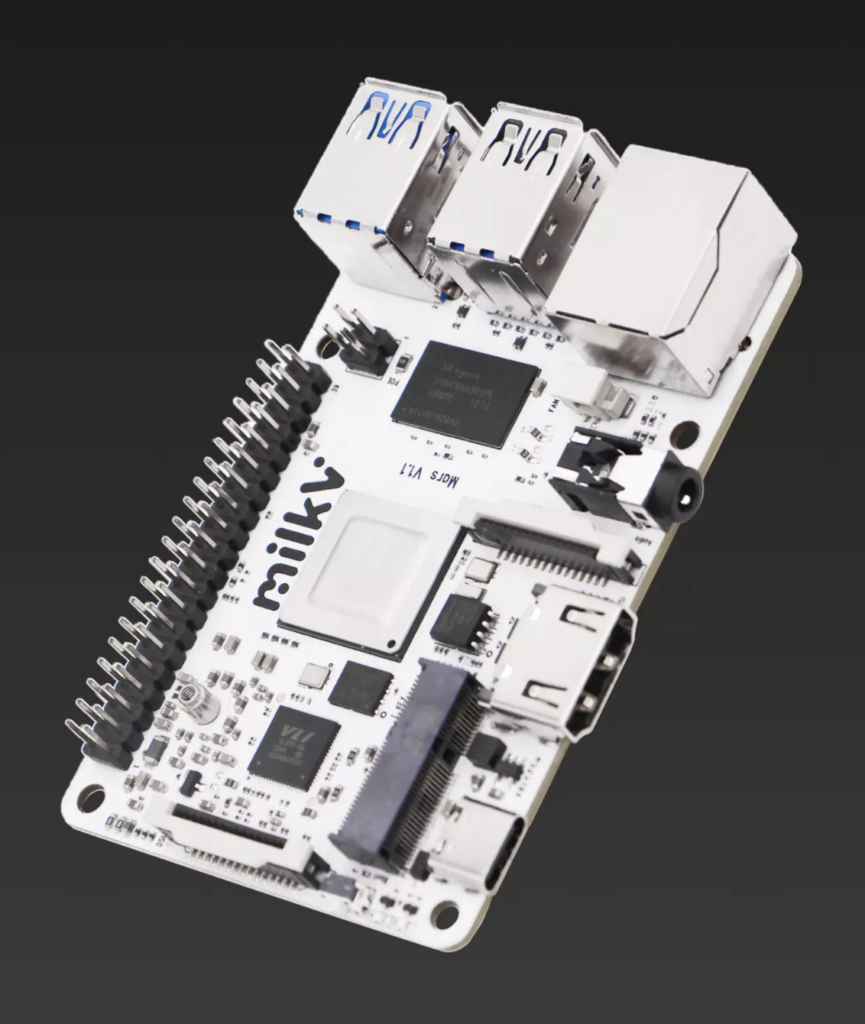 Conclusion
RISC-V has exploded in the last couple of years (at least in the single board computer scene) and seeing more and more options like this come onto the market is great for the ecosystem. Getting affordable RISC-V boards like this Milk-V example into the hands of developers and users alike will only further its progress. Should ARM be at all worried yet?
Update 29/05/2023: Thoughts after official launch
So now we know the full specifications and that the Milk-V Mars has been designed to fit into the Raspberry Pi 3 mould (in hindsight, this was obvious, I'm not too sure why I went so hard on the Pi 4 comparison) I'm quietly confident. It's great that they've included an eMMC connection alongside microSD for storage and I'm hoping it's going to be nice and speedy.
Finishing off then, it's going to appeal to those who want a slightly smaller RISC-V board but also have more power than the tiny Allwinner D1 based Mango Pi MQ Pro and depending on pricing, it could be a great middle-ground between the MQ Pro and something like the VisionFive 2. Especially given that it contains the same SoC as the latest StarFive offering.
I hope to get my order in as soon as they're available so please check back soon to see how that goes, there'll be a lot more RISC-V content on the way!
Related post: Best microSD Card for the VisionFive 2

If you're interested in poor attempts at wit and other Single Board Computer news, follow me on Twitter and I'll make it worth your while..