Do you want to add 3 full-size USB ports and Gigabit Ethernet to your Raspberry Pi Zero? The MCUZone Raspberry Pi Zero USB/Ethernet Carrier Board will let you do just that.
It may only be USB2.0 but on these small Raspberry Pi Zero-style devices, you could get 5-10x faster network speeds and lower latency. All whilst being able to connect up to 3 full-size USB-A devices.
Why is the MCUZone Raspberry Pi Zero Board Great?
After testing a bunch of the Raspberry Pi Zero carrier boards recently (stay tuned to see more on those) I have to say that this one is my favourite. Why? It's quite simple really and you may see it completely differently. Ultimately, the difference between this and the others I've tested so far is that this sits on the carrier board and connects via pogo pins.
I know, this isn't always the most reliable way to connect but for what I think I'd need it to do and on these boards, it fared very well. When using the others that require you to connect your Pi Zero to the IO on the board itself it often feels scary, as if I'm going to break something whilst trying to line everything up. This is especially more apparent when disconnecting the board on the others as you're often putting pressure on the headers which can be quite painful and also bend them.
So aesthetically and in terms of user experience, the MCUZone Raspberry Pi Zero board using pogo pins and headers to keep it in place is a big plus for me.
What do you get for the money?
You'll find 3 USB2.0 type-A ports, a Gigabit* RJ45 Ethernet port and a USB-C power connection when you unbox your own unit and I quite like it. I used an asterisk there as whilst it's a Gigabit chip, it's heavily limited by the USB2 controller. I'm still in favour of this though, as you'll see in testing that each of the 3 boards reach well in excess of 100Mbit so if this only used a 100Mbit chip, we'd be potentially missing out on over 200Mbit of throughput!
I found very little information on the internet regarding the board other than this though (the Zero_GIGAx1 and M22A040601 printed on PCB show nothing on Google!) When connected to my PinePower unit's USB-C Power Delivery port it negotiates at 5.2v (which makes sense, it's connected to the 5V pogo pin) and easily handled a Raspberry Pi Zero 2 under full load with HDMI, Ethernet, and a USB SSD attached.
What I can tell from the board is that the USB to Ethernet chip is a Realtek RTL8153 chip which is an extremely common item found in hundreds of USB to Ethernet adapters/dongles on the market and is generally well supported by Linux.
The USB2.0 Hub is a CoreChips SL2.1A Controller. It's a relatively inexpensive little chip but seems to have gained popularity in the last few years.
To round up on the specification/information front, it utilises GND, 5V, and the D+/D- pogo pins for power and data.
MCUZone Raspberry Pi Zero Test Results
Ethernet Throughput
For the results here I've used the usual iperf3 test against my Asus PN50 home server through a Ubiquiti UniFi 16-port PoE Lite switch. The test was run with 8 parallel threads and for 5 minutes in either direction.
The choice to use a 1Gbit chip in this board was a great one as whilst you won't be pushing the full Gbit through it, it allows you to push over 300Mbit on the Pi Zero 2 and around 200Mbit on the Raspberry Pi Zero W and MangoPi MQ Pro.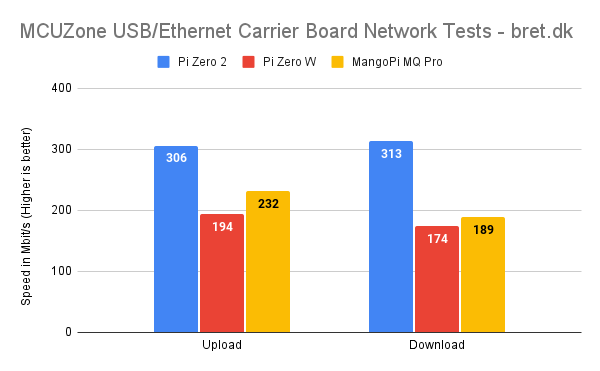 USB Tests
fio --randrepeat=1 --ioengine=libaio --direct=1 --gtod_reduce=1 --name=test --filename=/root/ssd/test --bs=4k --iodepth=64 --size=1G --readwrite=read was the test of choice for USB SSD testing here and as a bonus, I tested downloading a 1GB file to the SSD as this would then split the available bandwidth between the MCUZONE Raspberry Pi Zero carrier board's Ethernet and USB ports.
As expected, the Raspberry Pi Zero 2 takes the top of the charts here but that's fine as this isn't an SBC comparison! It won't win any speed tests but if your use case allows, a USB SSD will last longer and be more reliable than the SD card in the Pi itself.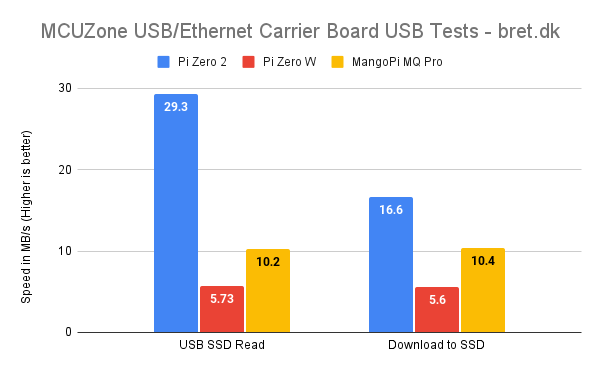 Power Draw
Powered by my new PinePower unit, with a USB-A power monitor in the middle (as the display on the PinePower shows the wrong readings on lower power draws..) the idle readings were taken after a fresh boot and left to normalise after 30 minutes. For load, I stressed the CPU with stress-ng and left it for 30 minutes again.
The MCUZone Raspberry Pi Zero board looks to add around 0.3-0.6W in general, with the biggest increase being on the Raspberry Pi Zero 2 which saw a 0.93W increase.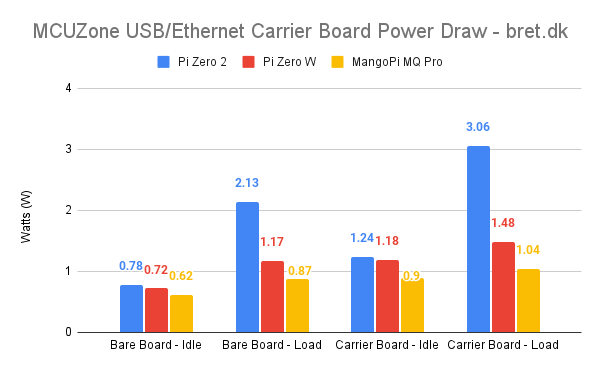 Is the MCUZone Raspberry Pi Zero Carrier Board worth it?
In my opinion, yes! You get a well-put-together board with plenty of additional USB ports and the incredibly useful RJ45 Ethernet port. As I did in my previous carrier board review for the Raspberry Pi Zeroes, I have to say that you have to have a use case for this to make sense. For me, I can see it being useful for my ADS-B flight tracking Pi so I don't have to use a USB converter cable whilst also gaining a more reliable, wired connection.
Where can I buy it?
I sourced my MCUZone Raspberry Pi Zero carrier board from the SpotPear Electronics AliExpress store and as a full disclaimer, I did receive some items from this store for review but this board was not one of them. I paid full price for this item and actually purchased the last carrier board I tested from them prior to reaching out to work together. At no point have they tried to influence my content in any way. If they did, I wouldn't work with them on other pieces!
Note: This post also contains Amazon affiliate links as I am a member of the Amazon affiliate program. If you click on one of my links and purchase an item on Amazon, I may earn a small commission (at no cost to you). This type of income helps me to continue buying pieces like this MCUZone Raspberry Pi Zero board for testing so I hope that's OK!