Annoyingly, I hadn't been paying close attention to the Raspberry Pi world so any hints of what was to pop up on my Twitter feed one cold, October morning regarding the new Raspberry Pi Zero W 2 (RP3A0-AU) with a fair chunk more horsepower caught me well and truly off guard.
The Raspberry Pi Zero 2 launches at $15 USD, with The Pi Hut in the UK selling it at £13.50 and Electrokit here in Sweden retailing at 180SEK. Both seem to be out of stock, though Electrokit didn't seem to impose a limit on pieces per order and The Pi Hut did. Perhaps a conscious decision just to make things a little more fair on their own. Though I'm glad I was able to get 2 in a single order!
Overview
It's based on a new chip in the sense that it's a new package, though in reality it's the Raspberry Pi 3's CPU sitting on top of the 512MB of LPDDR2 RAM it's coupled with. Due to the form factor though, it's clocked at 1GHz but still, a Pi Zero form factor with a quad-core processor? Grab yourself a heatsink and I'm sure you'll be able to squeeze some more life out of it still..
Anyway, less babbling, more information. The "new" chip is named RP3A0-AU (the -AU is a nod to the fact they're using Gold instead of Copper) and retaining the same form factor and I/O placement means that your old Pi Zero/W case is likely to fit just fine (I only have the official Zero case but can confirm it fits!). Speaking of the old Pi Zero/W though, here's how the new specs match up.
Head to Head Tech Specs
| | Pi Zero 2 W | Pi Zero W |
| --- | --- | --- |
| CPU | 1GHz Quad-Core Cortex-A53 – RP3A0-AU | 1GHz Single-Core ARM1176JZF-S – BCM2835 |
| | BCM2710A1 – 32/64bit – ARMv7/ARMv8-A | BCM2708 – 32bit – ARMv6 |
| | | |
| RAM | 512MB LPDDR2 SDRAM | 512MB LPDDR2 SDRAM |
| | | |
| GPU | VideoCore IV | VideoCore IV |
| | H.264 MPEG-4 decode (1080p30) | H.264 MPEG-4 decode (1080p30) |
| | H.264 encode (1080p30) | H.264 encode (1080p30) |
| | | |
| Connectivity | 802.11 b/g/n WLAN (2.4GHz) | 802.11 b/g/n WLAN (2.4GHz) |
| | Bluetooth 4.2 / Bluetooth Low Energy | Bluetooth 4.1 / Bluetooth Low Energy |
| | USB 2.0 OTG (1) | USB 2.0 OTG (1) |
| | Mini HDMI (1) | Mini HDMI (1) |
| | CSI-2 Camera Connector (1) | CSI-2 Camera Connector (1) |
| | microSD Card Slot | microSD Card Slot |
| | 40 Pin Raspberry Pi GPIO | 40 Pin Raspberry Pi GPIO |
| | | |
| Power | Micro USB | Micro USB |
| | | |
Not that I'll be planning to use it for anything GPU intensive myself (or at all) but the VideoCore GPU on the chip is also capable of H.264 encoding/decoding at 1080p30fps and features OpenGL ES 1.1/2.0 graphics.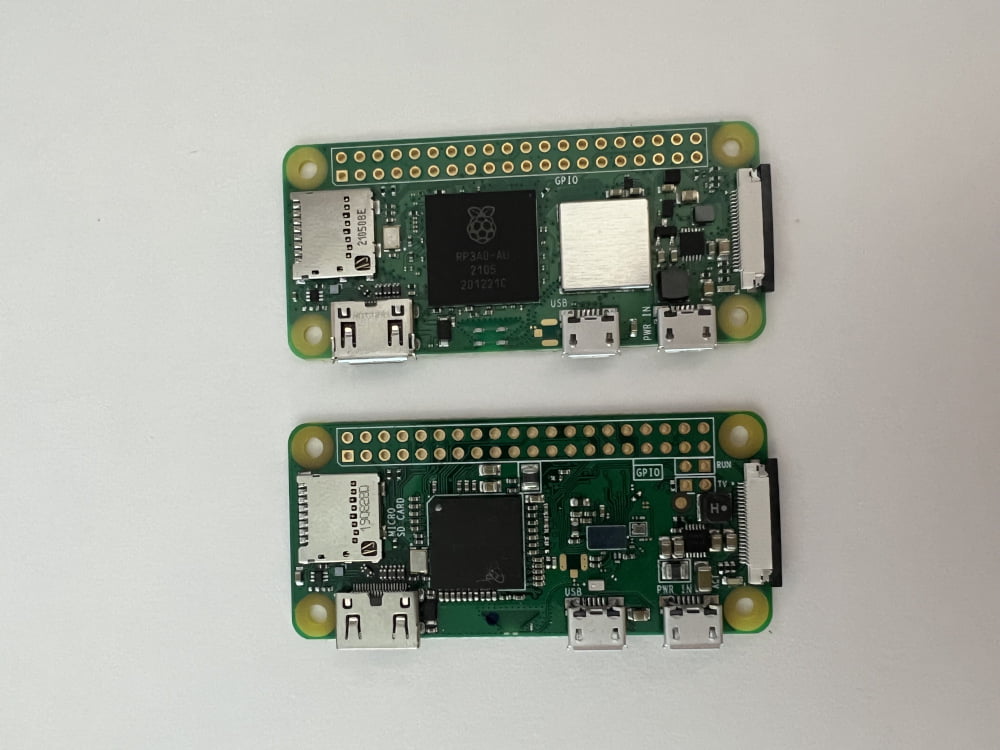 Comparison of the front of both boards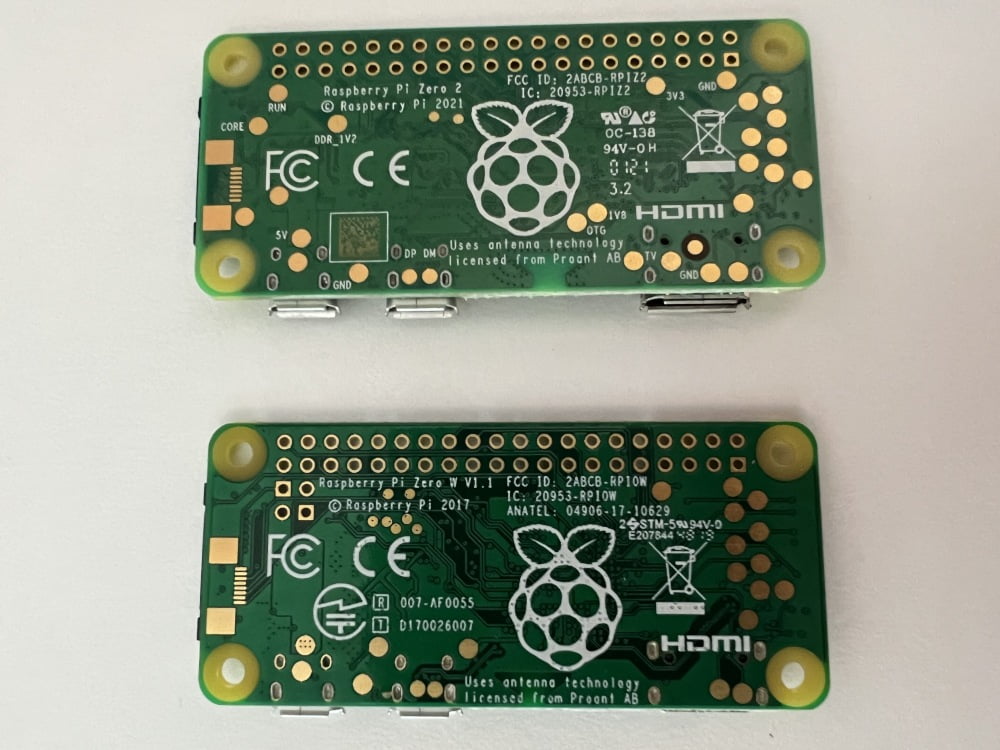 Comparison of the back of both boards
Benchmarks
The Raspberry Pi foundation boasts 5x faster performance over the original Pi Zero (W) with this new mode but is it? Naturally, it will depend on the use case but I've gathered some of the most well-known benchmarking suites available (and some not-so-well-known ones..) and I've begun compiling the results so we can take a look in a separate post. I'll be looking to perform more tests and update the page with as many as I can find that may prove to be useful in some way.
The benchmark results are now available so do check them out and see how the new device lines up against its older brother. It really is quite a difference!
Summary
I bought the Pi Zero 2 W (RP3A0-AU) knowing that I'd have a use for it. Gaining an extra 3 cores will alleviate the stress on my UK-based ADS-B tracker (check out my soon-to-be-refreshed post about ADSB-Exchange) and give it some headroom. The 2nd though? Not a clue. I'd rather it didn't sit gathering dust with the other Orange/Raspberry Pi units in the cupboard but it is what it is..